BLOG
How to feature as an Enterprise Nation speaker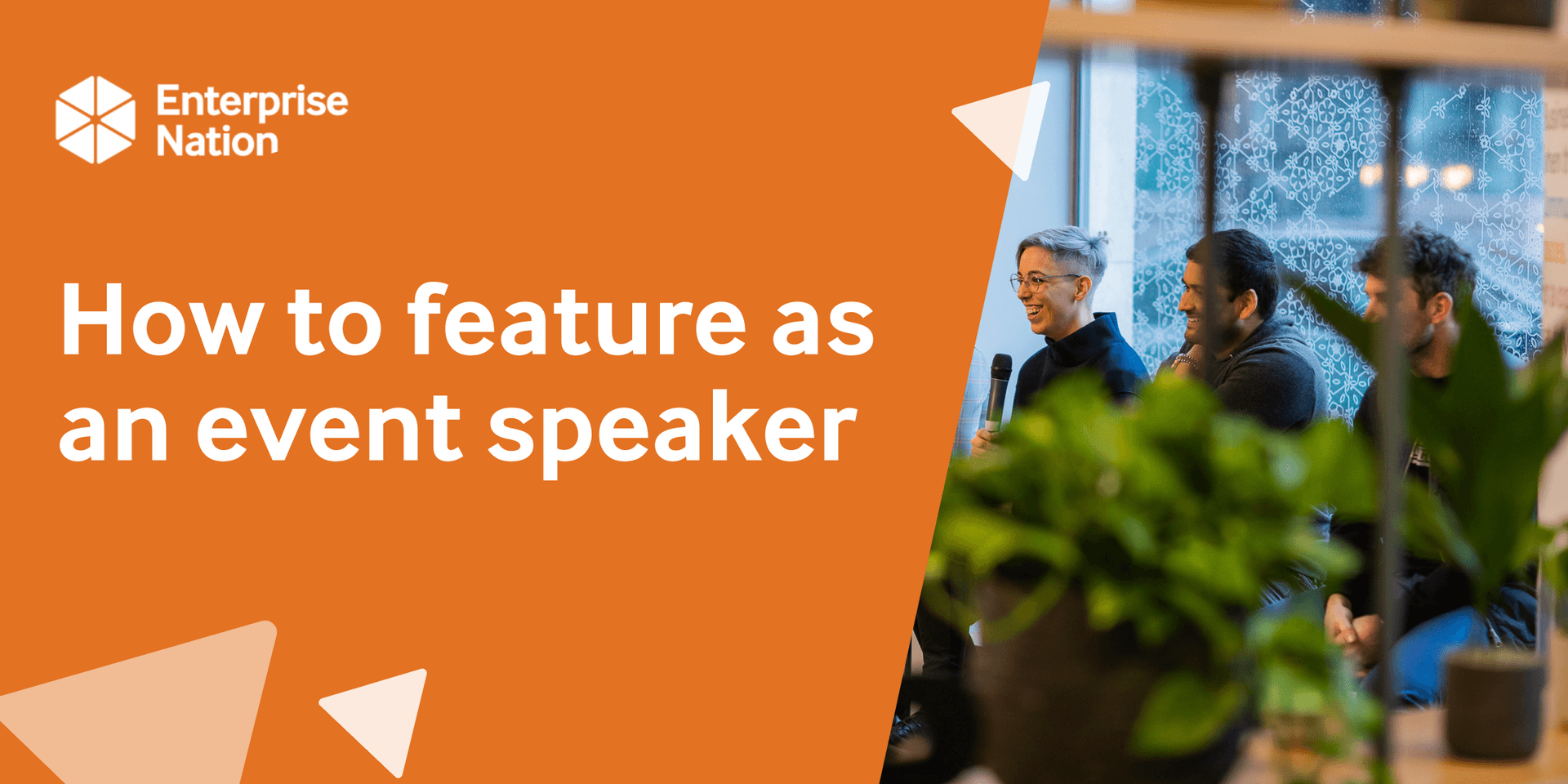 ---
Posted: Tue 16th Feb 2021
Why can Enterprise Nation claim to be the UK's most active small business community? Maybe because we host 500+ events with over 30,000 attendees each year.
From small business meet ups around the country to daily webinars to panels and conferences, we have created a lively programme to connect business owners and give them the knowledge to feel empowered to grow.
Our speakers come from far and wide, but most share one thing in common, they are part of our community. With over 70,000 small business and adviser members, it's not hard for us to source brilliant expertise.
We reserve the majority of opportunities for adviser members as this is an exclusive membership benefit. Become an adviser member today to access opportunities to be a future speaker.
Find out more about our future opportunities below and how we select speakers.
What are the speaker opportunities at Enterprise Nation?
1. Lunch and Learn series
Enterprise Nation hosts daily lunchtime webinar interviews that offer bite-sized learning. Enjoy snackable insights (sorry, more food puns) on all areas of starting and growing a business from making the switch to an entrepreneur to managing your social media or finances.
The webinars attract audiences between 100 - 400 made up of pre-start-ups to established small businesses and professional consultants. Past speakers have told us that these sessions helped generate new clients, increase brand awareness, and convert into useful content for blogs and marketing collateral.
Here is what listeners have to say about Lunch and Learn sessions:
"If you haven't logged into one of the Enterprise Nation webinars, just take 30 minutes and breathe in knowledge, positivity and learn new things." - Andy
"In the many moments I doubt myself there's always something in them that picks me up and boots me up the backside to keep going!" - Sarah
"One of the greatest things to have come out of the lockdown so far, for me personally, is the discovery of Enterprise Nation and the excellent Lunch and Learn series." - Emma
How to become a Lunch and Learn guest
If this all sounds great and you'd love to get involved, you must be an adviser member then, you can submit an idea to our team using the submission form through your dashboard and select 'Webinar'.
We ask for a couple of bullet points to let viewers know what they will learn from your interview. We highly suggest tuning in to a past session to get a feel for the format. But don't worry, our team will work with you to help craft a winning description that will attract the crowds.
Our team book speakers at least a month in advance. We try to accommodate as many requests from our adviser members as possible, which is why you are limited to hosting one webinar per year. You may be invited to speak at other opportunities throughout the year by our events team, carry on reading for more information.
Not an adviser member yet? Not a problem. If you are new to Enterprise Nation, sign up to become an adviser member today.
Already a member and need to upgrade? Simply login and update your card details in 'Billing' if they are missing and select the 'Upgrade now' button.
2. Enterprise Nation's campaigns and flagship events
We work with everyone from global brands to government to deliver national campaigns and event series on the topics that matter most to small business; female entrepreneurship, mental wellbeing, student start-ups and sustainability.
Our events team are always on the look-out for future speakers to join panels, deliver training, share their stories or run smaller events. Here are just some of the many campaigns and major events we run each year.
The biggest start-up show of the New Year and Enterprise Nation's flagship event! With over 100 speakers across 11 stages, feel inspired and network with other over 2,000 like-minded business owners and small business consultants.
Exchange Series
An event series connecting small businesses with big brand buyers across food, fashion, beauty and wellness sectors. Including guest brands who share their stories of success in these industries.
Festival of Female Entrepreneurs
Founded in Bristol, our flagship event for the ambitious female founders. Now in its 10th year, the Festival of Female Entrepreneurs brings together hundreds of female founders to share ideas, collaborate and get inspired by incredible speakers sharing amazing insights for starting and growing a brilliant business.
Building peer networks across the UK through small local meet-ups run by Local Leaders across 40 locations. Meet your tribe and build the community you need to support your business to thrive.

Entrepreneurial Womxn is a collaboration between Enterprise Nation and TSB to promote diversity and inclusion and provide free financial education and broad digital business support to womxn-led businesses in a bid to level the playing field and open up the opportunity to succeed, to all.
Guest speaker and workshop host spots are available to inspire and connect entrepreneurial womxn.
How to get involved
With a busy event schedule, our events team are interested to hear from members of our community. There might not be an opportunity right away, but you can express your interest and share more about the topics you can cover.
We do not offer payment to speakers, but the brand profile gained through these events is often exceptional.
If you are a small business, we require that you sign up for our membership first (it's free!).
If you offer advice and services to small businesses, you must become an adviser member to join our campaigns and flagship events.
Hello, I'm Amanda, Enterprise Nation's adviser community manager. I oversee communications, content and events for our active and collaborative adviser community. I'm here to help our members make the most of opportunities and ensure we're constantly improving what we offer. Previously, I've worked across a range of professional services industries specialising in diversity and inclusion and corporate culture. I founded an award-winning corporate D&I initiative and led community strategies for a global board-level women's network. An aspiring writer and storyteller. My roots are from Wisconsin but I have lived in the UK for over 11 years. I enjoy going to gigs, fitness, camping, and far away places.