BUSINESS NEWS
Amazon Bootcamp Ireland: How to sell and scale online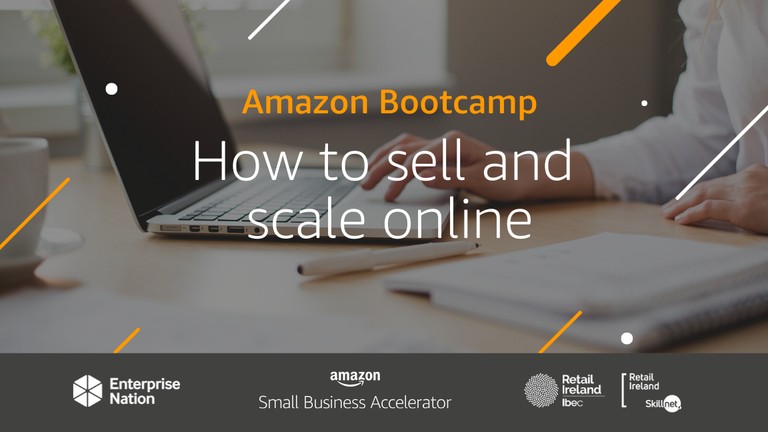 ---
Posted: Thu 23rd Jun 2022
In July 2022, Amazon and Enterprise Nation will deliver two free bootcamps in partnership with Retail Ireland Skillnet for Irish based small businesses, with a focus on how to get started selling online and how to increase your online sales.
Part of the Amazon Small Business Accelerator, each bootcamp is a virtual live event with intensive training and a host of experienced speakers.
Tuesday 19 July 2022, 10am to 1pm
Information on Amazon sales, advice on getting the basics of online right, and tips on attracting customers from SEO expert Geraldine Swanepoel.
You'll also hear from a small business owner on how they got started with online sales, while payments system Klarna will discuss plug-in payment options.
Tuesday 26 July 2022, 10am to 1pm
Join this three-hour online bootcamp aimed at Irish brands to help you scale your online sales, including talks on how to start exporting via Amazon, raise capital for your business to fuel growth and use smart data to measure and improve your business' performance.
---
Amazon Small Business Accelerator
Developed by Amazon and Enterprise Nation, the Amazon Small Business Accelerator supports people to start, grow or turbo-charge their business. Through easy to access e-learning, bootcamp training, tools and services, the programme helps start-ups, scale-ups and established small businesses to succeed in the digital world.
Enterprise Nation has helped thousands of people start and grow their businesses. Led by founder, Emma Jones CBE, Enterprise Nation connects you to the resources and expertise to help you succeed.