BLOG
Why you need to network as a small business owner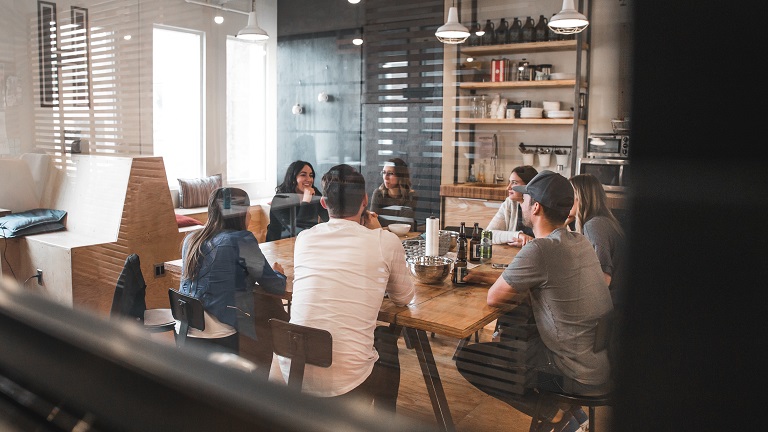 ---
Posted: Tue 30th Mar 2021
Whatever your stage of business, your network is crucial for your growth. Joining a peer group is the best way to learn new skills, discover opportunities, solve challenges, get inspiration and maintain your sanity.
Meeting other business owners allows you to unpack how you're feeling with people who genuinely understand because they've probably been there too.
Although the past year has been incredibly hard for small businesses, which have lost their connectedness to communities, teams, and each other, the shift to virtual events has created more opportunities than ever for individuals to find support.
The Heads Up campaign and small business meet-ups
Through the Heads Up campaign, in 2020/21 Enterprise Nation hosted over 200 small business meet-ups in 35 different locations across the U.K. For many business owners, these events were a lifeline and helped them make tough decisions and not feel so alone.
For those just starting in business, these groups provided a safe space to build their confidence and established a group of local friends.
Enterprise Nation's local community groups wouldn't exist without the Local Leaders, passionate small business owners who volunteer to lead the monthly meet-ups and champion small businesses in their regions. They know what it's like to start on your own and how to build a network from scratch.
Meetings take place monthly on Zoom and are free to attend. If you want to grow your local business connections in a fun, relaxed environment, keep reading to discover what the meet-ups are all about.
Find your local leader and meet-up group
Five reasons why you need to network as a small business owner
You can't build a business on your own; having networks around you is vital. You not only make new contacts that could buy your product or service but also get advice, new perspectives and even find ways of collaborating.

We learn from the people we surround ourselves with. Having a network of like-minded people is important, but a wider, more eclectic network allows for learning, growth and opportunity.

Business buddies can act as ambassadors for each other and hold you accountable. When you are your own boss, it's very easy to push back your deadlines and create excuses for not doing what you need to do. Having a buddy or group that holds you accountable provides motivation and helps move your business along.

Networking gives you visibility and is the key to making meaningful relationships and opening doors. If you are not present at networking opportunities, either virtually or on social, people will ask if your business exists.

Being part of a local community gives you a sense of belonging. It can be lonely running your own business without anyone around you who understands what you're going through. There's something very special about meeting business owners who live near you and have a passion for the local economy.
Meet your Local Leader and find out why you should join their next meet-up:
East Midlands
Nottingham  
Serena Humphrey, managing director, The f Word
Serena's meet-up will give you that contact with truly like-minded people who can understand and empathise and share ideas and tips. Members come because there to support each other can make all the difference in the world. Serena said that some of her best friends today are people she met through networking.
East of England
Essex  
Emma Goode, managing director, 24 Fingers
 
Emma's meetings are informal, inclusive and have a friendly atmosphere. When you're the only one in the business, things can feel quite lonely sometimes. These meetings provide the opportunity to share challenges, support each other and grow your network. Emma likes playing matchmaker and helps to foster connections amongst members. She gave an example of linking an image consultant with a jewellery designer who is now working on collaborations.

 
Norfolk  
Kathy Ennis, business mentor and trainer, Little Piggy
 
Kathy knows the power of networking having used it to build her business connections in Norfolk from scratch. Business owners from around the county join her monthly sessions to find peer support. Moving to virtual networking has opened the opportunity for people from all over Norfolk (and further afield) to join.

  
Peterborough  
Caroline Harridence, director, Counting Clouds
 
Caroline's meet-ups are relaxed and friendly. Everyone takes the time to get to know each other, answer questions and lend support to others. Caroline loves hosting them because everyone is so open and keen to share ideas and help each other.
London
London - Creative Sector
Fay Cannings, founder, Seekd
 
Fay became a Local Leader to use her own experience working with creative small businesses to establish a network for London's creative sector. The meetings are informal, and you learn something new from each session. It is a chance to connect with other businesses and share expertise and knowledge. This connectivity is key to broadening your contact base and finding others on a similar journey as you.

 
London - East
Bash Kehinde, life coach, Stylelutions
 
Bash encourages her members to provide accountability to each other, so at the end of each session, each person states what they intend to do during the next 28 days, and they report back at the following session. She likes to use breakout rooms, so you have opportunities to speak one-on-one, in small groups and to the whole meeting. By way of introduction, everyone is invited to give a 90-second elevator pitch - so this alone should be a reason why you wish to attend - so you can perfect yours.

  
London - Kingston
Paul Shaw, business consultant, Business Doctors
 
Through his meet-ups, Paul loves connecting local businesses and helping them share their stories and experiences. It's a diverse group of people who join, all with a passion for their businesses. It can be lonely running your own business and, having access to a like-minded peer group in the same boat as you can be valuable. Paul's meetings are great if you're looking to let off steam or ask for some advice without fear of being judged.

 
London - South East  
Lucy Kebbell, founder, The Vendeur
 
Lucy primarily works with sustainable and ethical businesses and became a Local Leader to support other brand owners and entrepreneurs. She's built an exciting group in South East London. Both regulars and new faces enjoy coming to share their achievements or get help from others. Making connections that help your business is much nicer 'in-person' than trawling the internet for the service you need.
North East
Durham and Tees Valley
Lucy Patterson, founder, Flourish Unlimited
  
Come to Lucy's meet-ups to build a community and find business buddies. If you use these meetings to develop strong connections and nurture relationships, you will create a sales team around you…even when you're not in the room.
North West
Liverpool  
Lindsey Moore, managing director, Agnes Marketing
 
Lindsey's Liverpool meet-ups provide a welcoming and supportive environment where like-minded entrepreneurs can come together to meet, share learnings and support each other. Her meetings have been a huge help to local businesses through the pandemic. Expect to receive (and give) support, positivity and make lots of new connections!

 
Manchester 
Holly Jones, marketing and campaigns manager, Enterprise Nation
Manchester is a lively hub for startups and small businesses. Holly's group reflects the diversity and vibrancy of businesses from the city and region. Some months they invite a guest speaker, but most meetings are about making connections, feeling supported and coming away with motivation to progress on your business goals.
Scotland
Edinburgh  
Fin Wycherley, social media and digital marketing consultant, Supersize Media
 
Expect to meet a variety of businesses at Fin's meetings, from both regulars to other newcomers. They're a great opportunity to not only grow your connectivity but also for you to be a resource to others. You never know who you might meet and how that might turn into a sale, referral or a new partner.
South East
East Kent
Felicity Lerouge, founder, Phenomenal People  
 
It's invaluable for business owners to have a peer group of fellow entrepreneurs who understand the challenges you face and the passion you have for your work. The people who regularly attend Felicity's meetings are very generous with their support. She says, "I love the power of the 'group brain' as we all have different experiences and perspectives. It's an uplifting environment - which we all need in this challenging time."

 
Southampton  
Rebecca Nichols, marketing adviser, director, consultant, Westwood Marketing
 
Becs became a Local Leader because having been self-employed for over eight years she understood first-hand the importance of building a community around you - not for generating business, but for support and have someone to have a natter with. Her Southampton meet-ups are informal. They are not about selling your product or services. They're a forum for sharing ideas discussing challenges and for having a social chat with people who are also local business owners.

 
Surrey - Crawley, Redhill, Reigate and Gatwick
Steve Jebson, business adviser, Business Doctors
 
If you join one of Steve's meetings, you can expect a casual group and lots of friendly faces. But do come prepared to share a couple of ideas on what you will Stop, Start and Continue in your business. Also, bring your One Big Ask - what one thing will help you or your business in the coming months.

 
Surrey - Surrey Heath
Jarmila Yu, founder, YUnique Marketing
 
Jarmila's informal business meet-ups offer something for businesses of every size. Everyone is in the same boat with personal and business challenges or opportunities and juggling life and work. There's a huge benefit from being able to talk and share our ideas, opinions and problems. The Surrey Heath Heads Up meet-up has regulars as well as newcomers attending from both the local area and further afield. What people say is that they value the relaxed structure and the opportunity to brainstorm challenges and ideas.
South West
Bristol   
Dan Martin, freelance small business journalist, content creator and event host  
  
If you live in the Bristol area, you're missing out if you haven't joined one of Dan's meet-ups. One of the longest-running locations, these events attract a diversity of businesses you would expect from Bristol. It is a safe, friendly and non-judgemental place to have a chat. The meet-ups have been important for mental health during the pandemic by creating space for individuals to hold emotional discussions and get the support and understanding of others. Dan looks forward to seeing everyone again in independent coffee shops around Bristol very soon.

 
Cheltenham  
Eva Tunez Salvador, founder, Genuine Translations
 
At Eva's monthly meet-ups, expect to have fun! They are a great way of disconnecting and escaping from typical networking events. In Cheltenham, they discuss a few topics every month and, it's great to hear thoughts and tips from everyone on anything social media, sustainability and even food!

 
Devon
Ann McCluskey, founder, Finding True North and Mandy Lucas, consulting director, Farm Animal Welfare Consulting
The Devon group is jointly run by Ann and Mandy who create a warm, friendly and informal environment. They often invite great speakers from across the region to share their stories and ensure everyone who attends feels supported. Join their group if you're looking to hang out in a safe space, make connections, bounce ideas, and learn from each other.
Wales
Cardiff  
Emma Del Torto, Managing Director, Effective Human Resource Management
 
Emma's group is informal, and everyone is really welcoming. It is great for newcomers who have never networked before and are a little nervous. The support goes beyond the meetings, with many group members engaging online and showing their support to initiatives from the others in the group.
West Midlands
Shropshire  
Shane Stark, director, Business Doctors
  
Shane is a small business consultant and loves running the Shropshire meet-ups. He says they are a great way to make connections, hear other people's challenges or ideas and better yourself and your business. You can get first-hand advice or hear stories of how other local businesses have achieved successes. Shane's meet-ups provide busy small business owners with the perfect opportunity to ask for the specific support they need and to help others.

 
Solihull  
Mike Allen, managing director, Business Doctors  
 
Mike's meet-ups give business owners the space to discuss the issues that often, friends and family don't understand. It's a relaxed forum where likeminded people can talk about issues that everyone else simply 'gets' - and share ideas, problems and experiences.
Yorkshire and Humberside
Sheffield
Daniela Orrego, director & co-founder, Loro Crisps
  
It's important to speak to people that won't judge your journey, but most importantly, understand. In entrepreneurship, you feel isolated a lot of the time; meeting people on the same path as you can help tackle this issue of loneliness. Anyone attending Daniela's meet-ups will be made to feel welcome immediately. It's a chance to meet new people and open your network.
Whether you've got an idea for a business, have just started, or have been running your business for years - joining a meet-up will help you achieve your goals faster by connecting you with people who share your passion.
Hello, I'm Amanda, Enterprise Nation's adviser community manager. I oversee communications, content and events for our active and collaborative adviser community. I'm here to help our members make the most of opportunities and ensure we're constantly improving what we offer. Previously, I've worked across a range of professional services industries specialising in diversity and inclusion and corporate culture. I founded an award-winning corporate D&I initiative and led community strategies for a global board-level women's network. An aspiring writer and storyteller. My roots are from Wisconsin but I have lived in the UK for over 11 years. I enjoy going to gigs, fitness, camping, and far away places.