BLOG
Why I gave up my dream job to breastfeed and how to stop your staff doing the same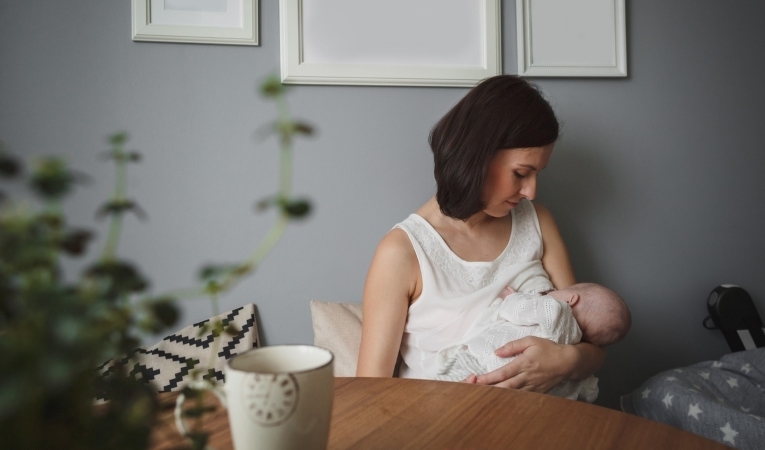 ---
Posted: Thu 1st Aug 2019
Blogger Natalie Brown shares the latest post for the Enterprise Nation Business Health Hub supported by Equipsme.
They say there's no use crying over spilt milk. Except there is, when that milk is your own and it's taken you 20 minutes to express just an ounce of it while balanced on a closed toilet seat, hoping the battery on your pump doesn't run out and your boss hasn't clocked just how long you've been away from your desk - only to accidentally tip it over in your hurry to get back to work.
I know because I've been there, done it and cried the hot tears of frustration that come with trying to juggle motherhood with the career you've worked so hard for.
I'm among one in three breastfeeding mums who have been forced to use a toilet to express milk when they return to work, according to employment law specialists Slater and Gordon. And not only are we expected to do it in unsuitable places, 30% of us say we've experienced problems as a result.
Those problems include difficulty expressing (there's nothing like the stress of knowing you need to do it as quickly as possible with a device that sounds a lot like something else behind a toilet door to halt supply), infections and anxiety and lead 30% of mums to stop breastfeeding earlier than they intended.
"Toilets and bathrooms are not acceptable places for nursing mothers to be expected to express milk or breastfeed," says Paula Chan, specialist employment lawyer at Slater and Gordon, which polled 2,000 breastfeeding mums about their return to work.
"You wouldn't expect anyone to eat or prepare food in a bathroom and the hygiene of food for babies should be paramount. Aside from the unhygienic nature of toilets, this is about affording dignity and respect to mothers returning to work."
And the law is clear: treating a woman unfavourably because she is breastfeeding is classed as sex discrimination under the Equality Act 2010.
Breastfeeding at work
Breastfeeding should be considered in the same way as a request for a temporary change to working conditions from any employee for any reason. For some women this may mean going home or to a nearby nursery to feed their child - or the child is brought to the workplace to be fed - but in most cases it is likely to mean she will express milk and store it until the end of the working day.
While there is no requirement to have a formal policy on breastfeeding, the law requires an employer to provide somewhere for a breastfeeding employee to rest - which includes being able to lie down - and access to clean, hygienic facilities to express milk.
The law in practice
The law might be clear but executing it - especially within smaller companies - isn't quite so simple. As well as the hurdles of open plan offices and lack of suitable space, unlike many other European countries, UK law doesn't give a woman a right to time off work to breastfeed or paid breastfeeding breaks. (In the Netherlands, employers must not only provide a suitable place to breastfeed or express but allow for 25% of work time to be spent on feeding the baby or pumping while on pay).
The reality for mums in the UK, then, is ducking out outside of break times to express milk - conscious all your colleagues are hard at work while you're not - and spending all your 'breaks' pumping, meaning you don't actually get a break at all. You're on the go from the moment you clock in until the moment you clock out.
For employers, the ramifications vary depending on the nature of the business. Ducking out may not pose a problem in an office-based job but leaving a till unmanned in a customer-facing role is a different matter.
Liquid lunch
Of course, for women, such a working day is unsustainable, as is reflected in a 2008 NCT survey charting the experiences of women returning to work after maternity leave. Just 3% were still breastfeeding six months after getting back behind their desks, making it unsurprising that the UK has one of the lowest rates of breastfeeding in the world.
For me that meant I was faced with a clear choice: it was breastfeeding or the job - and the baby won. I quit the job I loved, had worked hard for and was good at in favour of nursing my baby in the comfort of my own home - while my employer lost a valuable worker, just because she was a breastfeeding mother for a brief moment in her career.
And I'm not alone. Julie McKeen, founder of postnatal clothing brand Sarka London, which aims to reduce the compromises women face when they have a baby, looks back on her time in an advertising agency when she returned to work following the birth of her first son with frustration.
"Any working mothers were tacitly tutted at for getting in at 9 and (after working arguably harder than anyone else) leaving at 5.30, and I felt I was somehow 'pushing my luck' to find the time and space to pump," she says. "There was a feeling that this sort of bodily function would be met with a sort of disgust, so I didn't do it."
So, how can you ensure you treat breastfeeding mums right in your business?
Food for thought
"It doesn't take a lot for employers to support mothers returning to work who wish to continue breastfeeding," says Slater and Gordon's Paula Chan. "Our research has shown many women feel too embarrassed to bring this up, so a good first step is for an employer to ask the returning mother what they need."
"For many this will simply be a clean, safe, lockable, private room to express or feed, along with a secure place to chill milk. They may need some flexibility on their breaks or working hours," she says.
And creating a safe space for women to feed will increase the amount of people taking up the resource, points out business mentor Ruth Kudzi, who combines practical business skills with an MA in Psychology.
"Beyond the facilities, there needs to be a cultural shift which encompasses the fact that 'this is how things are done here', so if people want to express, they can do so when it works for them rather than around certain breaks or time constraints," she says.
All of which are simple steps to ensure there's no more crying over spilt milk.
Natalie Brown has been writing about business, parenting and women's issues for the past 15 years. She can be found blogging about life as a work-at-home mum of three at www.crummymummy.co.uk.
Get tips for helping employees remain healthy and stress-free in the Business Health Hub