GUIDE
How to start a business on Instagram [FREE GUIDE]: StartUp UK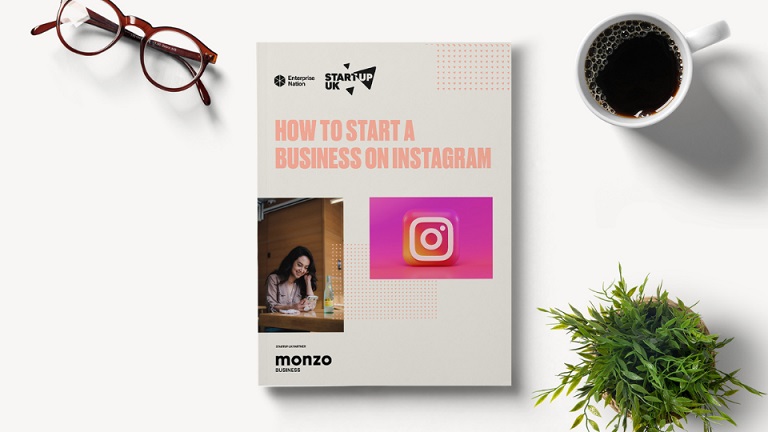 ---
Posted: Tue 19th Jul 2022
Instagram is one of the longest-serving social media platforms out there, having launched way back in 2010. Now it has almost 1.5 billion users.
Such large numbers means it's pretty likely your brand has some potential customers among them. And with 90% of users following at least one business, it's understandable why millions of brands have got in on the Instagram action, marketing and selling their products and services through the app.
Curious to see what the fuss is about? Our new free guide, How to start a business on Instagram, breaks down each step of the process and tells you how to get up and running.
In the meantime, here are some quick tips for upping your engagement on Instagram, provided by Enterprise Nation adviser Katherine George.
Nail your messaging
Remember, it's social media, not sales media – a place to connect and grow your relationships. So while you're ultimately trying to sell your product or service, your messaging must strike the right tone.
Every Instagram post must contain a message – not always the same message, but you need a purpose behind every piece of content. You can do this by splitting things down and speaking about different elements of what your business does in each post.  
Having a consistent tone and style will also create a sense of familiarity over time, which will play to your advantage.
Set up your account correctly
 It's so important to have a profile that's ready for creating content. Connecting with Facebook, implementing scheduling software and getting your CTAs in order will help you achieve this goal.
People will only buy your product via the link or bio if you tell them to, because many simply won't know how, particularly on Instagram.
Other guides in the series
Start a fashion business / Start a food business / Start a beauty business / Start a TikTok business / Start an Etsy business / Start a Pinterest business / Start a side hustle / Start a business while studying
Engagement trumps numbers
Look at your current audience and ask yourself: are they vanity or sanity followers?
Some will follow you because they're aspirational and would like to start their own business one day. The other half are the followers you really want – those who are present within your sales funnel.  
There's little use having a huge number of followers who will never buy your product or service; use free Instagram insights to analyse this split, and tailor your strategy accordingly.  
Understand followers' desires
Knowing your audience will be a running theme in this piece. It's imperative to create content that gives your following the best possible chance of converting.
If you know customers are waiting for a sale, create content that teases one. If it's evident they don't want to miss out on a new edition of a product you release, push pre-orders.
Perhaps your product or service is popular for special occasions, such as birthdays. If so, then be sure to frame your content around this theme!
Adapting to your audience's desires is always encouraged.
If in doubt, ask your community!  
It might sound obvious, but your customers and followers care about you (they wouldn't be customers and/or followers if that wasn't the case), so use your Instagram feed and Story to your advantage.
If you're deliberating on a number of products for future release, use polls within Stories to ask people's opinion – it's free, quick, first-hand customer research, and gives many an early buy-in. 
Instagram has so many follower-engagement tools, so use them!
Reels are your friend
When Reels were first introduced, many content creators simply used these in the same way as TikTok. But the Instagram community don't want TikTok content, they want daily inspiration.
More recently, Instagram Reels have played host to highly emotive, hooking content with lots of aspiration and inspiration, to devastatingly good effect.
The travel sector has been particularly good with Reels – with a plethora or immersive and beautiful experiences showcased for users to enjoy – while fashion and food creators have also found success.
The Instagram algorithm massively rewards engagement for Reels, so be sure to use them wisely.
Enterprise Nation has helped thousands of people start and grow their businesses. Led by founder, Emma Jones CBE, Enterprise Nation connects you to the resources and expertise to help you succeed.