GUIDE
StartUp UK [FREE GUIDE]: How to start a business on Etsy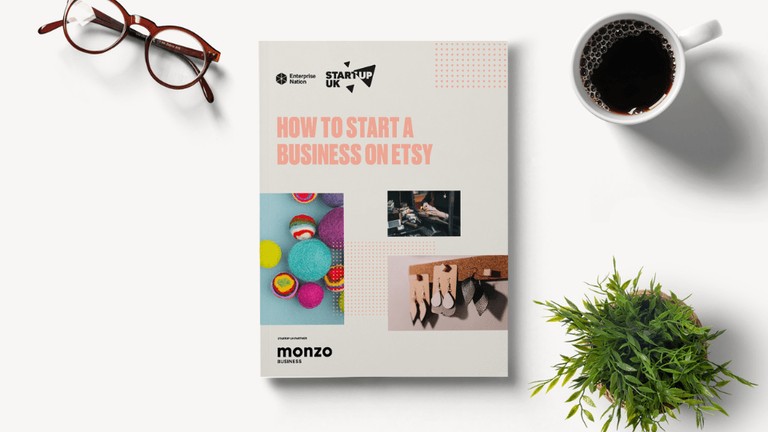 ---
Posted: Thu 8th Sep 2022
Have a great idea for a product that you want to sell online? Etsy is a great option if you're looking to establish a retail business as a side hustle or sell directly to customers – both local and international – without having to raise start-up funds first.
Instead of having to build an e-commerce website from scratch or open up a bricks and mortar store – which both require hefty investments in terms of time and money – Etsy allows you to join its marketplace for free. What's more, setting up your shop is quick and easy.
If you're serious about establishing a professional business on Etsy to sell your crafts or handmade products, read our free guide on how to get started.
Worried about funding? We know business finance isn't easy. So before you go, here are some valuable tips on how your craft or handmade business can best manage its money.
Money management tips for craft and handmade businesses
Choose your accounting system wisely
Any business must keep its books in order from day one. But for owners of craft businesses, it's even more crucial, as you'll be dealing with stock and you'll need to keep track of how much you have at any one time.
Choose a good accounting system with the right level of stock control for your business. If you're buying in stock to sell straight on, you'll need a system with light stock control.
If you're making products from raw materials, particularly if your business is growing, look for a system with in-depth stock control.
Be careful with commission sales
You may sell your products to larger organisations such as county-wide craft bodies, who will then sell on the items to the public.
If you're going to do this, make sure the rate of commission they keep on the sales is fair, and that the interim buyer pays you on time. Don't be caught out by big companies who may pay "low and slow".
Beware of VAT registration if you sell to the public
If you're selling your goods directly to the public – through your own website, for example – only register for VAT unless and until you have to. To the public customer, VAT is simply an increase to the cost of your product.
Read our small business owners' guide to VAT to find out how and when to register.
Other guides in the series
Start a fashion business / Start a food business / Start a beauty business / Start an Instagram business / Start a TikTok business / Start a Pinterest business
Save money where you can
If your business won't take up much space, start from home and find out whether you can save money by buying large items for your business second-hand.
For example, if you want to make pottery, could you find a potter's wheel for sale on eBay or Gumtree? Or, could you even pay to use the wheel at your local art college, rather than buy a new one?
But choose your cost savings wisely – as the following point emphasises…
Choose suppliers carefully
When you're thinking of how much you should pay for stock, don't just look for the cheapest option. Think also of quality and how easy it is to acquire.
For example, it may be cheaper to buy buttons for your homemade childrenswear from abroad. But if those buttons break when a child tugs on them, that's bad news for your brand and you could lose business.
And there could be a whole host of reasons why your imported stock can't reach you. There may be import tax too, which would push up the total price you pay. So pick your suppliers with care!
Think about how much stock you should buy in at a time
Suppliers may well give a discount if you buy a larger quantity, and you'll save on postage too. But make sure you don't end up with a pile of stock you can't sell, as this will put a dent in your profits and tie up cash.
Your stock might not be perishable, but if you're making fabric bags and you buy a large quantity of bright orange material, will bright orange stay in fashion long enough for you to make the bags and sell them?
Work out your profitable lines
If you sell more than one kind of product – for example, hand-knitted mittens and scarves – it's a good idea to know which lines bring in the most profit, as that's where you should look to focus your time.
To work out how profitable each line is, take your sale price per unit (for example, £10 per scarf), then subtract how much each unit costs to make. Make sure you include all your costs.
If you're making patchwork cushions, for example, think of not only the fabric and thread but also the cushion pad and zip, and don't forget to include your time for cutting out and sewing up.
The more intricate the design, the longer this will take. Use a spreadsheet to help you, and ideally do this before you set your prices to customers. It can be very hard to put prices up very soon after you start selling a particular product.
Set your prices carefully for handmade goods
How much premium can you charge for handmade goods? For example, if you're making bespoke cross-stitch wedding samplers, your customers will expect these to be hand-sewn and anticipate having to pay a premium because of the time the items take to make.
But if you're making clothes, these are usually machine-stitched, which doesn't take as much time as hand-sewn garments. For more pricing tips, read our guide, How to price your handmade goods.
Your website or mine?
Should you sell through your own website or through sites such as Etsy? In terms of costs, weigh up the price of building your own site (or having a professional do it) against the greater pool of customers you'll find through established platforms like Etsy, but for which you pay a fee to use.
And don't forget that if you go through your own website, you'll also have to invest time marketing the site and maintaining it, or paying someone to do that for you.
Plan for the future
No matter how small your business, it's very important to plan and forecast your sales, costs, profit and cash coming in and out. This isn't just for large businesses. You won't be able to keep everything in your head no matter what size of business you run, so write it down and record it.
---
Enterprise Nation has helped thousands of people start and grow their businesses. Led by founder, Emma Jones CBE, Enterprise Nation connects you to the resources and expertise to help you succeed.