BLOG
Is it time your business invested in young talent?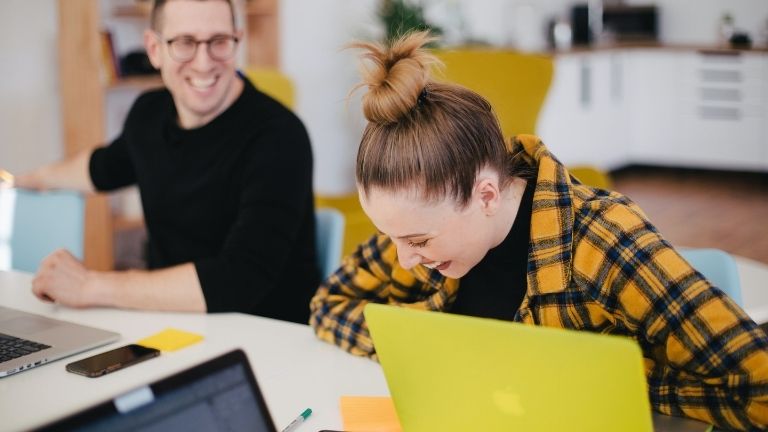 ---
Posted: Fri 28th Oct 2022
More than 70% of large UK companies and nearly 50% of smaller firms are suffering skill shortages due to factors ranging from Brexit to the 'Great Resignation'.
The ongoing impact of the pandemic means employees are increasingly choosing to pivot to self-employment, new roles in different sectors and even early retirement.
Add to this the issue of an ageing workforce and it's clear that staffing is an area that no business can afford to neglect – especially in hard-hit industries such as retail, hospitality, tech, manufacturing and construction.
Many businesses already recognise the value of attracting fresh talent through their trainee schemes and apprenticeships. But now such initiatives are not so much a 'nice-to-have' as something experts say are 'absolutely vital'.
"A huge gap is opening up between the skilled workers who will soon be retiring and the young, knowledgeable and enthusiastic talent they need to replace them," says a spokesperson for Glassdoor.
"Attracting young talent is absolutely vital for UK business, not only to replace departing skills but also to bring in the new ideas crucial to ensure future success."
Recognise the value of a younger workforce
While a lack of professional experience may make younger workers less appealing to employers, they can bring a wealth of other benefits that should not be underestimated. Younger employees offer a fresh perspective that is essential for businesses to remain innovative, according to business development expert Courtney LeMarco.
"They are willing to learn, want to make a good impression, and contribute to and be an asset to a company's growth," he goes on. "Young workers are full of ideas that can help them breathe new life into a company's internal and external offerings."
They may require more support at first but motivated young workers are usually keen to further their learning and can be shaped into the ideal candidate for a role.
As Microsoft's Apprenticeship Manager Dominic Gill says: "Some employers can search endlessly for exactly the right person for the job. Instead, they should try looking for a young person with potential, who has the right skills and motivation – they should develop them."
Learn from other generations
Conversely, employers may find it's their younger staff that can teach them. The generation born post-1980 – Millennials, Gen Z and Zillennials – are 'digital natives' who have never known a world without tech. This makes them experts in getting to grips with constantly changing technology, from NFTs to cryptocurrency.
"Businesses benefit significantly by working with young talent when using these technologies," explains LeMarco. "Younger staffers are quick to adapt to changes, have a clearer understanding of their intricacies, and better know how these technologies can be utilized to a company's benefit."
Three-quarters of tech business leaders believe it is this demographic that will close the digital skills gap – making it even more important for businesses to bring them on board and develop their confidence.
Likewise, business owners or young entrepreneurs who are keen to grow their businesses can learn from each other, sharing tips from peers who have 'been there and done it'.
Modernise your business
Companies seeking to modernise their operations and upskill staff are being advised to prioritise younger workers. According to the UK's 2011 census, the majority of construction workers are aged between 40 and 49 and recent surveys suggest this hasn't changed. Workers aged between 16 and 21 make up the smallest proportion of the industry.
As a result, the industry has a majority workforce that is due to retire in the next decade and not enough young workers progressing through the ranks to replace them.
The Construction Skills Network anticipates that by 2025, the industry will need to recruit an additional 217,000 new workers just to meet growing demand.
This makes apprenticeships and training schemes for electricians, plumbers, glaziers, carpenters and metal workers ever more crucial. CITB Policy Director Steve Radley agrees: "It's great to see construction coming back so strongly and creating lots of job opportunities. We need to adopt new approaches to meet these growing skills needs and deliver these quickly.
"We are working closely with the government and further education (FE) to build better bridges between FE and work and make apprenticeships more flexible. We are also making significant investments in supporting work experience that make it easier for employers to bring in new blood."
Provide top-quality training to attract new recruits
By incorporating traineeships or apprenticeships businesses can ensure that the employees entering their sector are on top of industry trends and requirements. New recruits help to refresh training programmes and ensure a high quality of staffing.
How then to ensure your business is attracting new blood? One expert advises businesses to start by taking a good look at their hiring criteria. It may be worth creating new roles or adapting existing ones to include training packages.
Look too at where positions within your company are advertised. Digital recruitment processes - especially social media - are more successful than traditional methods with Millennials and Gen Z-ers.
Simplify any complicated application processes. The easier it is to apply for a job the more people will apply, giving employers a wider pool to choose from. Make sure you are not guilty of affinity bias – or 'hiring in the mirror'.
Recruiters often favour candidates who look and think like them, come from similar backgrounds or industries, or are of a similar age and status.
But this can mean missing out on those who may bring new perspectives, experience or company development.
Instead, businesses should focus on hiring for 'culture add' where, rather than looking for someone who will fit into their culture, they look for a candidate who is a bit different and would therefore add to the culture.
Offer competitive packages
Lastly, ensure you are offering a competitive package. As job openings continue to outstrip unemployment, job candidates are essentially 'consumers' looking at the marketplace and deciding what offers them the most overall.
While pay will always be a defining factor, younger people also place particular value on flexible working opportunities, wellbeing and fitness initiatives, plus a clear system of rewards ranging from financial bonuses to parties and away days.
After all, these Millennials and Gen Z-ers make up nearly a third of the working population. Recruiting and retaining them isn't just good for your business – it's crucial.
Relevant resources
---