BLOG
How to hire an apprentice for your small business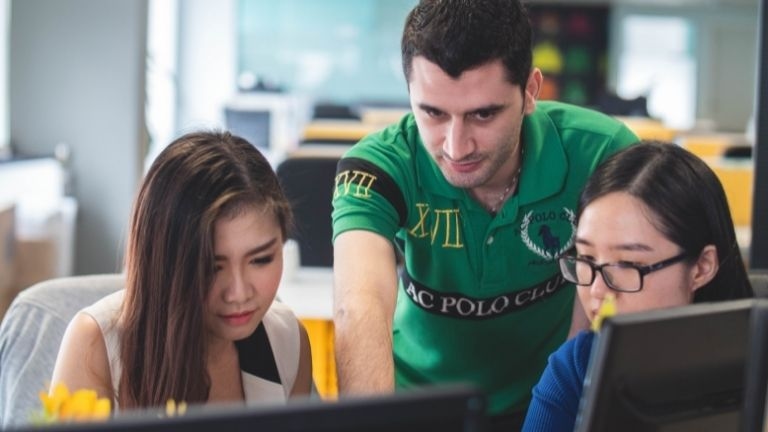 ---
Posted: Mon 7th Feb 2022
Charlotte Goodwill is CEO of The ITP who, in her latest blog, talks all things apprenticeships.
You can connect with her on Enterprise Nation for any further support.
---
It's National Apprenticeship Week, and this year's theme is 'build the future.' The theme is based around the benefits apprentices can bring for individuals, businesses and the local community, of which there are many.
According to the National Apprenticeship Service, 74% of employers say that apprenticeships have helped them to improve the quality of their product or service. The good news is that apprenticeships are now accessible for all businesses, irrespective of size.
Once upon a time it was only big businesses, with matching budgets who could offer to take on and run apprenticeship schemes. Nowadays there is funding and support available to start-ups and small businesses, and taking on an apprentice can be a cost-effective way of creating a skilled and trained team.
Benefits to your small business
The 'build the future' theme is particularly relevant to the UK jobs market where many industries are experiencing skills gaps and shortages.
Apprenticeships are a fantastic way to fill these gaps, by hiring and training individuals who will develop with the business as it grows. With over 550 apprenticeship standards available, ranging from cybersecurity to dog grooming, you can choose an area tailored to your business.  Many smaller employers have found that hiring apprentices have enabled them to cultivate a highly trained workforce from the ground up.
Apprentices are also more likely to stay loyal to your business, with a reported 90% staying on at the end of their apprenticeship.
86% of employers said apprenticeships have helped them develop skills relevant to their organisation.

78% of employers said apprenticeships helped them improve productivity.
*National Apprenticeship Service
Funding available
One of the questions we are asked the most is around funding. Now there are additional government incentives available to help small businesses take on apprentices. 
Businesses with a pay bill of under £3 million are not required to pay into the apprenticeship levy. Instead, they pay just 5% of the costs towards the training and assessment of an apprentice.
For businesses with fewer than 50 staff, the government will pay 100% of the costs (up to the funding band maximum). This is for apprentices between 16 – 18 and those between 19 – 24 (with an education, health and care plan provided by the local authority).
There are also additional incentives available until the end of March. Employers can apply for £3,000 for any new apprentices starting before this date. This is in addition to the current £1,000 incentive payment for hiring a new apprentice.
To access funding, you will need to create an apprenticeship service account.  
How to hire an apprentice
Choose the apprenticeship level for your business. There are four levels to choose from, ranging from intermediate level 2 (equivalent of five GCSE passes) to Higher Level 4,5,6 and 7 (equivalent to foundation degree and above).

Find a training provider. 20% of your apprentice's time will be spent off the job training. You will need to find a provider who will provide this and work alongside your business to deliver the scheme. You can find a full list of providers on the Education & Skills Funding Agency website.

Choose the level of pay. Apprentices must be paid no less than the Apprenticeship National Minimum Wage (if between 16 – 18) and National Minimum Wage if over 18. Most employers do choose to pay more than this to attract good candidates.

Get your HR in order. All apprentices must be employed for a minimum of 30 hours per week and are entitled to all the same benefits as other staff. They should also have a contract of employment and access to staff handbooks and other documentation.

Recruitment. Alongside traditional job boards and sites like LinkedIn, the National Apprenticeship Service has a portal where you can advertise the role and access its database.

Plan training and development. You will need to work in conjunction with the training provided to draw up a training plan which supports their work and enables them to pass their apprenticeship.

Find an end-point assessment organisation (EPAO). This is how the apprentice will be assessed independently at the end of the scheme and is separate to the training provider. You can search for EPAOs here.
The ITP helps employers develop their best talent and inspire the next generation through apprenticeships. We work with businesses to help them recruit, train and mentor apprentices in their business. We offer advice on funding, as well as starting up a scheme.