BUSINESS NEWS
UK's top ten small business advisers 2019 announced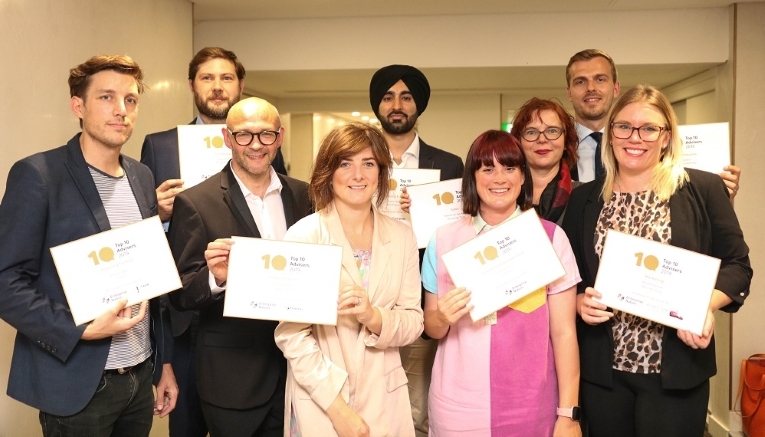 ---
Posted: Wed 31st Jul 2019
The UK's top small business advisers were named this week, all recognised for their hard work and commitment to helping British firms to be great.
The awards were part of the Top 50 Advisers competition hosted by small business support group Enterprise Nation at the city headquarters of the Institute of Chartered Accountants England and Wales (ICAEW). They are sponsored by Dell, ICAEW, Docusign, Breathe HR, Square, Direct Line for Business and [Journolink](https://journolink.com target=).
Emma Jones, MBE, founder of Enterprise Nation, who handed out the awards said: "All research points to the fact that businesses that take advice at the right time become more successful than those that don't.
"Yet our own research has found small firms are still reluctant to take advice, often relying on family and friends. These awards are about raising awareness about the benefits of guidance, increasing the ease with which you can find advisers you can trust and recognising the signs when it's time to seek the help of an expert.
"Without these amazing advisers, great British businesses wouldn't be doing great things."
Enterprise Nation's Small Business Barometer revealed there is still a reluctance to take advice in the UK. The survey found a third (33 per cent) of small firms said they relied on family and friends for advice and support, another third (30 per cent) said they were a member of a business membership organisation and a fifth (19 per cent) said they had a mentor. But a quarter admitted they had no one to turn to for advice.
Jasvinder Gakhal, managing director of Direct Line for Business, said: "These awards celebrate the skill and success of business advisers across the country. It has been an honour to be a part of the awards and we would like to congratulate all of the winners.
"This is a tremendous achievement and is testament to the hard work all of these businesses have put in to growing their proposition. We look forward to seeing how they continue to develop in the future."
A supportive local small business community
The winners in ten categories included Jamie Hewitt, founder of Rocketship WP, who was named the UK's top technology adviser.
He said: "A big reason why I think I won was that all the small businesses I help and know, made the effort to voted for me.  It says something about the community I live in that they were prepared to come out in such large numbers to back another small business in their area.
"My business is all about making a difference to small businesses and that's why I am here, so winning this award is absolutely amazing."
The father-of-one from Balham advises firms on how to set up their websites and boost their digital presence, including using SEO and other digital tools to increase sales and marketing.
People want something easy like Wordpress
He said: "Nowadays, there are lots of different ways to build a website - including great rented website solutions like Squarespace or self-hosted solutions like WordPress. A big part of what I do is helping to demystify the landscape, helping clients to choose and setup the right tools for their business and also advise them on the strategy for launching their product or service."
The other top ten advisers were:
The competition named 50 advisers in the nine core disciplines from across the UK that specifically offer quality advice to smaller firms in order to help them grow.
Enterprise Nation has developed an adviser platform with the ICAEW that can help improve the speed and efficiency of selecting and connecting with a good adviser.
The competition saw hundreds of nominations and more than 5,000 votes were cast during in the voting phase. More details here.
Enterprise Nation has helped thousands of people start and grow their businesses. Led by founder, Emma Jones CBE, Enterprise Nation connects you to the resources and expertise to help you succeed.