BLOG
Make your life simpler in 2022: Three New Year's resolutions that you can stick to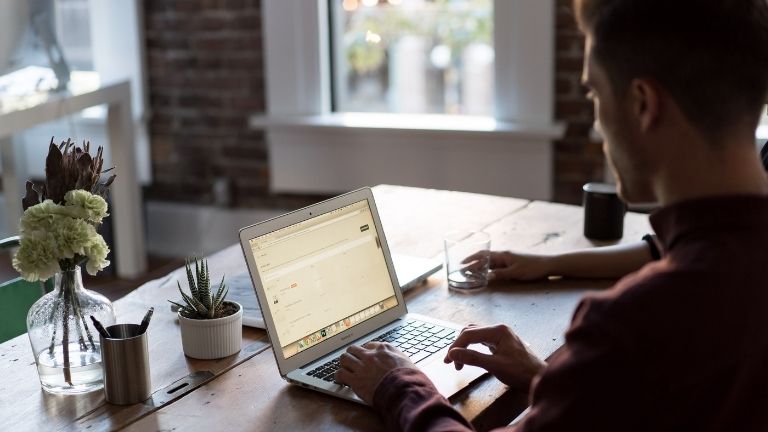 ---
Posted: Fri 14th Jan 2022
Many business owners see Januarys as a fantastic opportunity to set goals and resolutions, but how can you make sure they're stuck to?
Enterprise Nation adviser Melissa Gauge, also fonder of SpareMyTime, talks through how entrepreneurs can ensure their goals are sustainable and achievable.
Be sure to connect with Melissa today.
---
It's not always easy to stick to your New Year's resolutions. Whilst it's great to have lots of ideas about taking up new hobbies, learning new skills or committing to eating more fruit and veg, what most of us really should be aiming for in 2022 is an easier life.
However, with kids, work, and other chores, the simple life can often seem far away.
This is particularly challenging when you are working from home, or if you have recently set-up a new business and don't yet have the support of a team.
Whilst there are huge benefits to working from home (or working for yourself), including having more freedom to manage your working day, you can often feel like there are not enough hours in the day.
The truth is, you don't need to choose between your hobbies, family life, or running your business to have a simple and easy-to-manage lifestyle. There is no one-size-fits-all-solution, but here I have rounded up a few tips that I find helpful which you can start implementing today, and start 2022 as you mean to go on:
Resolution 1: Be realistic
This is not to put a dampener on your dreams. Always dream big! The idea here is to start small and set reasonable, achievable goals that help you along the way to your big dreams.
Most New Year's resolutions fail because they commit to too much, and we give up on them at the first struggle. Start small and enjoy the feeling that success brings.
I am a big fan of making lists as it's a great way of taking back control of your day (week or month). At the start of each month, make a list of your top priorities for the month. You can then break these down into more manageable weekly or daily goals.
By having a list, you will instantly feel more organised and in control of your life. Don't worry if you don't achieve all the tasks you have set out for the month. This is a part of life. Perfection is procrastination!
Resolution 2: Ask for help
This can be a tough one for small business owners, especially if you are a start-up and doing everything yourself. Your business is your baby after all, and it is scary to relinquish any control. Who do you ask for help? What if it doesn't work out?
The truth is, there will always be a risk in asking for help or outsourcing administrative tasks. The great news is that there are more and more virtual assistants out there to choose from.
Virtual Assistants (VAs) can handle everything from answering emails to managing your social media and getting your books in order.
Here are three reasons you should consider hiring a VA:
You can choose who you work with – VAs have a range of different experiences, so you can match relevant professional backgrounds or experiences with your individual requirements.

You don't have to take on a full-time employee – Taking on an extra member of staff can be costly and time-consuming, and you need to be sure you have enough work for them. This is not true of a VA. You can scale their work up or down at any time. It is a truly flexible way of working.

VAs are affordable and efficient – Think of a VA as a service that you only use when you need to. This makes it affordable and efficient as you can delegate tasks as and when they arise.
Resolution 3: Take a break
This one is easier said than done. It's a common misperception that working from home is less productive than working from an office and that it encourages slacking off.
In fact, studies have shown that you can work longer hours when you are working from home versus in the office. For example, you may find yourself working much later into the evening when you're at home than you would otherwise. Without the start and end time of an office environment, it is harder to manage your working day.
Whether you're working from home or from an office, it's still important to take regular breaks to help boost your creativity. I like to schedule my breaks throughout the day, which helps me to keep focused. You can use a timer (on your phone or laptop) to remind you when to take that break. And don't forget to make time for things like exercise, a walk, some fresh air, or meditation as well as that cup of tea!
Do it now!
These three simple resolutions are easy to implement and very achievable. Just remember, you don't have to do it all at once and you don't have to wait until the new year to start implementing some of these ideas.  Start small, be kind to yourself, and don't be afraid to ask for help.
---
Connect with Melissa for more incredible business support.
Finally, if you possess expertise that can help our growing community of small business owners, become an adviser today!
I left the City in 2016 when it became clear that life with small children and a full-time executive career wasn't for me. I wanted to create something that really helped people, like me, who were forging a way forward, balancing work with family life. When my children went to school I realised there were many highly talented individuals unable to return to work due to the limitations of childcare. I also started to meet a number of exciting small businesses in need of support but were struggling to find an appropriate level of flexibility, quality and knowledge for their growing businesses. This developed into a passion for building a solution for both sides. A truly supportive working environment where people can thrive outside a classic 9-5 office structure whist providing reliable, high calibre support to businesses and individuals looking to achieve more productivity and peace of mind. SpareMyTime was born!