MEMBER STORIES
The stationery company that helps you plan, pursue and seize the things that matter most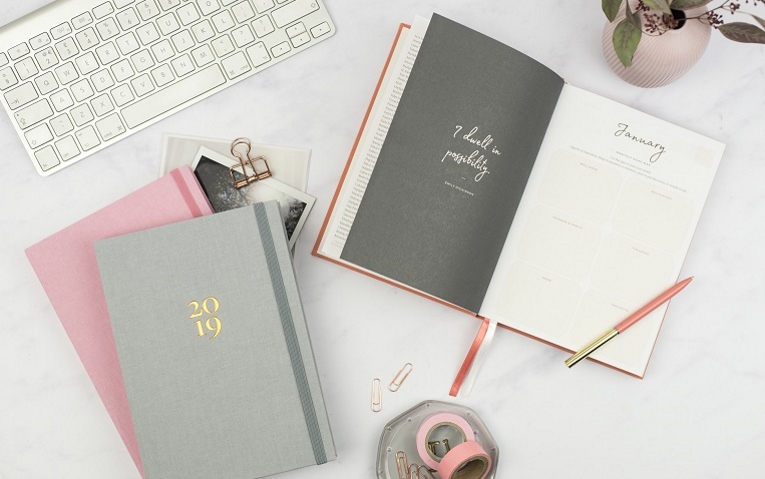 ---
Posted: Sat 15th Jun 2019
Ponderlily is a modern, environmentally conscious luxury stationery brand. Founder and Enterprise Nation member Carina Lawson shares her story.
How did you come up with your business idea?
I saw a gap in the market for productivity tools that made planning personal. We often get lost in scheduling things for other people (e.g.: kids' dentist appointments, running errands to organising a birthday party) that we forget to put ourselves on the agenda.
In seeking a well-balanced lifestyle that encompasses both authenticity and flexible structure, I created a collection of products for people with full lives who want bold, intentional living with time to be still, kind, strong and happy.
What start-up challenges have you faced?
Coordinating production, a website launch, and creating content when I travel a lot for work can be quite challenging. Good job we make planners around here!
Keeping things super simple and doing them well is how we overcome this. Saying no to projects and being realistic of what I can take on helps overcome that. We don't have to do all the things!
What has been your biggest achievement so far?
Being featured in the Independent as the best planner of 2019.
What is your next big business goal?
Pitching to retailers and being in more stores.
What do you think will be your biggest challenge?
Mindset. I'm painfully shy and working up the nerve to talk to retailers can be quite daunting for me.
How has Enterprise Nation helped your business?
I really appreciate the opportunity for speaking on a panel at StartUp 2019 with so many accomplished speakers (Enterprise Nation members can watch a video of the session, how to start a wellness brand, here).
I also love the resources on the website.
Which other entrepreneur inspires you?
Marie Forleo; she's incredibly smart and has given the tools to so many people to do what they love.
What are your three tips for business success?
1. Make a plan of how you're going to work in your business. Keep that plan super simple and realistic. Show up to work the plan and repeat.
2. Find your people and serve them well. You're not going to be for everyone and that's okay.
3. Be diligent about your business finances. Your actions should be geared towards running successful small businesses that earn a profit, are structured for growth, and are built on sustainable business practices that fit your life.
Anything else you would like to share?
We're a family business and I worked with my father in law many years ago, before I even met my husband! I couldn't imagine running this business with anyone else.
We're proud to have entrepreneurs like Carina as members. Join Enterprise Nation and become part of an amazing community of small businesses.