MEMBER STORIES
The solicitor turned travel accessories entrepreneur helping education projects around the world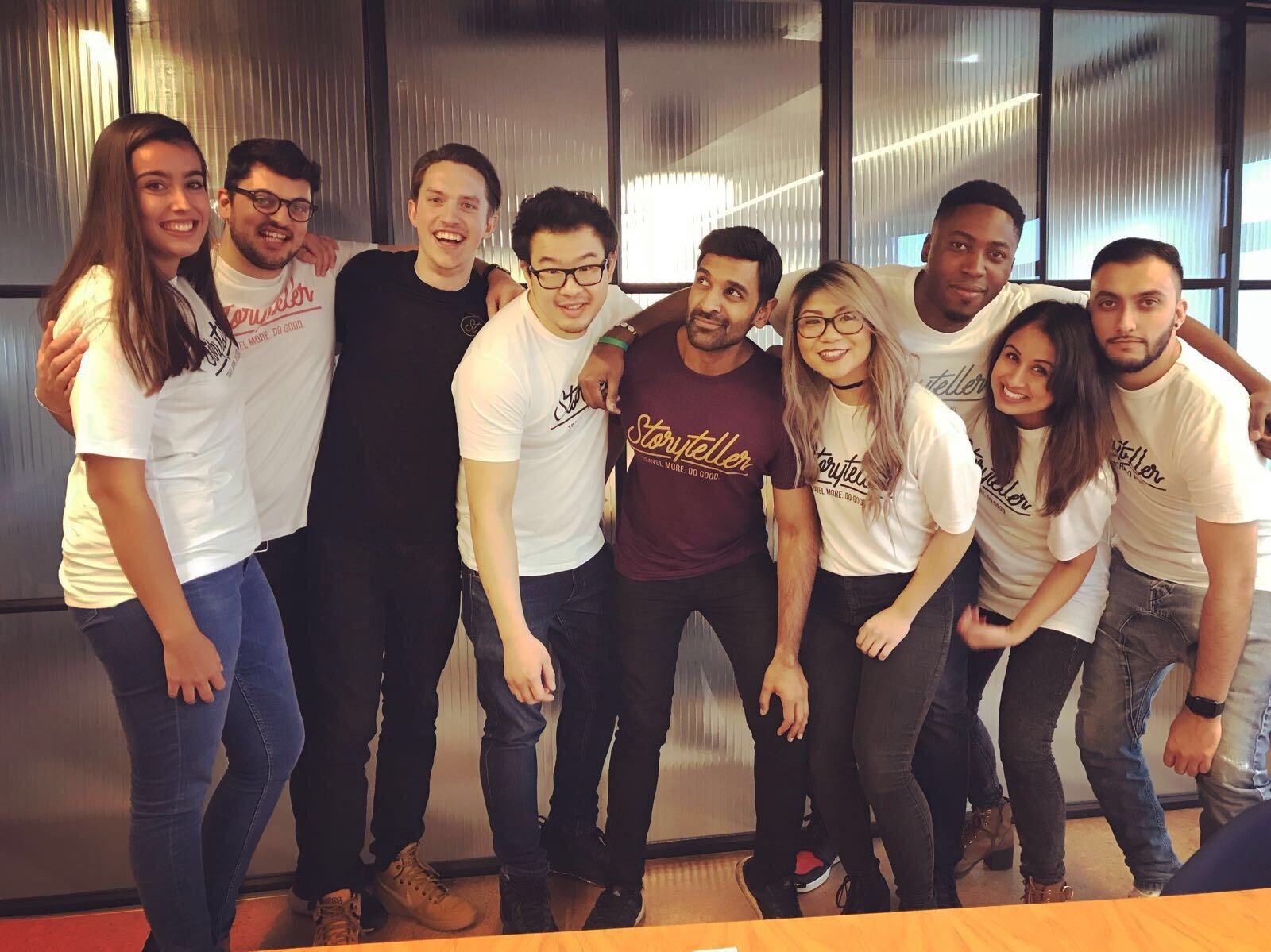 ---
Posted: Fri 1st Jun 2018
Bhavesh Patel is the founder of Storyteller, a company that creates accessories to help people capture their travel adventures and also supports sustainable educational programmes in underprivileged areas of the world. The Enterprise Nation member tells his story.
**_Join Enterprise Nation today and become part of an amazing community of small business owners._**
Describe your business in one sentence.
We build unique travel accessories, whilst using our profits and resources to help fund sustainable educational programmes in underprivileged areas of the world.
How did you come up with your idea and turn it into an actual business?
When I was travelling I would come back with amazing memories but always the same souvenirs. Nothing which was tangible where I could record my travel memories. Journals are great, but they are hard to work to maintain.
I came up with the idea for FlagMate by combining the longevity of a journal with the simplicity of a souvenir, creating the perfect way to capture our personal travel memories.
I then turned this idea into a business by incorporating the two things that I was most passionate about, the love of travel and giving back to others.
I wanted to use this platform to bring like-minded travellers from around the world together to give back to those in less fortunate areas of the world.
Storyteller is now an e-commerce business with a range of unique travel accessories with supporters and fans from around the world.
Explain how you secured the funding for your business.
I used my savings to create the brand, website and minimum viability product which was then tested accordingly.
As soon as the launch products were ready, I ran a short crowdfunding campaign which has helped to boost sales within a 30 day period, after which to expand the product base a bank loan has been obtained.
What start-up challenges have you faced and how have you overcome them?
The biggest challenge I faced was balancing my full-time job at the time of a solicitor with starting the new business, which I did for almost nine months.
Both were very different, yet constantly busy and time pressured and at times, it would get very frustrating as business progression would be very slow due to work commitments.
I overcame this by delegating those tasks that although I could complete, would be very time consuming and would not be of the high quality if they were performed by specialised within those specific areas.
I, therefore, invested my money into the building of the brand and website, both of which I knew would be the most important for the long-term growth of the company. This saved me a lot of time, but also allowed me to focus on the strategic growth as well as product development, areas where my time focus was imperative.
Another challenge I faced was having a relatively small pot of money for marketing, identifying where best to invest this for the best return, both from a brand recognition and sales perspective.
I therefore tested many platforms from paid social media advertising and social media influencers to PR during the pre-launch period of the company which has enabled me to test with small monetary amounts where best to invest my company when the company officially launches in July 2018.
What has been your biggest achievement with your business so far?
I would say this answer is threefold.
Firstly, the Storyteller FlagMate being featured in GQ Magazine and Conde Naste Traveller was a great start and has led to many worldwide exposure and sales.
Secondly, the partnerships we have formed with our like-minded charity partners which include UNICEF, The Barefoot College, and Global Citizen has really allowed us to implement our vision of supporting educational programmes around the world.
Personally, however, my biggest success was when I travelled to India to work with our partner charity, The Barefoot College.
During this time, Storyteller partnered with Indian Premier League cricket team Rajasthan Royals to provide some of the children from the charity with an opportunity to visit the ground and have a personal meet and greet session with the international cricketers, which included the likes of Shane Warne and Indian international Ajinkya Rahane.
Being able to support these children who have never left their local village, by taking them to the city and meeting their idols, who spoke to them about the importance of education has really impacted them which I hope helps them achieve a better future. Being able to do activities like this as a company is a huge part of my long-term vision and this again has a been a great start.
This also led to coverage within an Indian national newspaper which is always great to see.
What is your next big business goal?
To partner and collaborate with like-minded corporate organisations to deliver The Storyteller FlagMate into a wholesale and retail space.
What do you think will be your biggest challenge getting there?
I believe the hardest part will be getting in touch with the right people at these organisations and ensuring they have exposure and see our product range.
How has Enterprise Nation helped your business?
Since starting this business, I have been a member of Enterprise Nation and from the local meet-ups in Birmingham and London, to the online e-courses, Enterprise Nation has a huge part to play in Storyteller's success so far.
I met the founder of Notepad, the company behind the Storyteller brand at an Enterprise Nation meet-up, whilst using many of the online tutorials and podcasts to learn in depth about each topic behind strategically building a business.
Which other entrepreneur inspires you and why?
It has to be Elon Musk. From creating Paypal to Tesla and now on a mission to take individuals to Mars with SpaceX, no goal is far enough for him.
Being able to have a passion to create something better than the last project, and constantly growing and overcoming failures and setbacks is a big part of entrepreneurship, but taking ownership of those failures and learning from them is something I really admire and would say each entrepreneur must do.
What are your three tips for business success based on your experiences so far?
Take ownership of each failure and setback and learn from them, rather than letting it put you down.
Work with like-minded people and organisation who will help you achieve your ultimate vision.
The mistake I initially made was to think I could do every aspect of a business, but instead by focusing on things that you are good at, and working with specialists in other areas, you can create some absolutely amazing work whilst saving yourself a lot of time!
Ensure your business is your passion, otherwise having just a profitable business will mean at some point, it will be difficult to work with the same intensity and vision.
**_Join Enterprise Nation today and become part of an amazing community of small business owners._**
Founder of a UK based start-up, Storyteller. We build travel accessories, whilst using a share of its profits to fund and run educational programmes in underprivileged areas of the world. To do this, we have partnered with like-minded charities which include UNICEF NextGen (UK), The Barefoot College and Global Citizen. Our work has helped us win Social Entrepreneurs of the Year 2020. Our award winning products can be found at https://www.storytellertravel.co.uk/ Along side this company, I also practice part time as a Solicitor.