BLOG
The small business owner's guide to writing a marketing plan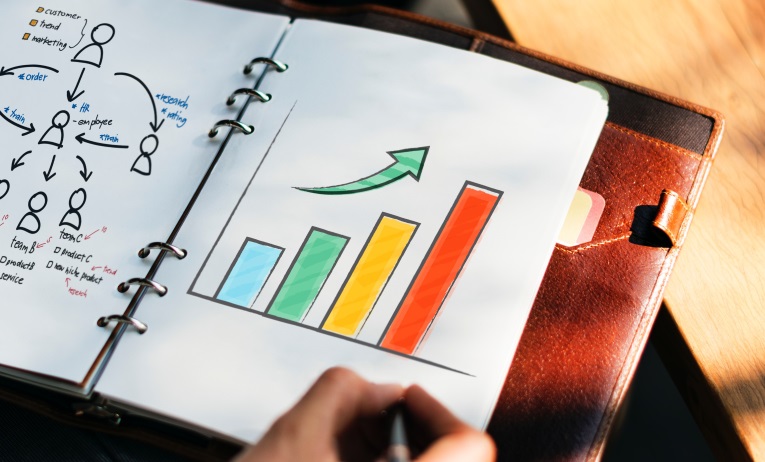 ---
Posted: Tue 5th Feb 2019
Marketing plans make sure your marketing efforts have the impact you desire. Spending time planning your activity will have a big impact on what you're able to achieve and build motivation.
We've mapped out the steps you need to take to create a marketing plan.
Understand the impact on financial performance
Marketing activity needs to be developed with your business goals in mind. What do you want to achieve this year? You key marketing goals are likely to include a sales target. Product launches, new sales regions and longer contracts are other options.
The next step is to breakdown how these goals can be achieved by marketing channel and the amount of activity. It's likely each will include a combination of channels. Note the expected budget as you go through the process. When that's done you can compare the results you expect to the amount of time and money you'll need to invest.
The more you understand how the activity relates to sales the better. For example, you may know how many leads come from a certain amount of money spent on a flyer campaign or targeted Facebook adverts. Think about how to measure the impact of activity before you launch new campaigns.
What marketing channels are you going to include?
Potential marketing channels to investigate for your marketing plan include:
Advertising

Public relations

Promotions and giveaways

Social media
It's a lot to cover so spend time researching what's likely to work before you overstretch yourself.
What social media channels do your customers enjoy using? How closely does the audience match your targeted customers?
Knowing your customers' interests, age, location and desires helps this process. The conversations you have with customers offer a wealth of detail. The management team and staff will know lots of this already. It's helpful to discuss your experiences and write down the key facts about your audience in your marketing plan.
Research may be needed, particularly if you plan on targeting a new marketing channel or investing a significant amount of money.
Want more resources to help you build a strong marketing strategy?
No matter how great your products or services are, they won't reach your audience if you don't promote them effectively. Enterprise Nation members can access resources including a marketing plan template.
Discover the full range of member benefits
How much regular marketing are you going to do?
The amount of marketing you do will be a function of resources, business goals and the marketing channels you have available. This is particularly true of on-going marketing, such as sending regular newsletters.
Start by thinking of the marketing channels you have available. What do you expect to get out of different platforms? Who are you targeting? And how often should you post?
The size and number of social media channels you have will impact frequency you work on them. A small Twitter following shouldn't be overloaded with company news. Likewise, the number of emails you send will be dictated by the number of lists you have and customer preferences.
Book time to complete marketing activity
It's easy to get stuck in the delivery aspects of running a business. To deal with the immediate tasks that impact your clients and put marketing on the back burner.
It can be helpful to book regular slots in your diary for marketing activity. This helps improve discipline and prevents tasks bleeding into other work you're doing.
What are the big events on your calendar?
It's helpful to include on-going marketing and specific campaigns. Think about the important internal and external events that can help promote your business.
You can celebrate business achievements like opening a new shop, hiring an employee or delivering a big project in your marketing. New product launches will need planning in advance and activity will pick-up the close you get.
External events can be used to promote your business too. Look through online resources of important dates to get ideas for events you can leverage. Days of The Year lists all kinds of wonderful stuff like Curmudgeons Day and Freethinkers Day.
Local festivals can also provide a hook. Get these opportunities into your marketing plan.
Choose the planner that makes sense for you
There are lots of different ways to record your marketing plan. You might feel more comfortable with an annual planner posted on the office wall or a spreadsheet. Here are the pros and cons of the main methods:
Trello is a productivity tool. The ability to add multiple people to a single board makes it useful if several people are working on marketing. It's very visual and simple to use too.

Marketing plans can be created in Google Sheets or Excel. These have the benefit of allowing you to record lots of information. Spreadsheets are normally organised as a Gantt chart of sorts.

Marketing plans can be created in diaries. It's difficult to share but may be your preference if you run the rest of your business this way.
Think about the tools your team are likely to enjoy using. They may geek out over spreadsheets or hate them.
Want to connect with like-minded business owners?
Become an Enterprise Nation member to get exclusive access to free networking meet-ups, involving coffee and plenty of conversation. Membership is just £10 a month and you can cancel at any time.
Chris has over a decade of experience writing about small businesses and startups. He runs Inkwell, a content agency that helps companies that sell to small business owners grow their audiences through content marketing. You can find him on Twitter at @CPGoodfellow.