BLOG
StepUp September: 30 days to change your mindset and your business - week three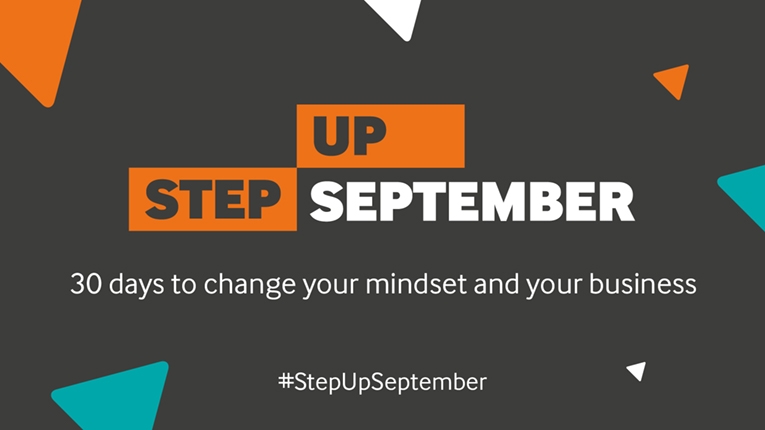 ---
Posted: Mon 14th Sep 2020
We're now in the third week of September and as part of our advice packed StepUp September campaign we've been sharing daily bitesize business lessons. What's the aim? To encourage start-ups and small business owners to lean into learning!
The reason for this is because, over the years, our research indicates that businesses that seek advice fast do better than those that don't.
We've been receiving great advice contributions from Enterprise Nation friends and members. Big thanks to everyone for getting involved.
Catch-up on the first and second article and get involved in the conversation on Twitter, Facebook and Instagram to get your top tips featured.
Monday 7 September
Tip of the day: Get out of your comfort zone
"Most of the opportunities I've been lucky enough to come across are a result of getting out of my comfort zone and putting myself out there. By that, I mean, saying yes to new opportunities (even if they're a bit scary!), asking lots of questions, trying to raise my profile and networking with lots of different people.
Go to that event, say yes to that coffee catch up and make that call - you never know what opportunities might come out from it."
Tip provided by Jess Salamanca, founder of Banana Scoops.
Recommended resources:
If you're a female entrepreneur, get out of your comfort zone and put yourself forward to be the Female Start-up of the Year 2020! We created the accolade in 2015 to shine the spotlight on an early stage start-up entrepreneur who is excelling in their industry. Find out more and apply now.

Read about the practical steps you can take to build a mindset that can help your business grow
---
Tuesday 8 September
Tip of the day: Stay flexible, be nimble!
"My top recommendation for a start-up is to stay flexible. Stick to your general ethos, but we have had to diversify several times already in order to survive.
One of the key advantages of having a small business is being able to respond fairly quickly to change, embrace it!"
Tip provided by Lauren Riddell, founder of Kids Gone Wild.
 
Recommended resource:
---
Wednesday 9 September
Tip of the day: Test, learn, optimise!
Try out different elements in your marketing and see what brings the best results for your business. Feel free to adapt as necessary! For ideas of different variables to test, think about your:
Creative

Email subject lines

Email delivery times

CTA straplines

Landing page layouts
…. and more!
Tip provided by Stephanie Melodia, Director of Bloom.
Recommended resources:
---
Thursday 10 September
Tip of the day: Make your physical health a priority
"You can't perform at your best if your physiology is not operating at its best. I find a morning run or a Joe Wicks 20 minute blast raises my metabolism and helps me see solutions, be more creative and have more energy for my business."
Tip provided by Tim Bassford, founder of Turbine Creative.
Recommended resource:
---
Friday 11 September
Tip of the day: Find an accountant to help complete a cashflow forecast
You may think profit is more important than cashflow but there is an old maxim that no business ever collapsed because of lack of profitability, but lacking cash is a cause for concern.
Having cash allows a business to operate. Find yourself a trusted accountant that can help you keep on top of your business books.
Tip provided by Emma Jones, founder of Enterprise Nation
Recommended resources:
---
 
**We hope these practical business tips will inspire you to take on new challenges and learn new skills this September. 
 
If you have a business challenge that you'd like to recommend to the community, engage with us on social using the #StepUpSeptember hashtag and we'll be sure to share!
**
Head of Marketing at Enterprise Nation. I specialise in community growth and engagement - email and content marketing - social media strategy - and building collaborative partnerships. What do I love doing? Connecting with start-ups and small businesses and shining a spotlight on them.