GUIDE
StartUp UK [FREE GUIDE]: How to start a beauty brand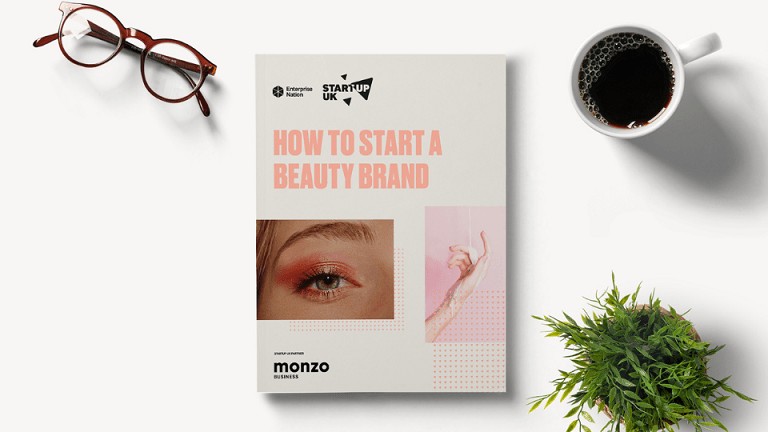 ---
Posted: Mon 9th May 2022
The UK's beauty business is booming. According to Statista, the UK consumes the third-largest amount of cosmetics in Europe, and its skincare market is worth nearly £1.8 billion.
This is good and bad news for start-ups entering the market. On the upside, UK consumers have a healthy appetite for buying beauty products. The downside? Competition is fierce and it can be hard for brands to stand out.
If you dream of launching your own beauty business, our new free guide, How to start a beauty brand, will help you get going. Below, we share some key tips and details of Enterprise Nation advisers who are on hand to support.
Define your niche
The best beauty businesses focus on delivering a particular product to a specific group of customers. Meeting the needs of a well-defined audience helps give clarity to what you're offering people.
Learn how to use your personal experience to pinpoint your target audience and find your niche within a niche.
Conduct market research
There's no shortage of demand in the beauty industry. While consumers may forgo other luxuries, they continue to indulge in cosmetics for an emotional boost – even when times are hard.
As such, it's important that you remain relevant or stake out a corner of the industry for your company. That's where market research comes in. It helps you stay abreast of new trends, consumer spending and brand perception.
Using a market research specialist will take the guessing out of launching new products and services. Enterprise Nation adviser Katie Tucker knows what it takes to make products customers want to buy.
She can support you with market research and make sure your product development, marketing and customer service efforts stay on track.
Book a free call with Katie today
Create powerful branding
New beauty entrepreneurs often design their own branding and print labels. However, this doesn't always result in the polished products that retailers want to see. Your products will attract more attention if they're beautifully branded and designed, so consider outsourcing the work to a branding expert.
Enterprise Nation member Chris Gomez can help you identify the brand values and personality traits that make you unique and translate this into a powerful brand that stands out from your competitors.
Other guides in the series
Start a fashion business / Start a food business / Start a TikTok business / Start an Instagram business / Start an Etsy business
Learn how to pitch to retailers
Want to get your business's products on the shelves of the retail giants? Wizz Selvey is the founder of WIZZ&CO, where she advises brands on how to stand out and attract customers.
Former head of beauty at Selfridges and director at Cowshed Beauty, Wizz has heard thousands of business pitches, so she knows what works.
Book a discovery call with Wizz
Make the most of online marketplaces
Online marketplaces allow you to sell goods without setting up your own online store. They're popular with customers for their convenience with comparing prices and products. But despite all the advantages, setting up on online marketplaces can feel daunting.
Laura McCaul is co-founder of Sponsored Profit, a specialist Amazon advertising agency. Her team of experts help business founders and owners of physical products selling on Amazon to save time, make more sales and scale more profitably.
Deliver a memorable customer experience
Beauty brands and retailers have a demanding clientele that expect companies to deliver a high-quality customer experience. How beauty businesses interact with shoppers as they move through the purchasing process is more important than ever.
There's a simple path to follow, and Michelle Spaul, founder of Delta Swan, can walk you through it. She'll help you build your understanding of your customers' experience and reap the benefits of customer-first thinking.
Hire a beauty brand management agency
A brand management agency will act as your brand guardian. Offering a mix of strategy, digital marketing, product development and PR, they'll work to deliver profitable results for your business.
With over 20 years' experience in the beauty industry, Janet Milner-Walker, founder of Bespoke Advantage, can help you create your brand and build your launch strategies and routes to market.
Book a discovery call with Janet
Enterprise Nation has helped thousands of people start and grow their businesses. Led by founder, Emma Jones CBE, Enterprise Nation connects you to the resources and expertise to help you succeed.