BLOG
Seven things we learnt in New York (and how to apply them in your business today)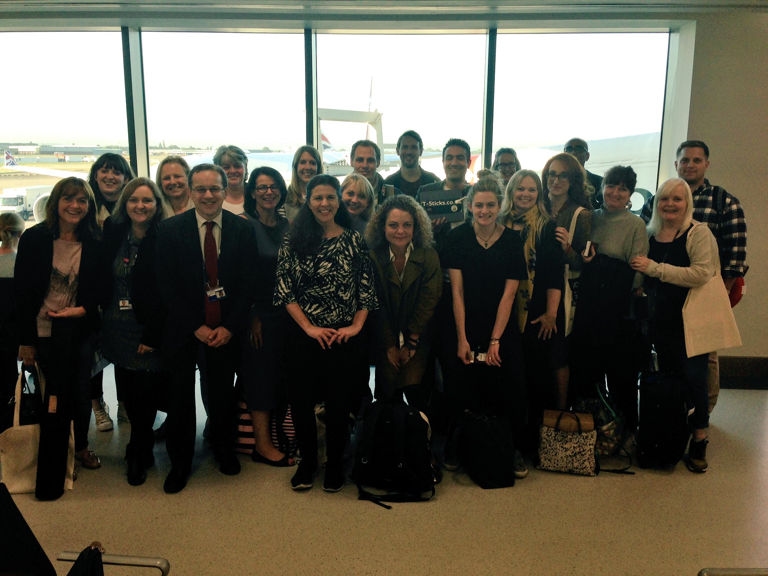 ---
Posted: Mon 10th Oct 2016
Last week we led our fourth trade mission of the year to New York, with 25 amazing British brands on board. In the space of three days, we had 14 events and visits, met over 100 new people, and learnt a whole lot about the US market and business in general. These are my key highlights so you can benefit from the experience too.
1. Size of the market
The size of the US market is 320m consumers and they are some of the richest consumers on earth. You may not have been on the mission but I do suggest you look at the US as a potential market for your product or service.
What can you do today? Look at US consumer demographics for your particular industry or trade, check out if you're already attracting US traffic through Google analytics or customer reviews. It's a market that, in my view, should be at least considered by every breathing British company. If you're serious about it, get signed up for a US Go Global mission in 2017!
2. Storytelling
This was covered at almost every session. The Americans are passionate about hearing your story. They want to know why you started your business, what makes you special, and why they should spend dollars with you. The COO of Etsy (now America's third largest e-commerce platform after Amazon and eBay) spoke passionately about how Etsy enables buyers and sellers to talk so the story can be told, and Greg Spielberg from Imagination in Space, who we visited as he was about to open a British pop-up store, introduced himself as a 'storyteller'. He helps brands access New York through retail but sees his main job as telling the story.
What can you do today? Know your story and feel confident it's being told well across the major mediums of website, social media, print promotion.
3. Mobile shopping
Another fact and feature often repeated on the mission; the US consumer likes to shop whilst on the move and via their mobile device. To be honest, we are hearing this in all markets so it's good to be mobile prepared.
What can you do today? Make your site mobile responsive. If you're using a template site provider, this often comes built in or you might have to ask your developer for help. If just starting out, start mobile!
4. Cultural nuances
An insightful Brits in New York panel confirmed that being British definitely gets you through the door, and the Americans are very open to welcoming you into networks.
What did surprise me though was the unanimous view that "Americans are excitable"; that you can have a meeting where you walk away thinking the deal is sealed, only to never hear from the contact again.
Luke Smith of Croud explained it well: "Two of us spent three months in a windowless serviced office, hammerinng the phones to get known, prove our worth, and do a deal. One client let us in, we did a great job and now we're building a business. It doesn't take too much time but it does take a direct approach and investment in being on the ground."
What can you do today? Read Allyson Stewart-Allen's book Working with Americans  which, as Allyson told us when she spoke at the Go Global New York reception at the British Consul's residence, may have been written 14 years ago but remains just as relevant today!
5. Challenge yourself
A highlight for all was meeting Pano Anthos of XRC Labs. In the space of 30 minutes he challenged us to step out of the business and get the basics in order. "What does your Mum think about what you do?," he asked. "If she doesn't understand it, re-think it."
"The best way entrepreneurs learn is from other entrepreneurs" @ptanthos @xrclabs #GoGlobalNYC #xrclabs pic.twitter.com/ChzAnLvkot

"" Enterprise Nation (@e_nation) October 4, 2016
What can you do today? Take a breath, think about your story and brand, and ask friends and customers for their view. And be sure to ask your Mum!
6. An eye on the future
Whilst challenging yourself on the present, it's also key to keep an eye on the future. This came through at a session with Bing where Purna Virji talked about the rise of digital assistants such as Cortana and virtual reality, and suggested small businesses consider new technologies coming to market and how to make the most of them.
Change the way you see the world #GoGlobalNYC pic.twitter.com/9BQOB0egyL

"" Enterprise Nation (@e_nation) October 4, 2016
What can you do today? Sign up to Springwise which will deliver innovation to your inbox each week.
7. Power of positivity
This may be the last point but it is 100% the most important. Spending three days with entrepreneurs on a mission means getting an insight into their minds. The ones who perform best are those with open, enquiring, and positive minds. They are the entrepreneurs who ask questions, relish meeting new people, enjoy sharing advice with fellow mission go-ers, and don't object to hearing about the tax structure of operating in the US after being awake for 20 hours. They are the entrepreneurs who grab the opportunity with both hands, and make it their own.
What can you do about this today? Actually not much. You've either got the right attitude for entrepreneurship, or you haven't.
Thankfully most of the people we meet have got just that.
Massive thanks to our Go Global New York delegates and our lead supporters, HSBC, KPMG, Bing and Heathrow Airport.
We'd also like to thank:
Inspired to expand your business overseas? Our fifth and final trade mission in 2016 is to Hong Kong and China in November. Find out more.
Enterprise Nation has helped thousands of people start and grow their businesses. Led by founder, Emma Jones CBE, Enterprise Nation connects you to the resources and expertise to help you succeed.