MEMBER STORIES
New year, new move for Prints of Ireland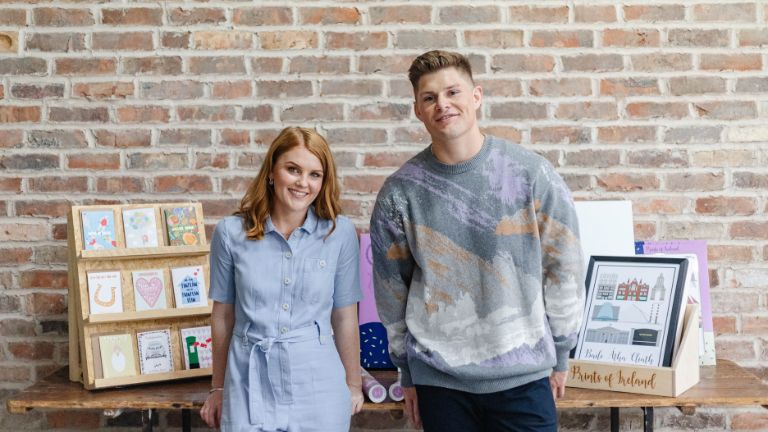 ---
Posted: Fri 23rd Dec 2022
We love nothing more than sharing our Enterprise Nation members' stories, particularly when they have some good news.
Here, Heather Gilroy takes us through her business Prints of Ireland, shares her news of new office space, and lays out some goals for the year ahead.
Heather, what is Prints of Ireland?
My partner Peter and I set up Prints of Ireland two years ago in March 2020. We create illustrations of Irish landmarks, counties, and towns.
We create prints, greeting cards and tote bags. All of the products feature the Irish language, so really what we wanted to do was create modern artwork that celebrates our country and our language.
Where is your business based?
We're currently running it from a spare room in the house, but we've actually got a new office in Ardgillan Castle in Skerries, Co. Dublin. We're going to be moving in there in the new year.
I'll have a new studio overlooking the rose garden. There are lots of different artists and creators in there, so it'll be nice to move in and be part of that community as well.
Have you always been an online business?
We have. We started online and this time last year, we got into our first retailer, which was Arnotts. That gave us the idea to start moving the business from solely online to getting into shops as well.
We went to a trade show last year and now we're in over 20 shops around Ireland. We're doing a second trade show in January 2023 so we're hoping to double that and get into lots more shops.
Why is using the Irish language in your prints important to you?
It's the selling point for us. But also the Irish language has always been a big part of my life; I went to Gaelscoil until the age of 12.
I kept my grá for Gaeilge into secondary school. I wanted to spread that love with other people and in an accessible way as well. All our products feature both Irish and English so as not to alienate anyone. It's meant to be accessible to all levels of Irish speakers.
Did I see your prints in the Arnotts Christmas market?
Yeah, we're in there again this year. We got a much bigger space this time. We have a good selection of prints, cards, calendars and tote bags in there, so it's gone really well.
What are your goals for the business for 2023?
A big goal for the new year would be to get into more Irish retailers – the likes of the Kilkenny design shop would be the dream shop to be in.
Also, we'd like to do more design and corporate work. Maybe even get into gift shops abroad, like in America – there's a massive market there as well.
Enterprise Nation has helped thousands of people start and grow their businesses. Led by founder, Emma Jones CBE, Enterprise Nation connects you to the resources and expertise to help you succeed.