MEMBER STORIES
Meet the Enterprise Nation members pitching products to top beauty buyers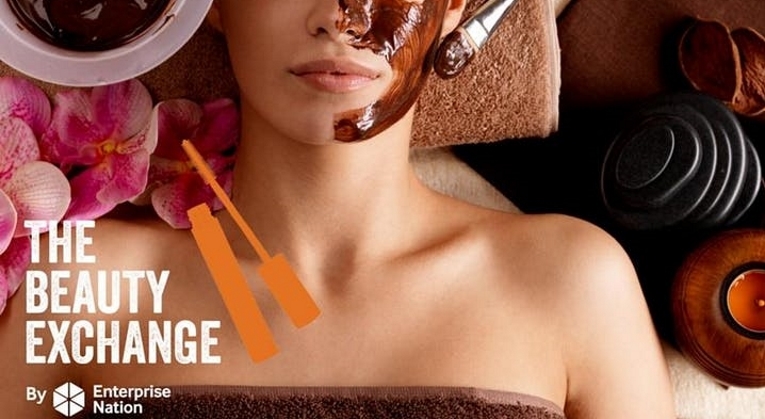 ---
Posted: Tue 9th Jul 2019
At the sold-out 2019 Beauty Exchange in London, these three Enterprise Nation members pitched their products live on stage to buyers from Fabled by Marie Claire, GLOSSYBOX and lookfantastic.
Want the opportunity to pitch retail buyers on stage at future events? Become a member today.
Describe your business in one sentence.
Jinmee was founded on the desire to create a leading clean beauty brand that educates and promotes the simple Korean skincare routine whilst caring for the environment.
Why did you want to pitch?
We currently have no other competitor in the UK for our product, and instead, see Hydrapuff as an essential skincare tool to be used alongside consumers own skincare products. We believe this is a unique opportunity for retailers to offer a new and innovative product to UK customers.
With the modern beauty consumer becoming more educated in skincare ingredients and processes, beauty trends are set to focus on brands who provide transparent, honest skincare.
Jinmee is part of the clean beauty movement, with our product promoting simple, effective, multi-tasking skincare that minimises product wastage. Hydrapuff also has environmental benefits – being vegan, cruelty-free and biodegradable.
Now is the perfect time to introduce Korean skincare methods to the modern consumer, who is increasingly aware of global trends through social media. A recent rise in interest for Korean beauty and culture has consumers looking increasingly for Korean products, with Korean beauty at the forefront in this movement with its innovative products.
What is your vision for the future of your business?
We have a great passion to establish Jinmee and the Hydrapuff as the latest in Korean skincare technology with the concept of 'half the product, double the result' in the UK and globally.
Every year, consumers get wiser about the product choice as they are increasingly more aware of the harmful environmental impact caused by plastic package and any substances which damage the cycle of nature.
We will continue to educate and promote Jinmee as a clean beauty Korean skincare brand at the forefront in the global environmental movement in the skincare sector. We have a global business plan to distribute Hydrapuff to multiple beauty retailers including online and in stores.
Describe your business.
Vegan skincare for acne and its after-effects.
Why did you want to pitch?
I'm a new and exciting brand that started from a real need in the industry. I believe I have an innovative product range, and I've checked the website of the buyers and do not see a similar product to mine.
Most acne products have harsh chemicals; my products are natural, ethically sourced and vegan, and give a glowing appearance to the skin. I believe the buyers will love my products, and it will appeal to a wide market.
What is your vision for the future of your business?
I want Frank's Remedies to be the go-to brand for acne.
I'll be creating more products to diversify the brand, and treat other skin conditions. My next skin alignment range will be for eczema, to showcase that a natural remedy exists for everything.
Describe your business.
Based in the heart of Yorkshire, Clockface Beauty is transparent and ingredient-led, waterless, luxury, multisensory skincare that's 100% natural, organic, vegan and cruelty-free. There are separate ranges for both women and men.
Why did you want to pitch?
Because we offer a consumer-led product through ultimate transparency in our ingredient labelling, giving back choice and clarity. We challenge the view that water should be contained within skincare products, and instead replace it with targeted plant botanicals that promote great skin for all skin types.
If it doesn't make your skin beautiful, it isn't in our products. They offer incredible results, a multi-sensual skin ritual to give you that spa-like feeling in your home.
We're very proud to have a separate male range, which we believe is an underrepresented sector of the natural skincare market. We feel we dispel the myth that most all natural products have to look and feel the same.
What's your vision for the future of your business?
The largest luxury all natural skincare brand in the UK and Europe.
I want us to be leading at the front of transparent labelling in the skincare sector, have a strong brand identity for creating confidence with beautiful skin, alongside a sense of wellbeing and luxury.
The Beauty Exchange 2022
If you're looking to start or grow a beauty business, book your ticket for The Beauty Exchange now. Industry experts and successful entrepreneurs will be on hand to provide top tips for growing a great brand and buyers will share how you can pitch your products.
Enterprise Nation has helped thousands of people start and grow their businesses. Led by founder, Emma Jones CBE, Enterprise Nation connects you to the resources and expertise to help you succeed.