BLOG
Six top tips to market your business during lockdown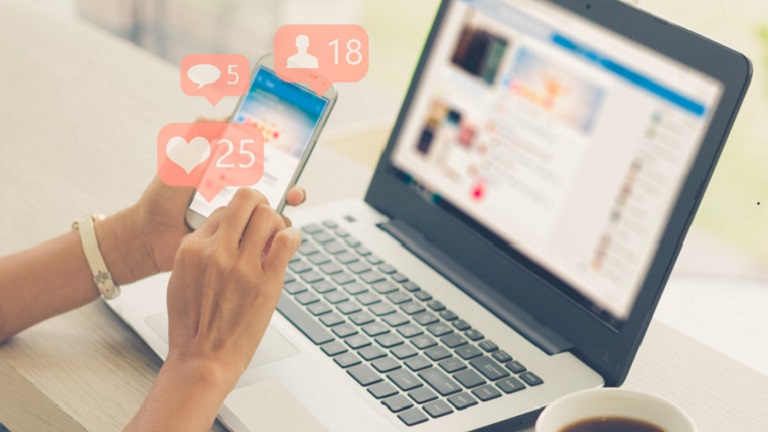 ---
Posted: Mon 20th Apr 2020
The COVID-19 outbreak is a challenging time for us all and with many small businesses up and down the country wondering what the future holds, it's more important than ever to keep being seen as a business.
Simon Cox explains how to stay visible with six ideas that won't cost you a penny.
Social media
Social media has been on the increase for a number of years and, unless you employ an agency to look after your social media marketing, it's completely free to market yourself online. It just takes a little time and you need to think differently from your competitors.
You could tell the story of how you and your family are coping during the COVID-19 outbreak on your business' social media accounts, especially if you have a regular client base. Your clients have bought your products or services in the past which means they like you and trust you, so why not introduce them to your family or personal life so they can get to know you better?
Twitter hours are a great way to engage online and keep being seen. Simply tweet with the hashtag of the hour you are engaging in and away you go. They are free and conversational. Search for your local Twitter hour in Google and join in the conversation.
Our local Twitter hour is Kettering Hour on a Monday between 4pm and 5pm when people meet up online and talk about local events. Search #KetteringHour on Twitter and you'll find out what's going on in Kettering. Don't forget to include the relevant 'hour' hashtag in your tweets so other people searching that hashtag will see you.
Ensure you include photographs and videos in your social media content as this attracts people to your posts and increases the level of engagement.
Video
It's so simple to produce a video these days to broadcast across social media platforms and to live broadcast. Why not set up a session on your iPad or iPhone and engage with your followers? You could hold a Q&A session online for your followers to ask questions about your business or offer free support, advice and help to other small businesses who are in a similar position having had to close their business and are sat at home worried about the future.
You could also create some TikTok videos which are short, snappy and funny and post them on social media. We keep hearing how we are in unprecedented times so why not produce some visual content to look back on in years to come about how we survived these times and create memories for the future.
Join online business network groups
Over the last few weeks, we have seen an increase in online meetings via platforms such as Zoom. With many meetings not able to take place due to face to face contact and the risk of spreading the virus, meetings have moved online with people doing their bit for their local business communities.
You'll need to have a search on Google or maybe have a look for the face-to-face meetings which usually take place and see what they are now offering.
Online business networking meetings can provide you with engagement and an opportunity to meet new people across the world. Although you won't get to meet people in the flesh, you can still share time learning and potentially doing business.
Blog
Blogging is a great way to share your expert knowledge so future clients can build up trust in you ahead of us coming out of the lockdown. Google loves content as well so spend time writing about your business, products or services and work on your Google rankings.
Attract interest where your readers will get to know you more and understand you or your business. We've heard how facts tell, stories sell for many years so tell the story behind your business, what you are doing during lockdown and why you started your business in the first place. All this will encourage future engagement.
By sharing your knowledge you will also build up a following from people who like what you are writing and the message you are giving out. This will benefit you when someone says to your avid readers "do you know someone that can help with X?" and the readers can first-hand recommend you. Try it and see.
You can blog on your website or maybe connect with others in online business network meetings and offer to guest blog on their website. There are also online publications that accept guest bloggers so search in Google and see what's out there.
Pick up the telephone
We've all been busy over the years building a client base and supplying customers, but how often do you speak to them? You are sat at home with little to do so why not pick up the telephone and speak to your customers who have bought from you in the past?
Firstly, they will love to hear from you I'm sure, especially if you've given them a great service or value in the past. If the conversation goes well and they haven't left you with a testimonial previously, maybe you could ask them for one which adds value to your business and keeps the testimonials flowing - even during lockdown.
You could share ideas with them for their business and have a general conversation maybe pulling on your areas of expertise or knowledge. This could also lead to a referral to someone they know who might in the market for your product or service. How many times do we ask someone who has already brought our service or product to recommend or refer us? It's a simple strategy which can pay dividends in the future.
Whatever you choose to do, it's important you keep marketing and sowing the seeds for the future. Now is your time to grow!
Podcast
Have you considered podcasting? You can share your knowledge, news and updates by using simple free apps. One I would recommend is Anchor which allows record a podcast on your mobile phone and then share with your social media followers. It also connects with Spotify meaning you can broadcast to a worldwide audience. Try it and see!
EARLY CAREER With a career spanning 26 years, Simon has worked in a variety of senior positions in the sports and leisure sector, security sector, business networking and training, licensed retail, supply chain and distribution in financial roles where he headed up departments and led teams. His main roles saw him spend five years in the football industry within Queens Park Rangers Football Club spending 14 months in administration. BUSINESS CAREER He has also led his own businesses for 12 years during this period where he spent 5 years developing and managing the Sales and Marketing activities of Get Embroidered, a family run embroidery and print business, as well as three years as Director of Simon Cox Marketing Solutions. Simon has also been a Director of DASH Leisure, a family run business based in Leighton Buzzard, where their business was announced as the Best Marketed Pub in the Charles Wells Brewery in 2003. BUSINESS NETWORKING Simon is a former Regional Trainer with Business Network International (BNI) in Northamptonshire, founded the Kettering Business Network and helped set up other business networks in Corby, Wellingborough, East Northants, Northampton, Market Harborough, Daventry and Rugby with plans to develop more groups around the East Midlands area. Simon has led the Kettering Business Network to the SME Business Awards in 2016, 2017 and 2018 and was a Finalist as Entrepreneur of the Year in 2017. The Kettering Business Network were also a Finalist at the 2019 SME National Business Awards for Networking Group of the Year. He has also supported small businesses in the annual Small Business Saturday campaign, worked with Enterprise Nation at the Amazon Academy in Newcastle and Glasgow as a Digital Marketing Advisor and supported the annual Micro Biz Matters Day. BUSINESS AWARDS In 2018, Simon founded the Kettering Business Awards where local businesses are recognised for their contribution to the local business community. Simon has also been listed as a Disability Confident Employer in the past and has helped unemployed people gain valuable work experience together with local students gain work placement experience. VOLUNTARY WORK He has also been a Business Advisor to local schools through the Young Enterprise Company Programme and received the Gold Award in 2018 for services to Young Enterprise. He has also been a mentor to young people with the Brightside Charity and has also raised funds for local charities with various events. Simon's goal is to assist business owners with support and a hands on approach to helping his clients with their business activities on a confidential level. He has led a number of fundraising events over the years including 92plus1 (visiting all 92 football clubs in the Premier and Football Leagues in 2013) which raised £8k for Help For Heroes, completed the Great North Run for Kettering based Teamwork Trust charity, The Tube Challenge with two members of Team GB raising funds for Niamhs Next Step and slept in cardboard boxes for The Hope Centre in Northampton to raise awareness and funds for the homeless. In 2019, Simon was a founding member of the Kettering Town Centre Partnership group during the formation of the Partnership who focus on Kettering's town centre and high street challenges and Chaired the group for 8 months before taking up the role of Vice Chair. Away from business, Simon enjoys spending time with his family and friends as well as running, football and listening to music. Simon is also a presenter on Shire Sounds Radio, Kettering's community radio station and hosts his own radio show on Monday's between 4 and 6 pm every week. Simon joined Poppy Design Studio, specialists in WordPress websites and graphic design, in December 2019 to help Director and Head Designer, Marie Baker, move the business forward and bring his experience and knowledge to the business.