MEMBER STORIES
Laurelle Darroux, Sleepgoddess: 'Thanks to StartUp UK, I've learned strategies to market and grow my business.'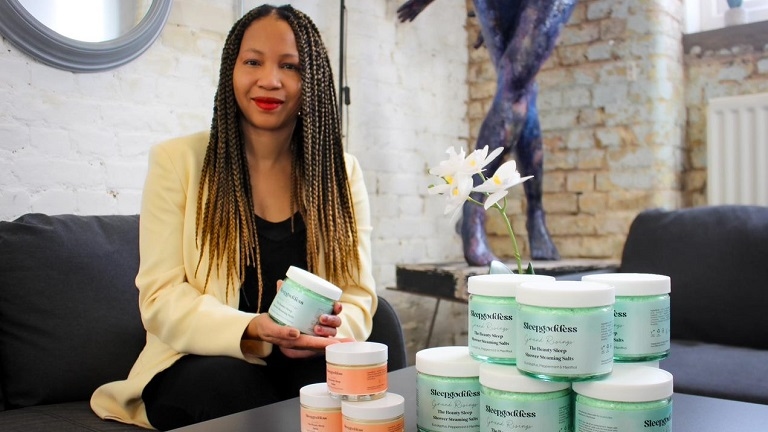 ---
Posted: Tue 31st Jan 2023
StartUp UK is Enterprise Nation's scheme to provide free tailored support to budding entrepreneurs.
Backed by the UK government and Monzo Business, the programme delivers initiatives such as e-learning, online training, national events and flagship annual conferences throughout the UK.
As the scheme continues to run, we're talking to some of the business owners who have been taking part, to hear how it's benefited them so far.
Here, we talk to Laurelle Darroux, whose business Sleepgoddess provides products that combine modern sleep wellness with ancient beauty rituals.
How did you come up with your business idea?
My first product was a vegan silk pillowcase. I started with this because I used satin fabric to maintain my baby girl's hair and wanted a more convenient way to do so when she was lying in her pram, buggy, cot and so on. I thought of getting hat fabric elasticated like the Moses basket cover.
People loved the design and wanted the product for adults as well. I was keen to make a vegan and sustainable option, so I went to social media to do surveys and get feedback.
We were in lockdown during the pandemic, and my target audience was requesting more solutions to help them with their sleep. So I expanded the range but focused only on what was ideal, convenient and suitable for my customers – sustainable and innovative products for better sleep.
Download our free StartUp UK guides
Start a side hustle / Start a fashion business / Start a food business / Start a beauty business / Start an Instagram business / Start a TikTok business / Start a Pinterest business / Start an Etsy business / Start a business while studying
What makes your business unique?
I started my business because I was backed into a corner – I'd returned to work following maternity leave but was then made redundant. I felt lost and dejected but I didn't want to get back to a place of depression.
I continued to follow Enterprise Nation, watching the Lunch and Learn webinars and the workshops. All this encouraged me to start my business, despite my professional background being in international maritime policy – very different to Sleepgoddess!
Because I didn't give up, now Sleepgoddess is growing, winning awards, gaining corporate clients and getting fantastic reviews. I'm truly satisfied that I'm following my dream of creating fabulous products which help other people get a better night's sleep.
You've taken part in Enterprise Nation's StartUp UK programme. What were your reasons for doing it?
I wanted to learn some strategies for growth and redesigning my digital marketing. I also wanted to find out how to seek funding, bring brand awareness to my business, and find new customers.
How has the StartUp UK programme benefited you and your business so far?
I've been through a number of the resources. I attended a StartUp Saturday event, watched some Lunch and Learn webinars and a StartUp Series virtual workshop, and viewed some of the e-learning videos.
The sessions first empowered me to begin the journey with research and encouraged me to launch my own business. I received strategies to start my business on a small budget with limited resources. The resources have also helped me with social media and finding customers, and positioning the business for growth.
What's the best advice you've received from taking part in StartUp UK?
Going back to the beginning, the best advice has actually been to "just start". This prompted me to really get the business going.
Do you have any business advice for other aspiring entrepreneurs?
First, I'll reiterate the advice I was given when I began, which is "just start". Second, appreciate yourself – where you are, what you've done and where you're going. This should be empowering – you can learn business and how to use various tools, but first you need to have the right mindset.
Access support to start your business
Visit the StartUp UK hub for resources that give you the education and inspiration to get started on your entrepreneurial journey.
Enterprise Nation has helped thousands of people start and grow their businesses. Led by founder, Emma Jones CBE, Enterprise Nation connects you to the resources and expertise to help you succeed.