BLOG
Infographic: The hiring intentions of small enterprises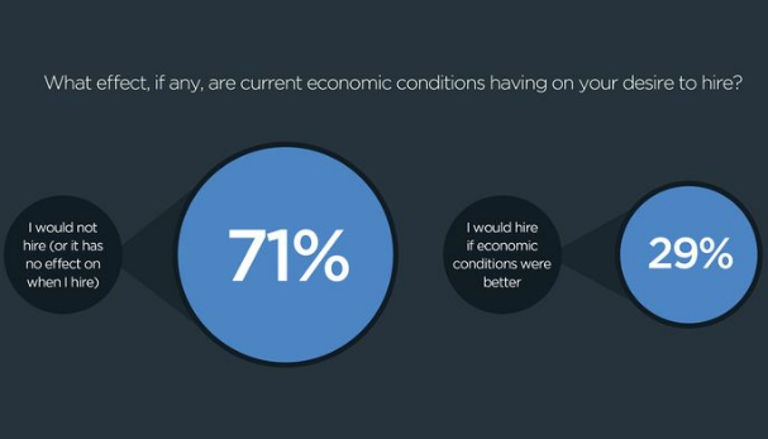 ---
Posted: Fri 13th Apr 2012
Here's an interesting infographic (below) about the hiring intentions of small businesses, produced by Intuit and first published on their own Small Business Matters blog. What Intuit have found is that the majority of the UK's sole traders and small businesses with fewer than 20 staff have no intention of taking on an employee this year. This is quite understandable, given economic conditions.
But what's really interesting is that 71 per cent have no intention of hiring, full-stop, and that just a smidgen over half of the 500 small enterprises surveyed said they believed taking on an employee would help to grow their business. To be fair, this probably reflects the fact that the majority of the UK's small businesses are sole traders focused of making an income for themselves and their families. But is there also a hint that businesses themselves know taking on employees is not the only way to grow? We're big fans of growth through outsourcing here at Enterprise Nation. There's a growing army of freelancers out there offering services on a semi-regular or ad-hoc basis to small firms, as well as the platforms, such as Elance, where businesses can find and recruit skilled workers easily. Doing it this way means you get the skills you need when you need them; you don't have the responsibility and the administrative and financial burden of a full-time employee; and you don't have to create new space for an extra body - so if you work at home, you can stay at home. Makes sense to us!
Enterprise Nation has helped thousands of people start and grow their businesses. Led by founder, Emma Jones CBE, Enterprise Nation connects you to the resources and expertise to help you succeed.