BLOG
How to understand, promise and deliver what will make your audience care about your business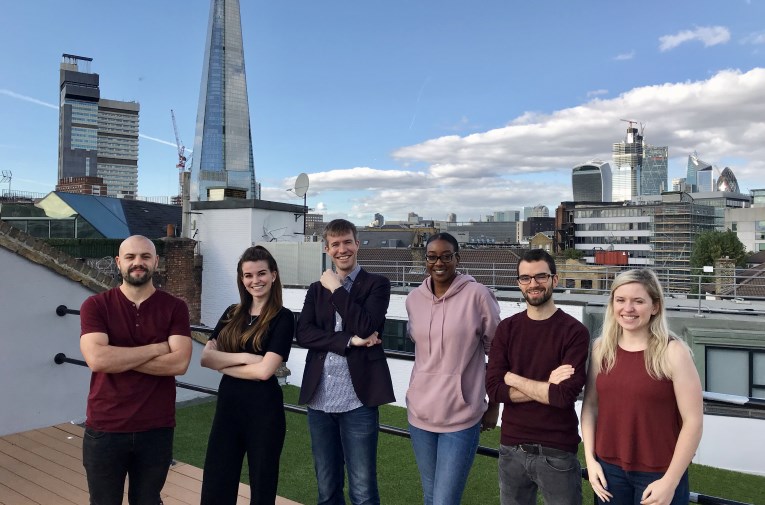 ---
Posted: Mon 1st Oct 2018
Gus Ferguson, co-founder of Salience, tells the story of starting his growth marketing agency and shares tips for growing your own business. He also discusses how he uses technology to manage business expenses and how you can do the same.
This article is sponsored by Soldo, a solution to simplify the entire business expense cycle.
How did you come up with the idea for your business?
Salience is a growth marketing agency that specialises in working with entrepreneurs and founders to create the marketing frameworks required for high growth businesses to scale.
I've been working in digital marketing since 2004, and specifically with post-seed start-ups and corporate ventures for around six years. I was operating as a solo consultant when I met my business partner Alyssa Crankshaw, who was working as head of comms for a successful social gaming startup at the time, and we decided to build an agency together.
The main driver to create Salience was that we identified a very real need for marketing strategy and implementation that's specifically tailored to the unique business requirements of high growth investment-driven businesses. And that no one else was really providing this in London.
We were speaking with entrepreneurs on a daily basis who had been burnt by working with traditional agencies, or had hired expensive senior marketers with big brand experience, and found that they couldn't cope with the pace of execution, testing and change in startups.
The constantly evolving challenge of marketing newly funded businesses - many of whom are still finding the ideal product market fit - and identifying the most effective marketing channels is very different from the day-to-day of marketing established businesses.
With our combined experience in running digital agencies, marketing high-growth businesses and thriving in a test and learn situation, it was a no brainer to take that knowledge and start Salience.
What start-up challenges did you face and how did you overcome them?
The main challenge we faced, and still face, is finding genuine talent.
It's very difficult to find the marketers, copywriters, designers and project managers that have not only the skills of their trade, but also the commercial acumen and hussle to work within our niche... as well as the sense of humour required to fit in with our culture.
Our team has been built painstakingly slowly as we're highly selective in whom we'll bring on board.
We're up to six full-time staff, and a collective of trusted freelancers, but finding and nurturing this talent has definitely been the hardest part of the job as agency owner.
We're currently hiring for a senior growth strategist with start-up experience, so if you know anyone... ;)
What are the common business growth challenges that you help your clients resolve?
Audience centricity: At a brand level, helping clients to think with more audience-centricity about product market fit is a big part of what we do. As most startups and corporate ventures are product-led, ensuring that the product is actually aligned with audience requirements is often a neglected task. We help founders take a step back and align themselves with those on whom their growth depends.
Curating the customer journey: Marketing automation and customer journey optimisation is a big area for us. Martech has evolved to the point now where there's no excuse for businesses not to be creating behaviourally-driven, personalised prospect and customer experiences. We help clients to understand the importance of building relationships and customer lifetime value, and to put in the data infrastructures to enable it.
Content visibility: A lot of start-ups struggle with content marketing. If it's not done properly - and in my opinion it's mostly done terribly - content can be a money pit for startups. Tactically we assist brands in creating the content that defines how they communicate with their audiences and delivers results in terms of traffic and database building. Whether it's SEO content, explainer videos, influencer interviews or interactive rich media, great content is critical to the success of our clients' businesses but only if created with the understanding of how to ensure that people are actually influenced by it.
What are your three top tips for growing a successful business?
Understand what will make your audience care about you
One thing that founders often forget is that no one innately cares about their businesses, and that it's their job as business evangelists to make them care. The process of discovering what will actually gain the attention, generate the desire and drive the actions of a target audience is probably the most difficult thing in marketing.
Promise what will make your audience care about you
Once you understand what those to whom you're selling care about, you have to carefully craft the message that will effectively communicate your value. Then you have to understand and architect the delivery system for that message across all your acquisition marketing channels such as organic search and paid media. Crack this and you crack new customer growth.
Deliver what makes your audience care about you
This is where product and customer experience comes in. If you are genuinely delivering on the promise of value you've made in your acquisition comms, then you open up the potential of high growth through word of mouth referral and advocacy. This is the key to retention and negative churn, which is core to building brilliant brands.
How do you manage expenses and keep your team's spending under control?
In the past, we just used my business card for all expenses. In hindsight, it was a time-consuming pain in the butt that involved chasing down receipts and working out who had incurred various random anonymous expenses. At the time, I just saw it as a necessary evil.
We've been using Soldo to manage team spending now for around 10 months, and it's revolutionised the way we manage money within Salience.
Every new member of staff gets a Soldo card that they use to make the purchases that they need to in order to be able to do their jobs, e.g. software subscriptions, client entertainment expenses or tube travel to meetings.
We also use them to give every member of the team a £500 learning budget that they can use for their professional development.
Soldo allows us to give autonomy to our team, whilst we can still monitor all transactions through the dashboard, and frees up my time to focus less on admin and more on the business that matters.
What would your advice be for other businesses looking to better manage their expenses?
Automate. Automate. Automate.
There's technology out there, like Soldo, that makes spending time on things like dealing with printed out spreadsheets with hundreds of receipts stapled to them a thing of the past. Time is too precious, and life moves too fast to be messing around with things like that.
Business owners need to focus on getting to the next funding round, not dealing with finance admin that can, and should, be automated.
Which other entrepreneur inspires you and why?
Lame answer potentially, but every entrepreneur inspires me. Taking the dive off the cliff into the dark to take control over one's life and build brilliant things takes guts.
The enthusiasm of the startup founders and stakeholders that we deal with every day is infectious and drives our determination to assist them to achieve greatness!
Related content:
Seven ways to beat the bureaucracy of business expenses