ESSENTIALS
How to create a marketing strategy for your small business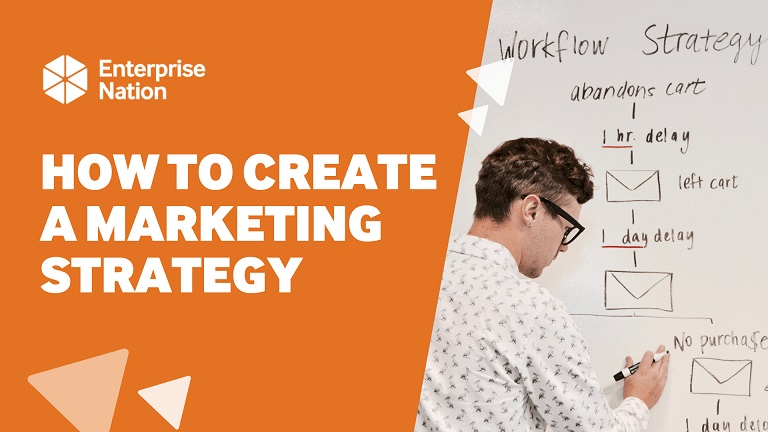 ---
Posted: Thu 17th Jun 2021
Business is booming. Sales are flying in and you've successfully proved that what you do works. The next step? Telling the world.
A marketing strategy for your small business can raise your profile, boost your credibility and attract new customers from outside of your immediate network. And it doesn't have to be expensive either.
Sure, there are lots of options for paid marketing online, but there's also plenty to be gained from low-cost strategies too.
This guide will show you the different ways you can market your small business, from building communities on social media to winning PR opportunities.
Learn about your customers
The first step of any marketing strategy is to learn who you're targeting. Having a clear idea of your ideal customer will allow you to shape everything from your tone of voice to the marketing channels you choose.
Customer personas are fictional characters that are based on the facts you already know about your audience. Creating personas is a useful activity because it forces you to get into the weeds with your target audience.
During the process, you'll define the basic demographics of your audience but also dig deeper into their aspirations, needs and challenges.
Find out more:
Get yourself in the press
Getting your business featured in the press is a good goal of any marketing strategy. Whether it's your local newspaper or an online magazine, media publications have a huge amount of reach and influence.
Start by researching journalists who regularly write about your sector. Connect with them on LinkedIn or Twitter so you're the first business to pick up on any media requests.
You can also search the Twitter hashtag #journorequest to find journalists looking to feature businesses like yours.
Find out more:
Writing a press release
Writing a press release only costs your time, but it can generate thousands of pounds in publicity.
To make sure your press release has the biggest possible impact, you need to get people excited about your business. Journalists see dozens of press releases every day, so make sure yours stands out. Here are some tried-and-tested PR tips:
Tell a story
Think of Hollywood movies. They're engaging because they follow a clear story, from the underdog winning against the odds to the powerful leading lady changing the status quo.
Attaching a similar story to your small business will catch people's imaginations and help you define your message to the media.
Find out more:
Structure your press release properly
Here's a good general structure when you're putting together a press release:
An attention-grabbing headline

A short bullet point list that summarises the whole story. Journalists won't necessarily have the time to read entire press releases, so that first paragraph should tell them everything they need to know

A punchy introduction that explains more about the headline

Facts and figures that add weight to the story. It might be the number of sales you've made or statistics that show market demand for a certain product

A quote from yourself

A quote from someone else, like a satisfied customer or industry expert

A call to action. What do you want people to do next? For example, if your press release is about a new product, you should let people know how they can buy it

A 'notes to editors' section that includes basic information about your company

Your contact details
Include high-quality images
A key PR tip that often gets forgotten: don't underestimate the value of good photography when it comes to getting your small business in the press. Photos help to put a face to the brand and are fast becoming an essential component if a journalist is posting the article online too.
Consider hiring a professional photographer to take photos of you and your work. Alternatively, pick up a digital camera yourself or approach a local college to see if any photography students would be interested.
Remember, you can use these images on your website, social media accounts and adverts for your business.
Find out more:
Enter awards
There are several free award schemes across the UK that specifically target small businesses and start-ups.
Entering awards and competitions is a brilliant way to earn press coverage and add credibility to your business. Being shortlisted – or winning – an award is something you can include on other marketing materials that will set you apart from competitors.
Host an event
Be proactive and get the press to come to you. Hosting events can still fit into a low-cost marketing strategy – the secret is to partner with another start-up or business that wants to get in front of your audience too.
Approach local businesses that have a spare event space or conference room. Ask if they can host in exchange for the venue's profile boost. Do the same with the caterers.
Once the venue is sorted, give your event a hook that will make guests want to attend. Have a theme, an interesting speaker, or samples of a new product.
There are lots of free online services that you can use to advertise your event. Eventbrite and Meetup are both great for sending out invites, or you can reach a wider small business audience by uploading your event to the Enterprise Nation platform.
Find out more:
Attend events
There's a wealth of start-up events every month, from local meet-ups to sector-specific networking events. Getting out and about has a ton of benefits:
You'll get used to pitching your business and describing what you do, which can help to tighten your marketing message elsewhere

Talking to other business owners can spark new ideas for ways to improve your own business

You never know who you'll meet – a networking event could connect you with a talented freelancer or lead to a new partnership
Enterprise Nation hosts a range of online and in-person events designed to support small businesses. We'd love to see you at some of them!
Embrace social media
It's never been easier for small businesses to reach potential customers online. Embracing social media as a key part of your marketing strategy will let you connect with new customers and even build communities of fans around your business.
Here are the most popular social media platforms and what they can do for your business:
Facebook (Meta)
Facebook has almost three billion monthly users, so there's a good chance some of your customers will be there. You can create business pages and groups on Facebook for free, which are popular with many Enterprise Nation members as a way of community building.
This platform is also well-known for its ability to create closely targeted ads – you can select a target audience based on their location, gender, age and interests. There's the functionality to set a daily budget so you can keep tight control on what you're spending each day.
Twitter
Twitter is a useful tool for building your brand and credibility. A lot of journalists and writers are active on Twitter, so it's one of the easiest platforms to start establishing your network as well.
Instagram
Instagram is ideal for small businesses that are naturally visual: beauty, food and drink, photography and clothing businesses all thrive on the platform. However, any business can succeed here with enough creativity.
Instagram Stories lets you share short video clips, ideal for showing happy customers wearing or using your product, or giving your audience a glimpse of your latest event. Instagram Shopping also lets customers purchase something they've seen on your account.
LinkedIn
LinkedIn refers to itself as "the world's largest professional network", so it's useful for connecting with peers or experts in your industry.
Find out more:
YouTube
YouTube is the most popular online video community in the world – 500 hours of video is uploaded to YouTube every minute. You can start your own business channel for free and upload how-to videos that educate your audience or profile on you and your work. Assigning keywords to your videos will make sure they're seen by the right audience.
Measure the results
It's crucial that small business owners are measuring the results of their marketing. This is particularly important if you want to keep your strategy low-cost.
Sending out press releases? Keep track of how much time you're spending on them and how many media mentions you're getting as a result. Hosting your own events? Look at who attended and the impact they've had on your business.
Without measuring the results of your marketing, you won't know what's working and what's not. It's useful to test lots of different methods and platforms at first, but the goal should always be to find out which marketing channels to double down on.
Luckily, there are many free tools that show real-time results of what's working:
Measure media and press mentions by signing up to Google Alerts

Use Google Analytics to track website traffic and where it's coming from

Use built-in analytics tools on social media to see which content is most popular
Keep posting!
So you've won PR, hosted successful events and built a strong social media following for your small business.
It's a great start, but it's vital that you maintain your momentum. A marketing strategy needs to be continuous, rather than something that has a start and end date.
Post from your social media accounts every week and create an email newsletter that people can sign up for. Try to give your website some TLC on a regular basis: fresh content will attract new visitors and help your search engine rankings. All these things will give visitors and customers a reason to keep returning to your business.
Enterprise Nation has helped thousands of people start and grow their businesses. Led by founder, Emma Jones CBE, Enterprise Nation connects you to the resources and expertise to help you succeed.