BLOG
How to create a better business pitch in five easy steps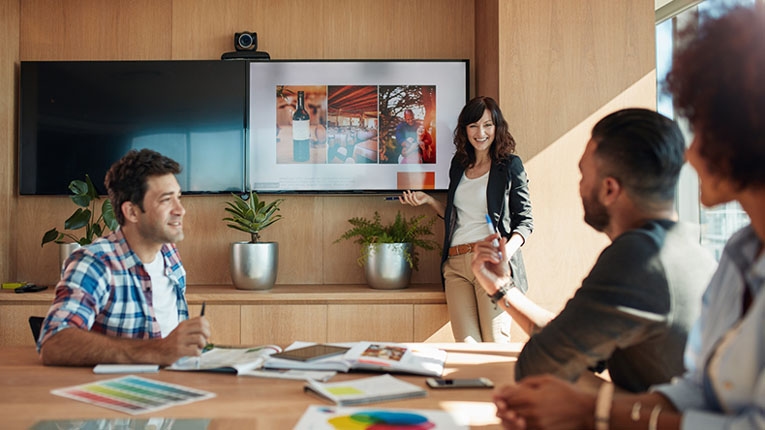 ---
Posted: Fri 6th Nov 2020
You know your product inside out. It's well defined and solves a key problem that your target customers have in common. Now, the real challenge is how to pitch in order to convince them that your product or service is the best choice on the market.
This is where a well-prepared sales pitch comes into its own. Consider it your best opportunity to connect with potential customers, show them you understand their needs, and that your business can offer the perfect solution to their problem.
Typical roadblocks and problems while preparing a sales pitch
Before we dive into the tips, let's look at four common sales pitch pitfalls:
Focussing on the wrong accounts: A non-data-driven approach may mean you are focussing your efforts in the wrong places

Talking, but not listening: A lot of pitches falter because they don't involve listening to customer needs

Lack of personalisation: Customers expect hyper-personalised marketing offers. Forget this and you will disappear in the crowd

Deviating from your core brand identity: Pleasing prospects while staying true to yourself is a fine balancing act
The following tips will overcome these common problems and help you create the perfect pitch with ease.
Five tips for the perfect sales pitch
Whether you are preparing a snappy elevator pitch or you face the most important sales pitch of your business life, the following tips will ensure your pitch presentation doesn't fall flat.
1. Weave passion into your pitch
While it is important to explain the ins and outs of your product features and services, a great pitch goes beyond functionality. Showing belief in your own product through a passionate presentation will engender trust in your prospects. Ultimately, building this trust is key to converting your leads.
Read through your recent pitches - whether it's a slide deck, phone call or in-person meet - and ask yourself: Have I added any emotional content? A great way to add passion to your presentation is to talk in emotive rather than functional terms. How does your product make your users feel? How does it inspire them to overcome challenges?
2. Use active listening and transparency
Getting to know your prospects is crucial for planning your sales outreach and for creating your business pitch. Active listening is a powerful technique: listening to your customer's objections and asking questions to gain a deep understanding of their problems. Being transparent about the problems you can solve is one of the quickest ways to establish trust with your prospects.
3. Put your solutions in a relatable context
Frame your solutions to solve your customer's pain points. Highlight a recent campaign that mirrors the goals of your current prospect and illustrate the difference your solution made.
4. Actions speak louder than words: Show proof of concept
Use the sales pitch to demonstrate how your product has successfully solved your customers' problems in the past. Examples are much more powerful than promises - so use case studies, testimonials and facts and figures. Pick evidence from a segment that your prospect is in. If your prospect is a freelance fitness coach looking to offer classes online, showcase how your service or product takes the hassle out of making this transition with real-life examples that they can relate to.
5. Maintain momentum with a clear call to action
The golden rule of marketing is to always include a call to action (CTA) instructing what a potential customer should do next. You need to keep moving forward in your pitch, and the call to action carries you to the next step. Depending on your customer's response, this could range from scheduling a follow-up for a detailed discussion to agreeing a time and date to finalise the deal.
How can a CRM tool help you create a better business pitch?
The key to a great sales pitch is knowing your customer well. The best pitch presentations result from careful analysis of past data from brand touchpoints. You have already used a CRM to segment and define your customer base. Before crafting your pitch presentation, let your CRM do the legwork by reviewing key customer insights and automatically scheduling reminders for your next course of action.
Start crafting better pitches for your potential customers today
A convincing sales pitch is essential for turning leads into loyal customers. The key to success lies in knowing your prospects, listening to their needs and positioning your offer as the solution to their objections.
If you would like to learn about how to make a good business pitch and the sales cycle - from prospect to close and beyond - download this free eBook from Salesforce.
Also in this sales series:
Norma O'Kelly is a Senior Marketing Manager for Salesforce for the UK and Ireland. She has been part of the Salesforce Marketing team since 2015 and is responsible for Small Business Marketing with a focus on digital marketing, virtual and in person events, sponsorships and more recently was the lead for the Salesforce Small business Grant program in the UK in 2020. Prior to her role in Salesforce she has a long history in marketing working with start-ups, mid size as well as some very well -known brands including Nokia, Jameson Irish Whiskey, Bacardi and Oracle. Her side hustle and first love is coaching young talent and SMEs and is an ICF approved Life and Business coach.