BLOG
Home businesses of the world unite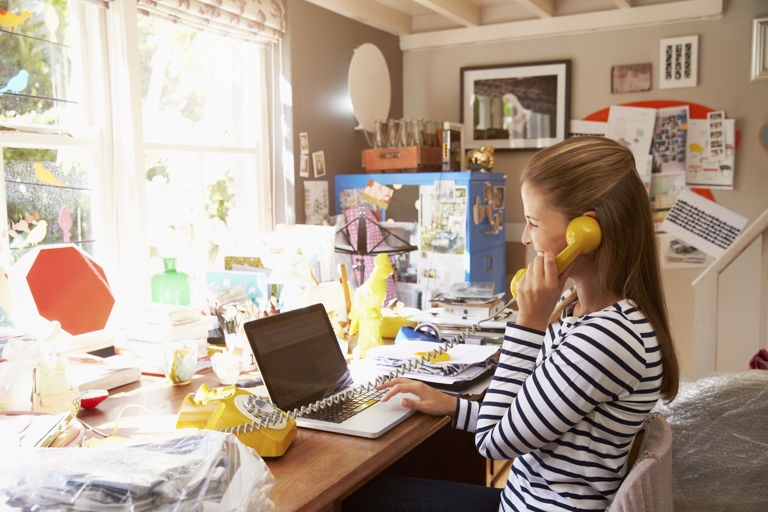 ---
Posted: Fri 23rd Sep 2016
Two years ago, Enterprise Nation mapped the nation's home businesses and uncovered some wonderful stories about how people everywhere are running fantastic businesses from home.
These were not people chained to their laptop drinking endless cups of tea in front of dreary daytime telly. These were people running food businesses from their home office, supplying supermarkets and outsourcing manufacture.
Or they were trading their designer knits globally, starting a subscription shaving club, designing jewellery or wallpaper.
The majority were providing services to larger firms including creative, marketing, report writing, or they were consulting on HR, law, science or engineering.
Their customers would probably never have known they were working in their kitchen, often surrounded by odd socks and piles of washing up.
Not only did we find this great stuff, but we also discovered by being based at home, they contribute a staggering £40bn to their local economy. And £300bn to the British economy as a whole.
Far from being low-paid and desperate to find a job, we discovered they were highly-skilled, well-educated individuals and 86% of them said they never wanted to return to a job again.
It blew us away. Anecdotally we knew this to be true, but we'd never crunched the figures before.
Two years is a long time in politics and we've certainly seen some dramatic changes since October 2014. That report pricked up some very important ears. Can we do it again?
We think it's time to revisit the Home Business Report, freshen it up and bring it kicking and screaming into post-brexit Britain with a view to making sure the UK's home-based entrepreneurs are getting their say. So we've teamed up with home business champions Direct Line for Business and PC World to bring it back for 2016.
But we need your help. If you're working from home, please fill in the survey below. We'll also put all names into a bowler hat to win a spanking new Kindle in a prize draw.
If you can't see the survey below, click here.
(function(t,e,c,n){var s,o,r;t.SMCX=t.SMCX||[],e.getElementById(n)||(s=e.getElementsByTagName(c),o=s[s.length-1],r=e.createElement(c),r.type="text/javascript",r.async=!0,r.id=n,r.src=["https:"===location.protocol?"https://":"http://","widget.surveymonkey.com/collect/website/js/mtFwOK0cKtLAaEaxX4_2F2NVlnsJJLNqX3LEKDrR5mrQE1CXfWwqPQNcMr8AQGSgUD.js"].join(""),o.parentNode.insertBefore(r,o))})(window,document,"script","smcx-sdk");
Enterprise Nation has helped thousands of people start and grow their businesses. Led by founder, Emma Jones CBE, Enterprise Nation connects you to the resources and expertise to help you succeed.