BUSINESS NEWS
Scottish professional bodies rally behind new initiative to deliver free business advice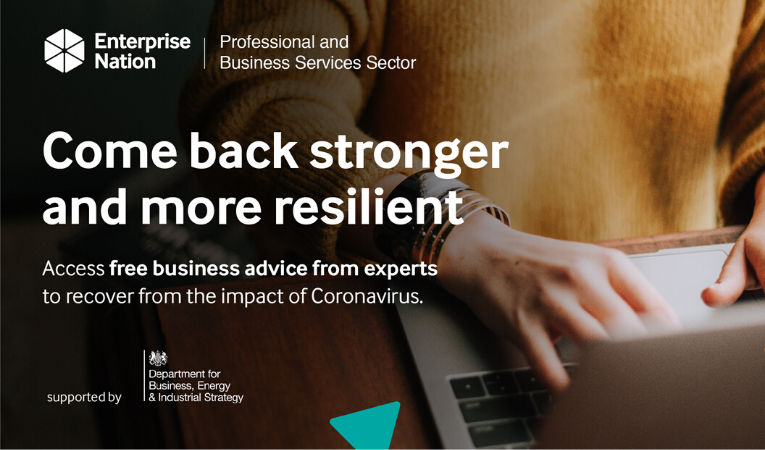 ---
Posted: Wed 9th Sep 2020
Scotland's professional bodies have rallied behind a major new initiative to deliver free advice to help small businesses bounce back from coronavirus.
 
The Recovery Advice for Business scheme, supported by Scottish Business Network and hosted on the Enterprise Nation website, gives small firms access to free, one-to-one advice with an expert adviser to help them through the coronavirus pandemic and to prepare for long-term recovery.   
 
Advice offered includes targeted, specialist assistance from accountancy, legal, and HR to marketing, recruitment and digital to help businesses adapt to difficult circumstances and bounce back as the Scottish economy recover.  
 
Business experts, supported by some of Scotland's largest professional and trade bodies, have supported the government-backed initiative, with hundreds of their members signed up and ready to help.
These include the Law Society of Scotland, Institute of Chartered Accountants Scotland, ICAEW Scotland, Business Gateway and Chartered Institute of Personnel and Development Scotland.
Each adviser has offered at least one hour of free advice a month until the end of 2020 which could deliver a lifeline to thousands of SMEs looking for support.
Support for Scottish small businesses
Russell Dalglish, chairman of Scottish Business Network:
"SBN has over the last five years built an extraordinary community of experienced business leaders who willingly donate their time, experience and network to support Scottish SMEs.
"We believe that this new offering from Enterprise Nation will provide a superb conduit to connect entrepreneurs with world-class advisers across all sectors and as such we are delighted to be involved as a partner."  
 
Bruce Cartwright CA, chief executive, Institute of Chartered Accountants Scotland:
"The Recovery Advice for Business scheme is an innovative programme of support that can help our SMEs to recover from the coronavirus crisis.
"Chartered Accountants have a wide range of skills and experience making them well placed to assist the small business community in its recovery. I am pleased that ICAS is able to support this scheme and I would encourage our Members to consider signing up."
Lee Ann Panglea, head of CIPD Scotland and Northern Ireland:
"The pandemic has meant that many small businesses are facing an uncertain future. This scheme is a great opportunity for CIPD members in Scotland who are independent HR consultants to provide invaluable advice and support to small businesses as they begin to recover from the impact of COVID-19.
"Many small businesses are struggling to navigate a whole range of people issues which our members are well placed to support and advise on as we enter the post-COVID recovery phase." 
 
Emma Jones, founder, Enterprise Nation:
"The COVID-19 pandemic has left thousands of SMEs facing a set of completely new challenges now and into the future. There has never been a more important time for firms to turn to the trusted advice of a professional and start on a path to recovery.  
 
"We've been overwhelmed and astonished by the generosity of the adviser community, thousands of whom have stepped forward to give their time and knowledge to revive, guide and support the nation's small businesses through the pandemic to regain the momentum and restore the economic confidence with which we started the year.  
 
"Running a business can be isolating at the best of times, and this initiative will mean founders will not have to face the future alone."
How Recovery Advice for Business works
Participating businesses can sign up for free here.
Businesses will then be asked questions on the 'Make a Plan' diagnostic tool. This will allow us to assess and identify both the level and specific areas of support needed.
They will then be directed to a personalised dashboard where they will receive a detailed action plan which will include links to suggested tailored advice and relevant professional advisers willing to help. Small businesses can also search for advisers here.
Advice focuses on key areas:
Accounting and finance

People and building a team

Planning, strategy and pivoting

Marketing, PR and social media

Technology and digital tools
Thousands of advisers in the existing Enterprise Nation community are available to provide advice through the platform in addition to the advice delivered by professional bodies in Scotland.
The scheme is open to small businesses and expert advisers throughout the UK.
Advisers need to belong to a professional or trade body and hold valid professional indemnity insurance to join the platform and offer advice. They will then need their trade body coupon code, demonstrating their membership of a professional body, and the link to the Enterprise Nation adviser sign-up page. This will enable advisers to sign up as part of the programme, for free membership, for the duration of the programme until the end of December 2020. It will also ensure that all advice is provided by appropriate expert advisers.
Enterprise Nation has helped thousands of people start and grow their businesses. Led by founder, Emma Jones CBE, Enterprise Nation connects you to the resources and expertise to help you succeed.