BUSINESS NEWS
Enterprise Nation members promote their products at Showcase Ireland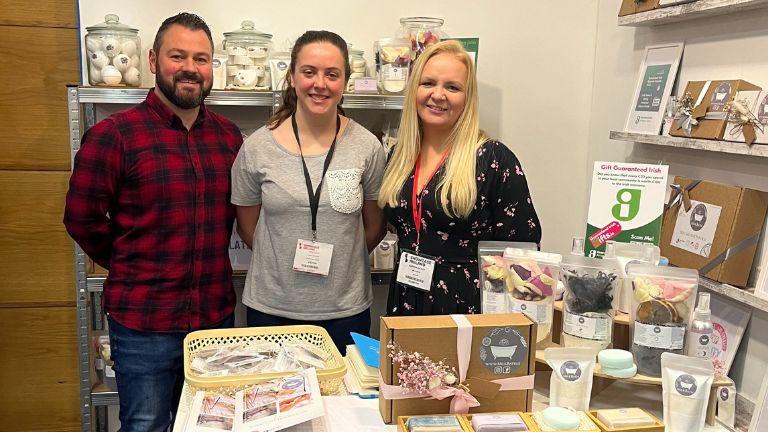 ---
Posted: Wed 25th Jan 2023
This week saw some of Enterprise Nation's members showcase their wares in front of domestic and global buyers at Showcase Ireland, while Síne Dunne of Siest Sleep and Maria Morgan of Esker Fields appeared on RTÉ Nationwide's coverage of the event.
Showcase Ireland, Ireland's biggest trade show for design and craft companies, hosted over 380 exhibitors this year. Most were from Ireland, though there were a few international companies as well.
Mary Palmer, chair of Showcase Ireland, told RTÉ Nationwide the event was hoping to exceed €20 million in orders, through over 4,000 buyers registered for the event.
Good news stories
Hoping to hear some positive stories, we asked some of our members to share their Showcase experiences and give any advice and tips to members.
What we received back was hugely encouraging news – an award win, telly appearances, an exhibit piece, a presentation and some excellent advice for next year's show.
Barbara Burke, owner of BBpapercuts
For BBpapercuts, Showcase 2023 was a great platform to launch my new products and connect with existing buyers and new customers. It was also great getting such positive feedback.
I was delighted to present one of pieces of artwork to Neale Richmond TD, minister of State at the Department of Enterprise, Trade and Employment.
We had a great few days at the event, meeting existing stockists, pitching to some potential stockists and taking orders.
Our highlight was one of our photos being picked for an exhibition – we're proud to share that our 'Lahinch Surfer' print was chosen to be featured in Showcase: The Edit this year.
The Edit features a curated selection of some of the best, most innovative and authentic products designed and made by independent Irish producers, skilled craftspeople and local makers.
Sandra Hickey, owner of Milk Bath
We attended Showcase Ireland for the first time this year. I was so impressed with the whole experience and blown away by the number of beautiful new stockists we received orders from at the exhibition, including our first US-based store.
I also came away with some very exciting leads to follow up on from store buyers who came to visit us. Some real "pinch me" moments happened this weekend!
We were in the Enterprise Hall and from the moment we arrived the comradeship among all the small businesses was just amazing. We all cheered each other on.
It was great to meet the lovely Nicola Woods of Enterprise Nation as she popped by our stand to say hello and lend support. We're very proud to be an authentically Irish business, supporting Irish producers and suppliers. This seemed to be what the buyers are looking for at Showcase.
I know everyone's experience is different, and it's definitely a lot of hard work and some very long exhausting days, but for Milk Bath, Showcase was amazing. I documented our showcase experience on our socials and I'm always happy to answer any questions from businesses considering attending next year.
Showcase 2023 was my first ever trade show. I attended as a visitor last year, which was definitely useful. My goals were to meet great businesses, talk to buyers and learn. I absolutely did all three… and then some.
Hard to pick a highlight but for me it was having really honest conversations with potential buyers. Also the Local Enterprise Office and Design and Crafts Council Ireland are really supportive for small businesses.
I'm absolutely buzzing from it all. Siest Sleep was the Showcase 2023 Local Enterprise Office award winner and I was featured in Nationwide.
Photo credit: Liam Farrell Photocall Ireland
My experience at Showcase was very positive. This is my second year exhibiting and if I'm being honest I made a lot of mistakes the first year. But here's what I learned from my experience:
Preparation: The secret to a successful Showcase is in the preparation before and after the show. Obviously, before the show there's all the preparation in getting your stand ready – it's important to have a picture in your mind of the feel and look you want for your stand.
I didn't have the first year and wasn't happy with my finished stand. Remember: this is a trade show so your stand will be different to an event open to the general public. My advice is to leave your stand open to allow retailers in to look and feel the products.

Invite current and past retailers: I've received orders from two retailers who I thought had dropped my products. Do your research before the show and reach out to potential retailers who you would like to do business with and invite them to visit your stand you have nothing to lose.
I invited potential retailers about a fortnight in advance, then sent a reminder the day or two before the show. It worked, as a couple of visitors to my stand said they had received my email inviting them to my stand, so they turned up. Use the Showcase Connect app to message potential retailers.

Set your expectations: When taking part in Showcase, have realistic expectations going in. Very often you won't come away with loads of orders – in fact, you might not get any during the show but over the coming weeks and months the orders may come in.
I received my first order about a fortnight ago from a retailer I met at Showcase last year. That's why it's so important to follow up on all the Showcase leads you gathered during the show. The real work begins after the show.

Talk to people: When at the event, invite people to your stand by making small talk, asking them how they are enjoying the show etc. Very often I've struck up a conversation about this and that, and then the retailer will say "What are you selling?" Only then would I go into my sales pitch.
People do business with people. So if you can strike up a rapport with retailers, they are more likely to remember you when they leave the show, and more likely to place an order.

Create a starter pack: A good idea is to have a starter pack ready for new retailers. It makes things easier for them – they don't have to think about which products to order. This year, I also gave retailers some advice on how best to display my products. I didn't think or have the confidence to do this last year.
Have starter packs and price lists on hand but don't give them out until you've had at least a conversation to see if they are interested.

Hand out business cards: Make sure you have business cards or fliers to give to retailers that are visual. That way, when the retailer goes home, they remember you – after all, they may have visited 100 stands in one day.

Get contact details: Always ask for the retailer's details as well as giving them your business card. You want to be in the position to follow up with that retailer in case they don't follow up with you. Don't be shy, you need to be proactive.

Wear comfortable clothes and footwear: Dress appropriately on the day. If you're selling fashion, wear your own products. I was approached by a retailer who thought I sold scarves because she saw me coming into the show that morning and admired my scarf.

Make friends with the other exhibitors: They can help out on your stand if you need to pop out for a few minutes. Give them your business cards to hand out and say you'll contact people on your return in a few minutes.

Rest up: Exhibiting at showcase is an exhausting experience – you're on your feet all day. So make sure you get plenty of rest before and after the show. But most of all, enjoy the show!
To catch Síne and Maria on the telly, watch back Nationwide on the RTÉ Player.
Enterprise Nation has helped thousands of people start and grow their businesses. Led by founder, Emma Jones CBE, Enterprise Nation connects you to the resources and expertise to help you succeed.