ANNOUNCEMENTS
The small business sellers for the final week of the Clicks & Mortar Edinburgh pop-up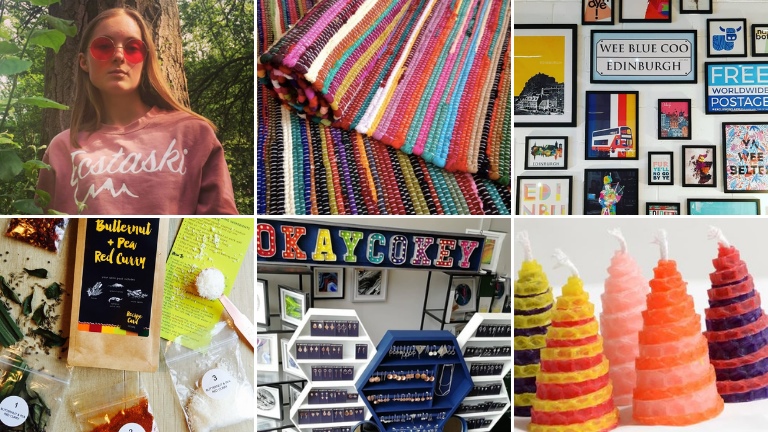 ---
Posted: Mon 9th Sep 2019
After a successful first month of trading, new small businesses have moved in to the Clicks and Mortar pop-up shop in Edinburgh for the final week.
Three of the brilliant sellers from the first four weeks are staying on and are joined by three new companies. You can find out more below and meet them in person at Waverley Mall until 15 September.
Supported by Amazon, Square and Direct Line for Business, Clicks and Mortar is opening pop-up stores across the UK to give customers the opportunity to discover and buy directly from small businesses.
The next shop opens in Sheffield on 27 September. Apply here to sell your products in the store.
Good feeling and affordable aprés ski and casual wear for people who want to live in a constant state of Ecstaski 24/7.
What start-up challenges have you faced and how have you overcome them?
Funding was always the biggest challenge, getting that kick start that every business needs. Most business loan companies wanted to see pages of business plans and myself being born with severe dyslexia writing is not my strong suit. However, instead I was able to save and with the help of my amazingly generous parents I scrapped together enough for a few hoodies and t-shirts.
I worked out that was cheaper and more time efficient to get them manufactured in the uk and also ordering them in one colour and hand tie dying them myself.
My latest challenge is having to work on my fourth year university project as well and trying to find internships as I always have to choose between paying to be a intern or paying for more stock. However, I wouldn't change a thing it has made me become a better problem solver and hard worker.
What are your three top tips for business success?
Never stop having fun.
You don't have to be a business major to run a business; you just need passion and drive.
Be brave to venture outside your box.
Handmade Sri Lankan-style curry kits that are easy, healthy and delicious.
How did you come up with your business idea?
Living and working in Sri Lanka in 2007, I never felt or looked better. The curries were unbelievably tasty and so healthy but could be time consuming to make.
I decided on my return to the UK to make up my own recipes using Sri Lankan ingredients. My friends and family loved them but didn't want to spend the time and money buying and roasting all the spices required to recreate the dishes. This helped me come up with the idea of making a curry kit so that people could easily recreate my curries in their own home.
My children are half Sri Lankan growing up in the UK and I like the idea that my business reminds them of their Sri Lankan heritage.
What are your three top tips for business success?
Stay real. People like to know and buy from the real you not a polished perfect version.
Do it now rather than waiting until the day it is perfect.
If you work from home make sure that you timetable it in rather than fall into the trap of doing the housework etc.
Quirky, handmade pure beeswax candles, inspired by the Scottish countryside.
Why did you decide to sell in Clicks and Mortar?
I thought that it would be interesting to try selling my products directly through a shop outlet. I am hoping that it helps to provide more insight into which products work well and in which direction the business needs to go.
What are your three top tips for business success?
Build good networks with other makers and businesses, manage your time really efficiently and try to watch out for up and coming trends
Ethically sourced soft furnishings and homewares.
Contemporary geometric sterling silver jewellery and abstract fluid artwork.
Contemporary yet affordable art prints and greetings cards, which are all manufactured in the company's Leith based cowshed.
The next shop opens in Sheffield on 27 September. Apply here to sell your products in the store.
Enterprise Nation has helped thousands of people start and grow their businesses. Led by founder, Emma Jones CBE, Enterprise Nation connects you to the resources and expertise to help you succeed.