MEMBER STORIES
The coffee entrepreneur creating good connections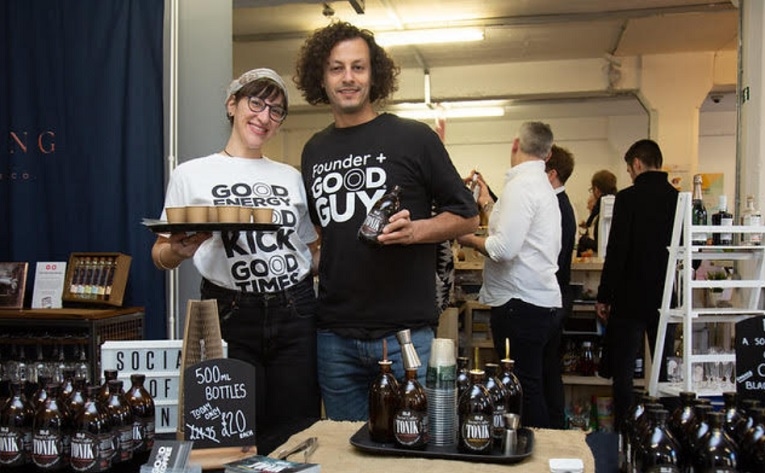 ---
Posted: Fri 29th Jan 2021
The seed for Chris Crocker's Good Koffee brand was planted when he spotted kombucha, a fermented drink, during a visit to New York.
More than a decade later, the London-based entrepreneur created his own kombucha coffee brand and, with the help of the Amazon Small Business Accelerator, is now selling his products on Amazon's online store.
Chris shares his story.
The free Amazon Small Business Accelerator e-learning programme is advice from more than 30 business experts in 218 bitesize videos. 
 
If you're already an Enterprise Nation member, log-in to your learning dashboard to access the e-learning. If you're not an Enterprise Nation member, you can join the Amazon Small Business Accelerator for free here.
How did you come up with the idea for your business?
While Good Koffee is now an adventurous collection of 'Socially Uplifting coffee drinks', the seed was planted almost 15 years ago in New York. I discovered kombucha amongst the city's eclectic range of independent food and drinks brands. I have always been keen to see what is new and inspiring in the world. My background is in the film, TV and theatre industry with a keen focus on health and fitness plus a love of coffee.
A few years ago, when I seriously began thinking about starting my own company, all these things came into play and used my creativity to bring an exciting idea to fruition.
As traditional tea kombucha began appearing in London I worked on fermenting coffee. I realised coffee is such a ubiquitous ingredient and is perfect as a foundation for interesting flavour profiles. I have developed coffee tonics and mixers alongside our original coffee kombucha.
What start-up challenges did you face and how did you overcome them?
I faced lots of challenges. They included making sure the company was set-up legally, acquiring expert information, sourcing bottles and ingredients, developing recipes and actually selling drinks all while working out how to communicate my original vision through the brand.
I started the company whilst on a sabbatical from my job at The Lion King in the West End in London. This gave me six months to really get things moving and test out selling at my local farmer's market.
One of the biggest early resources I discovered was Bread and Jam. It's a food founders festival that also has a Facebook group which is a holy grail for connections and the sharing of valuable information.
What is your marketing strategy for engaging with customers and making sales?
My approach has been really to invest personally in my company. Using social media to chart my progress and telling people about what's happening is a good way to connect with people. I want to keep things as genuine and as natural as possible. I have also used it as a way to refine and understand what it is I need to communicate.
I have been experimenting with Facebook ads. It's incredibly powerful and insightful but can be very expensive.
I am now re-developing the website as a strong direct-to-consumer offering.
How has COVID-19 affected your business?
It has affected the business and myself in a number of ways that have had both positive and negative sides. As a big positive, I have had much more time to dedicate towards the fundamentals of my business. Last year I made a point of learning, exploring and implementing across as many areas of the business as possible. This has helped me understand how and what needs to be done to run a successful business and there has been so much support out there to really help and I don't think my business could have survived without that support.
The hard part has been the increased online activity with what I would say has been digital overload and losing some boundaries of when to stop working.
Why did you decide to apply for the Amazon Bootcamp?
Amazon offers an amazing way to reach customers and I wanted to explore how a small brand like myself could explore this opportunity. Enterprise Nation has been incredibly supportive of my business and I have gained some amazing insights from the likes of Simon Alexander Ong, so when I had the opportunity to join the Bootcamp I jumped at the chance to understand more how I could begin selling via an online store like Amazon.
What were the key benefits of the Amazon Bootcamp for your business?
The bootcamp gave a great introduction to the inside workings of Amazon and helped to make what is a daunting prospect feel more accessible. As I have put so much work into creating my brand and what Good Koffee stands for it was brilliant to see how you can really develop and showcase as a brand on Amazon.
What actions did you take after taking part in the Bootcamp?
I set up my Amazon selling account. I also explored the layout, got more familiar with Sellers Central and competed Brand Registry.
The Bootcamp has helped give me a vision for the future.
What is your strategy for making sales on Amazon?
As a new niche product I intend to develop a strong keyword strategy to help discovery in the non-alcoholic and craft drinks categories.  I also plan to concentrate on amazing A+ content which will really help me to showcase the brand as a whole and push me up in the website's search results.
What are your top tips for business success based on your experience so far?
Just get started! It's a classic, but whatever you want to achieve is usually further down what may be a long road, so don't feel daunted by a big vision and wonder how on earth you can make it happen. It's a series of incremental steps that will gradually add up and reveal a bigger story.
Speak to everyone, be interested in what they are doing, form connections with similar small business owners and share your own knowledge too. You will need help at some point from someone and in time you can return those favours.
Take time out! Running a business is an endless to do list, so when you think late into the evening, 'oh I will just do this one more thing', try not to. Set some boundaries and clear goals throughout your day. If not, you will just get exhausted. I'm still learning.
What tips have you picked from the Amazon Small Business Accelerator e-learning?
To help stand out and connect to customers there is a big need for great content but it can feel exhausting to keep creating new posts. It is worthwhile to be reminded why people decide to take actions and the e-learning video by Rachel Whittaker, founder of Indie Beauty Delivers, really stands out in giving valuable advice on speaking to your community in a useful way.
The free Amazon Small Business Accelerator e-learning programme is advice from more than 30 business experts in 218 bitesize videos. 
 
If you're already an Enterprise Nation member, log-in to your learning dashboard to access the e-learning. If you're not an Enterprise Nation member, you can join the Amazon Small Business Accelerator for free here.
Hello! I'm Chris, the Founder & GOOD guy of GOOD KOFFEE. We launched the UK's first Coffee Kombucha and have created an innovative range of Socially Uplifting coffee drinks for the adventurous & bold. These include Social Coffee Mixers to make your own tasty coffee tonics & coffee cocktails and our soon to be launched ready-to-drink Sparkling Social Coffee Tonics, all inspired by our love of travel and adventure. We are using coffee creatively to bring new choices to healthy and social drinking all whilst doing a little bit of GOOD too. We have partnered with WORK For GOOD to give back to our chosen charity, CREATE LONDON.