BLOG
Best of 2022: The top Enterprise Nation Lunch and Learns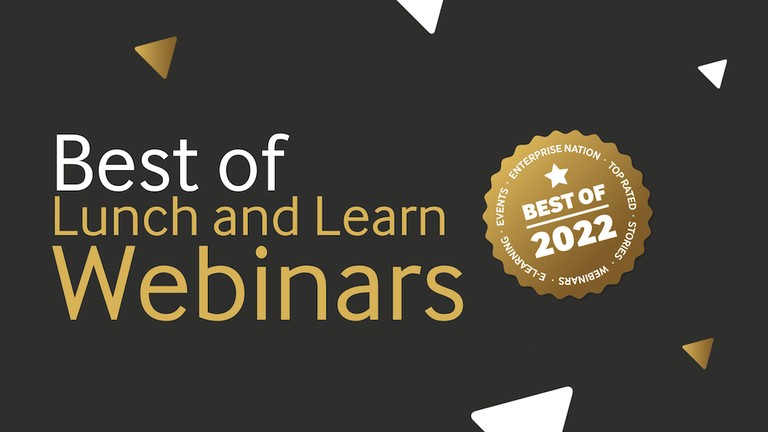 ---
Posted: Fri 9th Dec 2022
Enterprise Nation has had another super year of Lunch and Learn webinars, providing a daily dose of knowledge and inspiration to the many thousands who attended across the last 12 months.
Here to guide you through the very best of what 2022 had to offer is Lunch and Learn supremo Grace Nelson, who has picked out her five favourite webinars of the year.
If you're a business expert who would like to host a Lunch and Learn, become an adviser today!
Goal setting with Steven Bartlett: How to turn business ideas into action
We simply had to include this one! In what was by far Enterprise Nation's most popular Lunch and Learn of 2022, entrepreneur, investor, Dragon, podcaster and founder of Social Chain, Steven Bartlett, wowed a bumper audience covering all things goal setting.
Steven's Lunch and Learn was brought to you by business.connected, which provides a plethora of other workshops and webinars offering digital-focused advice. Visit the business.connected hub today.
How to be a better freelancer
One for the freelancers out there, Steve Folland provides a masterclass on finding clients, making time for yourself and how to succeed as a solo business.
Steve founded The Being Freelance podcast, and also co-hosts the award-winning Doing It For The Kids pod, aimed at self-employed parents.
How to turn an idea into a reality – with Chai Guys founders
Do you have the embers of a business idea rattling around inside your head? Well, this is the Lunch and Learn for you!
Gabriel and Adhilas, co-founders of the ever-more successful Chai Guys, cover how to leverage social media to boost brand awareness, establishing a solid network, and when the ideal time is to quit your day job.
How to successfully launch your business globally
Next, we have Jess Stern – co-founder and director of Mustard Made – who shares some key lessons on how to build a global brand.
Jess has successfully grown her own brand into a thriving global business, and takes a look at when entrepreneurs should deem their business ready to expand in a new market, as well as how to smoothly launch globally.
How to bring brand awareness to your business
In this StartUp UK Lunch and Learn, Enterprise Nation adviser Vee Roberts reveals her top tips for business branding, both online and offline, while also discussing the ways to promote your brand without stress.
Vee has over 25 years of experience in the world of brand and marketing, and has forged a reputation of being a straight-talking, non-textbook sort of adviser, making her one of Enterprise Nation's most popular!
---
Be sure to check out Enterprise Nation's full bank of Lunch and Learn webinars today.
Hello! I am a Programme Manager at Enterprise Nation, with a passion for empowering event industry newcomers.