POLITICS
What the EU referendum campaigns say about small business & the entrepreneurs who support them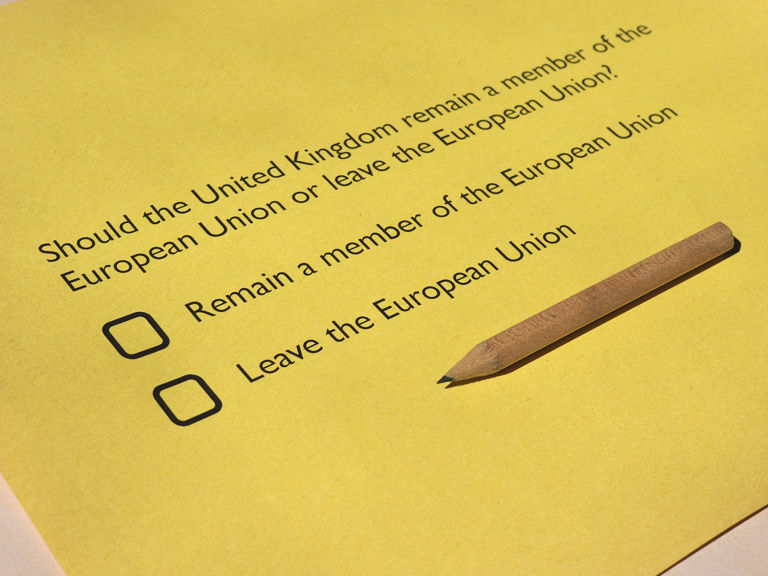 ---
Posted: Wed 22nd Jun 2016
We've rounded up what the EU referendum campaigns say about small business issues and the views of high profile entrepreneurs in favour of remain and leave.
Don't forget to keep an eye on our continually updated EU Referendum Watch for the latest small business arguments and register for our live results coverage through the night on Thursday.
Remain
WATCH: Business Secretary @sajidjavid on how "small businesses will be hit hard" if we leave the EU.https://t.co/jPB8l75VfO

"" Stronger In (@StrongerIn) May 31, 2016
The EU is our biggest trading partner, with almost half of UK trade being with the EU. By being in the EU, the UK businesses can trade freely with no tariffs and barriers. If we voted to leave the EU, it would damage trade, and would harm UK businesses and growth, putting millions of jobs at risk.
Leaving the EU would damage trade, UK businesses and our economic growth, and put millions of jobs at risk. There would be less trade, less investment, less business, higher prices and fewer jobs and opportunities.
If we left Europe, UK businesses would have to pay new tariffs, increasing the cost of trading. That means some would fold and others would have to cut costs, putting millions of jobs at risk, meaning fewer jobs and opportunities for you, your children and grandchildren. An estimated 950,000 UK jobs could be lost.
As members of the EU, we benefit from free trade agreements with over 50 countries around the world and we are also trading more and more with rising economies like China and India. We will also benefit from new free trade agreements the EU is currently negotiating with countries including the United States, Australia and Japan. We get the best of both worlds: Britain can trade with Europe while building trading relationships with the rest of the world.
Entrepreneurs supporting 'remain'
Hilary Devey, former Dragons' Den investor:
"It is thanks to the UK's place in Europe that I've managed to grow my logistics business, Pall-Ex, into an international multi-million-pound company. After being refused a loan from my bank I was forced to sell my house and car to finance the business. Pall-Ex has a turnover of £100 million in the UK and derives 40% of its revenues from its European operation." More details.
Sir Chris Evans, life sciences entrepreneur and investor:
"Boris and his blustering Brexiteers do not have a clue what's coming our way , nor will they have a clue what to do about it when it comes. I think we will be hit for six by the ferocity of the economic backlash on Britain, not just from Europe but from elsewhere in the world." More details.
Sir Terry Matthews, entrepreneur and Wales' second richest man:
"If we vote to leave the EU, it would be an absolute disaster for British business and the UK economy". More details.
Richard Reed, co-founder, Innocent:
"With Innocent I have experienced doing business inside and outside the EU, so I can say from first-hand experience it's better doing business inside for two main reasons. Firstly, it gives us free and unfettered access to the biggest market in the world, and secondly it provides a single set of rules for 28 countries, which simplifies things hugely when trading there." More details.
Jo Malone, founder, Jo Loves:
"I believe that leaving will dramatically affect small businesses who rely on the trade agreements and structures that are in place. Continuity of trade, service and product are vital elements to a successful business and growing economy. Why on earth are we jeopardising all of this for an exit that we don't even have a plan for?" More details.
Leave
Michael Gove describes how EU policy decimated his father's fish merchant business & shaped his own views on the EUhttps://t.co/v7IZkpLpou

"" Vote Leave (@vote_leave) June 13, 2016
We will immediately be able to start negotiating new trade deals which could enter into force straight after the UK leaves the EU. As a member of the EU, we are forbidden from striking our own trade deals.
Most British businesses are negative about the EU. The overwhelming majority of British businesses reject the premise of the Single Market and have done so for over a decade. ICM polling in April 2004 found that 73% of British businesses thought that Britain would be more prosperous and secure if it took powers back from the EU, including the power to make our own trade agreements.
Polling by Perspective Research Services in August 2015 found that, by 2:1, SMEs think the EU is a hindrance rather than a help to their business. More than 70% of SMEs want the British government rather than the EU in charge of employment law, health and safety, and trade negotiations. 69% of SMEs agree that the UK can trade and cooperate with Europe without giving away permanent control to the EU. Just 25% believe single EU rules make trade easier and that the Single Market is good for jobs and living standards.
Entrepreneurs supporting 'leave'
Sir James Dyson, founder, Dyson:
"When the Remain campaign tells us no-one will trade with us if we leave the EU, sorry, it's absolute cobblers. Our trade imbalance with Europe is running at £9bn a month and rising. If this trend continues, that is £100bn a year." More details .
Tim Martin, founder, JP Wetherspoon:
"Democracy, prosperity, and freedom, including press freedom, are closely inter-linked and as time has gone on, the EU has switched from being a Common Market to becoming a so-called union. But it's not a democratic one."  More details.
Peter Hargreaves, co-founder, Hargreaves Lansdown:
"I know many would-be entrepreneurs who have been reluctant to start in business. It is hardly surprising that so many big companies are pro-EU when it is killing off their competitors. However small businesses are the lifeblood of any economy. Taken as a whole large businesses tend to contract and employ fewer people. Small businesses, lightly regulated, correctly motivated and given the freedom to expand, employ more and more people and have a greater effect on the unemployment figures.  The bosses of many of these inefficient big companies are nothing more than bureaucrats themselves. Most of them do not have an entrepreneurial bone in their body. All they want is an easy life and staying in the EU will give them that." More details.
Theo Paphitis, entrepreneur and former Dragons' Den investor:
"Whilst I acknowledge there will be short term pain if we vote to leave the EU, I am also confident there will be long term gain. Now the prime minister and the EU would like you to believe that this referendum is binary. In or out.  I do not believe this to be the case and by voting out it gives rise to a third option, which is the re-negotiation of the reforms that the prime minister achieved, or some would say failed to achieve, bringing the EU in line with a more democratic and accountable trading community allowing the great British public to reconsider and re-vote during the two year process of leaving once we trigger Article 50, which is the official EU withdrawal mechanism." More details.
Enterprise Nation has helped thousands of people start and grow their businesses. Led by founder, Emma Jones CBE, Enterprise Nation connects you to the resources and expertise to help you succeed.