BLOG
Enterprise Nation members: What support were YOU looking for in September 2022?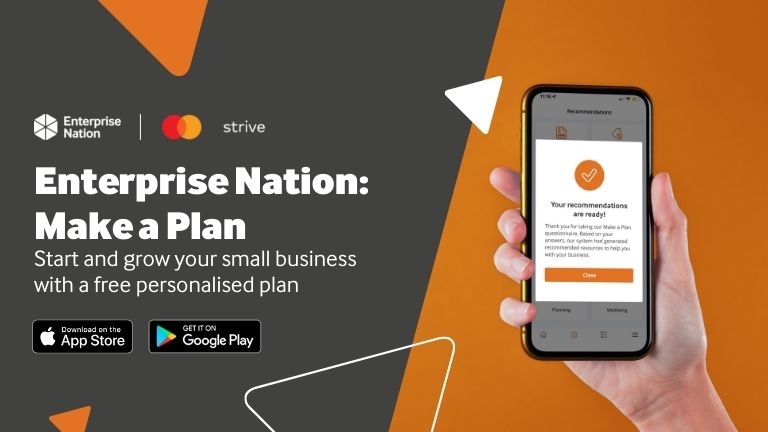 ---
Posted: Wed 19th Oct 2022
Since launching in 2021, Strive and Enterprise Nation's Make a Plan tool has welcomed thousands of small businesses, or prospective small businesses, through its doors, connecting entrepreneurs to experts and tailoring for them a bespoke action plan full of recommendations to help accelerate growth.
But what type of support are the good people of Enterprise Nation crying out for?
Fortunately, the Make a Plan boffins have crunched the numbers, and bring you a comprehensive breakdown of the key numbers behind the flagship tool.
So, what is the current makeup of Enterprise Nation's small business community? And how can the wealth of advisers on the platform meet these needs?
Download the Make a Plan app today.
Demographics
Of all Make a Plan users, 43% are looking for pre-start resources, compared to 30% in the start phase and 27% in the grow phase, with female entrepreneurs comprising 60%, 65% and 64% respectively of the categories above.
This data clearly highlights the demand for early-stage support amongst Enterprise Nation members, so if you are an adviser looking to provide meaningful and impactful content, this is a good place to start!
The content upload feature for advisers can be found here, where you can submit your brilliant content and continue to delight those who need it most.
Areas of support
All of the sectors represented by Enterprise Nation members and their businesses are simply too long to list, but the top three are:
Food & drink

Business services

Wellness
In terms of the top business categories of those signing up to Make a Plan, we have:
Accounting and finance remains a pillar for many businesses that require attention, with 60% of start businesses yet to create a cash flow or profit & loss forecast.
Casting a gaze over at sales stats, and 43% of pre-start businesses haven't networked with potential customers and partners.
This is particularly prevalent within the sustainability (54%) and beauty & cosmetics (86%) sectors.
Moving onto marketing, and many businesses in the start and pre-start stages do not yet have a strategy – 44% and 52% respectively – meaning a very large chunk of users are not yet ready to go to market.
One area of business where Make a Plan users are falling behind is HR & legal. A whopping 81% of start stage business owners do not have a company pension scheme or payroll set up, while 66% of pre-start businesses have not registered with Companies House.
---
If you are an adviser on Enterprise Nation hoping to address the concerns and wishes of business owners across the platform, these figures should give a strong indication of the areas to target with first-class content and services.
Sign up to become an adviser today.
Strive: Make a Plan is a free tool that will provide you with guidance, tools and personalised mentoring – you can get involved here.
Enterprise Nation has helped thousands of people start and grow their businesses. Led by founder, Emma Jones CBE, Enterprise Nation connects you to the resources and expertise to help you succeed.