BUSINESS NEWS
Welsh food and drink brands enter Cardiff Clicks and Mortar pop-up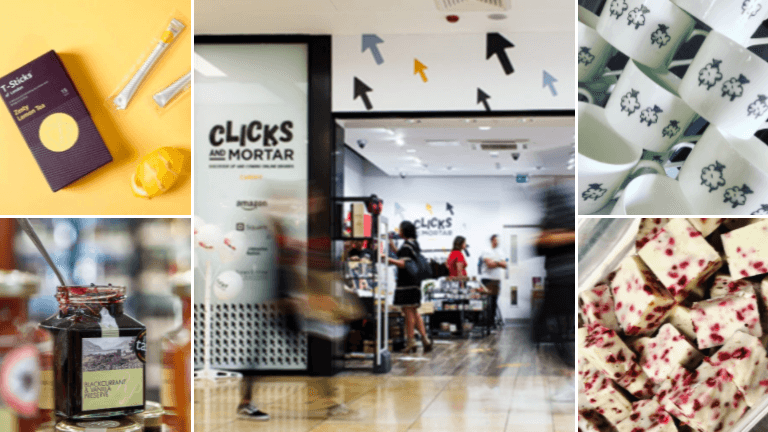 ---
Posted: Mon 19th Aug 2019
Seven Welsh online-only food and drink brands will co-work in pioneering Clicks and Mortar pop-up for two weeks, supported by the Welsh Government's Food and Drink Division

Clicks and Mortar is a year-long pilot programme that will explore a new model to help up-and-coming online brands grow their high street presence, giving more than 100 retailers the chance to meet customers, test new products and experience selling on the high street in an affordable way.

The programme is thanks to a collaboration between Enterprise Nation, Amazon, Square and Direct Line for Business, and the Cardiff shop is in partnership with shopping centre group Intu and LandSec
Welsh food and drink brands are set to take part in a pioneering pop-up shop scheme aimed at helping small up-and-coming online-only retailers grow their high street presence.
Set in St David's Centre, Cardiff, the shop is part of a year-long national pilot programme that is exploring a new model in retailing. More than 100 online brands will feature in 10 pop-up shops across the UK providing independent research which will be submitted to the UK Government following the call for new ideas to develop the Future High Streets strategy.
The food and drinks brands in Cardiff start trading on August 19 and include:
Radnor Preserves - award-winning artisan preserves including marmalade, jams and chutneys made in Radnor, Powys. Founder Joanna Morgan said: "Customers will be able to taste the products such as our best-sellers the Great British Food Awards winner Pink Gin Marmalade made with Brecon Botanicals Gin, or our Welsh Cider & Leek Chutney which has just won an award at the International Cheese Awards which they're not able to do online."
Shelly's - The Welsh Shortbread Company - Bridgend-based shortbread and Welsh Cake specialists made with local Welsh ingredients including Welsh butter, founded by Michelle Davies and her dad. Shortbread flavours include peanut butter, strawberry and black pepper and dark chocolate and chilli.
Chocolate House - based in Trehafod, Rhondda, an award-winning hand-made chocolate company, founded by Anna Mainwairing.
Delicia Cakes and Teas - a Llantrisant-based artisan baker and speciality tea producer, founded by Deborah Ellis.
Cymru Confectionery - handmade fudge, made with natural ingredients in Cardiff. Products include marshmallows, Turkish delight and a range of vegan products including peanut brittle and fudge.
The featured brands have all built online businesses and now want to explore real retail on the high street, mostly for the first time. The brands will be able to access on-site business advisers to help them scale, both online and in physical retail.
"This is the first time we have created a 'themed' collective of traders, so it will be interesting to see how a food and drink pop-up goes. While they are in the shop, well as providing these small online businesses with a physical space to trade, we'll have advisers on hand to offer free advice to help them scale, both offline and on," said Emma Jones, founder of Enterprise Nation.
"We feel it's important to ensure our stores benefit not just the small firms and their customers, but also the wider local economy."
Clicks and Mortar is a collaboration between Amazon, Enterprise Nation, Square and Direct Line for Business, and the Cardiff store is in partnership with intu and LandSec.
"The opportunity to showcase fantastic food and drink brands in the centre is always welcomed and enjoyed by our shoppers, and with the added bonus of them all being local to Wales, we know our visitors will look forward to tucking in," said James Waugh, General Manager of St David's Cardiff.
"We are very proud of our partnerships with local Welsh businesses who have called St David's home throughout our ten years, so we are looking forward to a further raft of exciting local brands coming to the Clicks and Mortar store."
The initiative is supported by the Welsh Government. David ap-John Williams, Business Wales Regional Manager for South Wales said: "We think it's important for online-only retailers to have the experience of putting their products through a 'live' retail situation where we can support and advise on how they can develop and grow through an 'offline' environment as well.
"The opportunity to interact with customers directly is so valuable to product and service development - something our advisers have been stressing in their 1-2-1 sessions in the Clicks & Mortar shop.
"The presence in a busy retail setting has also provided the opportunity for local SMEs to walk in and discuss their business ideas with our advisers, which also helps drive traffic back to the high street."
Clicks & Mortar has already opened shops in Manchester and Edinburgh, with more planned next month in Sheffield and London in the run up to Christmas.
Local businesses that wish to apply to take part in Clicks and Mortar shops across the UK can find out more information here.
ENDS
About Amazon
Amazon is guided by four principles: customer obsession rather than competitor focus, passion for invention, commitment to operational excellence, and long-term thinking. Customer reviews, 1-Click shopping, personalised recommendations, Prime, Fulfillment by Amazon, AWS, Kindle Direct Publishing, Kindle, Fire tablets, Fire TV, Amazon Echo, and Alexa are some of the products and services pioneered by Amazon. For more information, visit www.amazon.co.uk and follow @AmazonNewsUK
About Enterprise Nation
Enterprise Nation is a small business network and business support provider. Its aim is to help people turn their good ideas into great businesses - through expert advice, events, acceleration, diagnostics and networking. Enterprise Nation was founded in 2005 by Emma Jones MBE, also co-founder of national enterprise campaign StartUp Britain. She is author of best-selling business books including Spare Room Startup, Working 5 to 9, Go Global, Start a Business for £99 and the StartUp Kit, Going for Growth. In 2018, Richard Harpin, the entrepreneur behind global home emergency repair firm Homeserve, invested in the company as part of a drive to create a 'more entrepreneurial Britain.'
Enterprise Nation has helped thousands of people start and grow their businesses. Led by founder, Emma Jones CBE, Enterprise Nation connects you to the resources and expertise to help you succeed.