BLOG
Upma Arora: A healthy appetite for business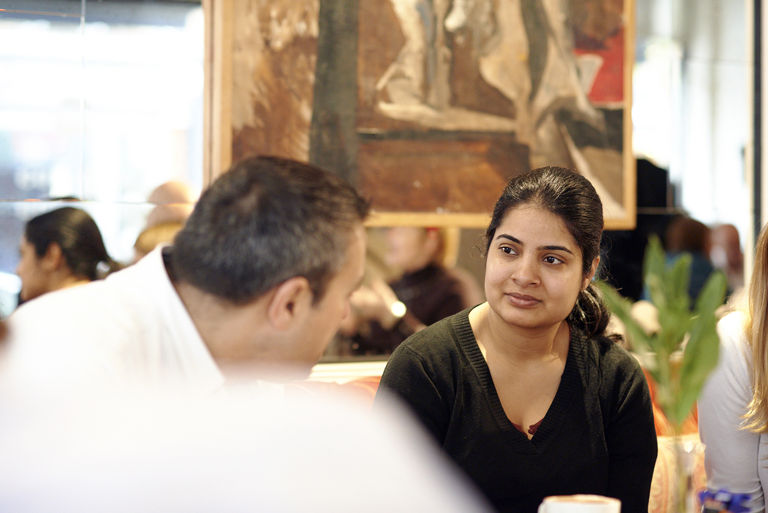 ---
Posted: Fri 28th Feb 2014
Upma Arora is a regular at our member meet-ups - and we love hearing about her healthy Indian food business Dhaba Lane. Every time we do, however, our tummies rumble. So, grab a snack and read on to find out how Upma started her business and plans to grow (like our waistlines).
Hi Upma! Tell us a little bit about your business idea
Our business idea came from a strong passion to bring simple, healthy, fast and very tasty Indian food to London - and create a niche in the lunchtime space for Dhaba Lane. We're inspired by dishes that feature in everyday Indian households, and a strong emphasis on fresh food, keeping it simple, with spices that enhance food that is healthy and balanced.
We're currently fundraising for our first outlet and we hope to morph this idea into a chain of outlets.
What was your motivation to want to start your own business?
Our idea came from two main issues: Firstly, we missed the simple, healthy dishes we grew up eating everyday in India, missing from British curry house offerings.
Secondly, we were really disappointed by the perception of Indian food in London. There are various falafel, burritos and noodle places, but no healthy, fast and tasty Indian outlet - and Dhaba Lane aims to fill this gap in the market.
Is your business up-and-running?
Yes, it's up and running. We're raising investment for our first outlets, but, in the meantime, we're tapping into the market via office lunch deliveries, corporate catering and market stalls.
In 2014, we're doing quite a few exciting pop-ups in and around the city. On March 13th, you can find us in Shoreditch in East London for lunch! Find out more on our website.
What were you doing before you started your business?
I was working at Middlesex University in their Business Development department.
During our research period, I was taking a day off during the week to work on the business and, early last year, I decided to take the plunge and dive full-time into the business. I guess for me it was a combination of things - a strong belief in the idea, positive feedback from people and the drive to change perception of Indian food.
How did you fund your business?
Up until now, Dhaba Lane has been self-funded, as we're cooking to order, managing our cash flow well and increasing revenues with events and markets.
For future goals of setting up retail outlets and scaling, we're looking for investment from angels, funding, family and friends.
What's been your biggest business success to date?
In my opinion, for start-ups, it's about lots of small victories that account towards their success. For us, our first breakthrough came when we got the spot at Real Food Festival on the Southbank and then doing a pop-up at Trafalgar Square for the Mayor of London.
Another slow and steady success has been our lunch deliveries; we've built from a few to substantial deliveries from a small database of customers!
Both my business partner and I are members of Enterprise Nation. I personally enjoy the meet ups. It's a great opportunity to meet entrepreneurs, discuss and learn from each other's journeys, whether the highs or the lows.
We've also attended various events organised by you guys and they're very useful.
What advice would you give someone who is thinking about starting their own business?
If you have an idea, go for it. Research, try and sell your product wherever you can. You learn as you go along.
It may be very hard, terribly exhausting and you never switch off, but at the end of the day you're creating something positive!
Have faith! You don't fail, you only learn"¦
Where do you want your business to be in 5 years time?
In 5 years time, we'd like to have a few outlets of Dhaba Lane in London and, hopefully, be recognised as a fresh, dynamic and interactive brand of food that people will associate with healthy, fast and tasty Indian food.
Dhaba Lane is popping up in Shoreditch on March 13th, 11.30am to 2.30pm. The address is Crimson Heart, 87 Leonard Street, London, EC2A 4QS. Check out www.dhabalane.com
Enterprise Nation has helped thousands of people start and grow their businesses. Led by founder, Emma Jones CBE, Enterprise Nation connects you to the resources and expertise to help you succeed.