BLOG
Top tips for sustainable shipping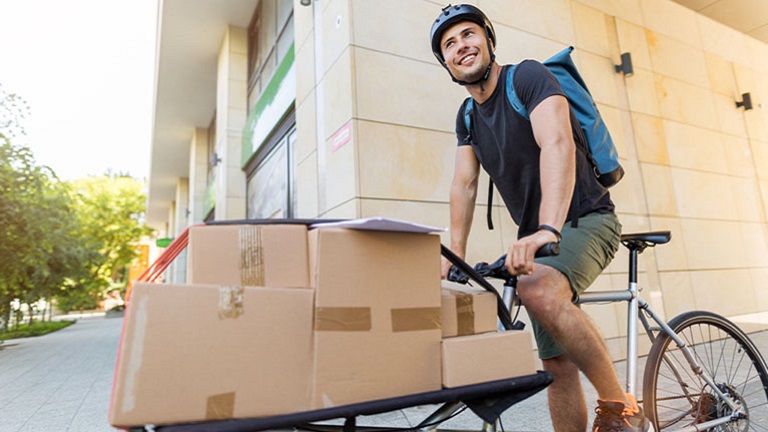 ---
Posted: Tue 30th Mar 2021
Today's customers are increasingly looking to businesses to adopt new policies that demonstrate eco-friendly practices of sourcing, manufacturing and shipping.
More and more consumers are considering the environment and sustainability when making purchases and expect to see retailers taking steps toward reducing their carbon footprint and using sustainable packaging.
So, how can you make your business more sustainable and in turn attract new customers and build brand loyalty? Here are some recommendations:
Make shipping hassle-free and sustainable
E-commerce relies on a complex logistics and delivery network. According to the World Economic Forum, last-mile delivery vehicles could emit an additional six million metric tons of carbon dioxide by 2030 – an estimate made before recent events sparked growth in e-commerce deliveries.
If consumers continue to turn to e-commerce for retail and grocery deliveries after the worst of the pandemic is over, we may see the emissions from last-mile shipping increase from current projections.
If this occurs, it'll be even more critical for retailers to choose a delivery company with an integrated network that offers sustainable last-mile delivery solutions.
Provide alternative delivery methods for your customer
In UPS's study of online shoppers, 83% of UK consumers said that being able to choose an alternative delivery location is the most important factor when selecting a delivery option.
Most shipping and logistics services now have networks of alternative drop-off options, which not only benefit the customer but save you, the retailer, money and time.
Many consumers prefer using these alternative delivery locations as they allow the person to receive their parcel when it's most convenient and not worry about being home for the delivery.
Only ship when you're ready to
A 2019 study found that 46% of small and medium-sized businesses say competition is their biggest obstacle to growth. One area where you can be ahead of your competitors is through streamlining your shipping process and not wasting time dropping off parcels.
Some shipping services now offer options that arrange a collection only when you have parcels to ship. Having the delivery service come to your business only when you have a parcel to ship saves fuel and reduces carbon emissions.
Easily offset the climate impact of your shipment
The carbon-neutral shipping that many logistic providers offer is a way to offset the carbon footprint of e-commerce shipments and appeal to the environmentally conscious consumer.
They allow small businesses to support projects that buy and retire carbon offsets equal to the amount of carbon emitted during shipping.
Upgrade your packaging sustainably
According to the UPS Smart E-commerce report, the use of sustainable packaging is the biggest action consumers want to see from smaller retailers in particular.
For small businesses looking to appeal to their customers through sustainable packaging, recycled packing materials can be a great place to start. Consider using eco-friendly packaging products such as:
bubble wrap

non-toxic foam

biodegradable twine

biodegradable starch peanuts

recyclable green anti-static peanuts
Along with the importance of being sustainable for the future, consumers will take note of the measures your business is adopting to become more environmentally friendly.
It's clear consumers are constantly looking for sustainable brands to support – especially small businesses – and following some of the recommendations above can help you expand on your eco-friendly practices.
Plan it with Purpose
A programme designed to help owners of small and medium-sized businesses develop a better understanding of environmental and social issues in the UK. Visit the Plan it with Purpose hub
Relevant resources
Arthur is an experienced Director with a demonstrated track record of success in the logistics and supply chain industry globally (lived and worked in Hong Kong, Canada, US, China and UK) for almost two decades across Marketing, Communications, Strategy and Business Development roles. Arthur is currently in charge of MarComm function and as part of the business unit leadership team for UK, Ireland and the Nordics countries within UPS. His responsibilities include Opportunity and Strategy development, Revenue Management, Value creation/positioning and Communications to accelerate growth and continuous profit improvement. Arthur holds a Bachelor of Commerce from University of Toronto.