BLOG
Meet the advisers giving up their time to help small businesses in London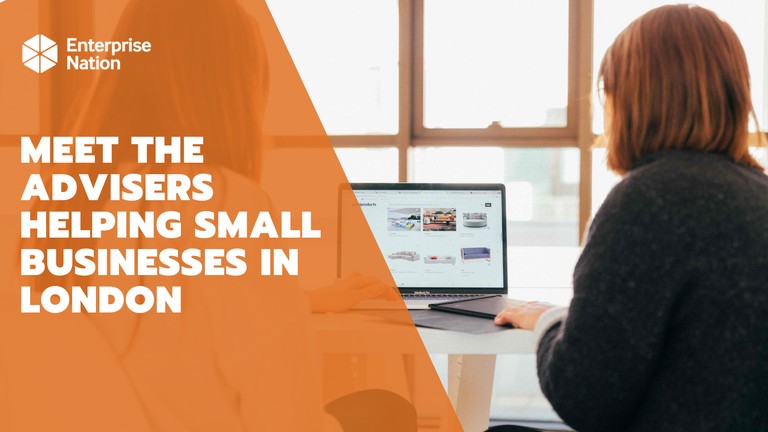 ---
Posted: Thu 29th Jul 2021
Earlier this year Enterprise Nation and Wandsworth Council launched Wandsworth Digital – a free programme to help small businesses in the London borough to get online.
The week-long digital bootcamp was designed for small businesses with little or no digital presence.
With the help of the Enterprise Nation adviser community we were also able to offer one-to-one advice sessions for each participant, covering the areas that they told us they needed support.
Over the next few weeks we'll be spotlighting the advisers who generously volunteered their time to help boost the skills of our small business community.
Here's 10 sales and marketing advisers who took part. Connect with them to find out how they could help your business.
Minal Patel
With over 20 years' marketing experience, Minal has well and truly been bitten by the small business bug. She loves to share marketing tips with small business owners, and in 2016 launched Marketing by Minal. "I want to help you figure out the marketing stuff so that you can make money - it's as simple as that. When you succeed, so do I. Plus, I get a warm glow knowing I helped you".
Book a discovery call with Minal
Hannah Russell
Specialising in copywriting, website development, and marketing strategy, Hannah is passionate about making a positive difference to small businesses. In 2015 Hannah launched Mini and Mighty, her own marketing consultancy. "I have over 16 years' experience in marketing and I love to share this knowledge. I am also a huge people pleaser! Happy clients are my benchmark of success".
Book a discovery call with Hannah
Isabella Venour
If you're in the first few years of building your business and you're ready to reach a wider audience, Isabella, founder of MindStyle, will help you master your mindset and maximise your marketing. "I'm here to help you turn your idea into a tangible, sustainable and growing business so you can live a life you love. I won't throw every marketing trick your way. Instead, we'll create a relevant strategy that is realistic, sustainable and supports your business and life".
Book a discovery call with Isabella
Paula Hutchings
"In a competitive and fast-moving world, small businesses need to be nimble, resourceful and quick to pivot. And that's exactly why we exist", says Paula. Paula is a firm believer that in order to nurture a successful business, a bespoke approach to marketing is key. So, after founding Marketing Vision ten years ago, Paula offers not just one marketing model, but a collection of flexible packages perfectly suited to small businesses.
Book a discovery call with Paula
Jarmila Yu
Jarmila, a globally ranked Top100 chief marketing officer, knows what it takes to develop successful marketing strategies. Jarmila has made it her mission to provide the CMO Advantage to SMEs through her award-winning consultancy, YUnique Marketing. "Our services are extremely time and cost effective, making them ideal for start-ups and small businesses".
Book a discovery call with Jarmila
Cynthia Wihardja
Founder of The Brave Zone, Cynthia combines her skills in psychology and business to get to the real cause of your challenges. "People say I dare to ask the awkward questions that make them think differently about themselves, their business, and their opportunities. A conversation with me usually gives people more than they expected".
Book a discovery call with Cynthia
Ayo Abbas
On a mission to offer practical business advice for small businesses, Ayo set up Abbas Marketing. With over 20 years' experience, she's a firm believer that companies don't need big budgets to make an impact; just a good idea and effort. "I've worked for a range of companies, large and small, national and international, established and start-up. I love working with business owners who are passionate about what they do and aren't afraid to challenge the status quo".
Book a discovery call with Ayo
Lynne Kennedy
Sales consultant Lynne goes out of her way to support small businesses, offering cost effective ways for them to grow their sales. "As exiles from the North East, fighting for the underdog is in our DNA". Together with her business partner, Martin Knowles, she set up Sales Untangled, and with over 60 years of sales and leadership expertise between them they'll help create a buzzing sales culture for your business.
Book a discovery call with Lynne
Paul Durrant
Qualified sales professional, entrepreneurship specialist, and Enterprise Nation Top 50 Adviser, Paul has over thirty years' experience in sales and business. Founder of PDT Sales Consultancy, he's on a mission to help small business owners sell better and sell more. "I want to help small business owners be more innovative, creative and entrepreneurial". If you're looking to gain some sales traction, Paul will help.
Book a discovery call with Paul
Janice B Gordon
Scale Your Sales founder Janice – aka The Customer Growth Expert - will help you unleash hidden potential and accelerate growth by investing in customer-centric selling. Recognised by Sage as one of the Top 100 Global Business influencers of 2017, Janice knows how to retain and grow key customer relationships for long-term value. "The more focused you are on the customer outcome, the more productive your sales process".
Book a discovery call with Janice
We're partnering with Salesforce to offer small businesses across the UK and Ireland the sales skills needed to succeed.
Delivered by a network of expert trainers via e-learning, online events and coaching, School of Sales will boost business owners' skills and turnover. Register for free.
Enterprise Nation has helped thousands of people start and grow their businesses. Led by founder, Emma Jones CBE, Enterprise Nation connects you to the resources and expertise to help you succeed.