BLOG
Three ways to build a client pipeline on Enterprise Nation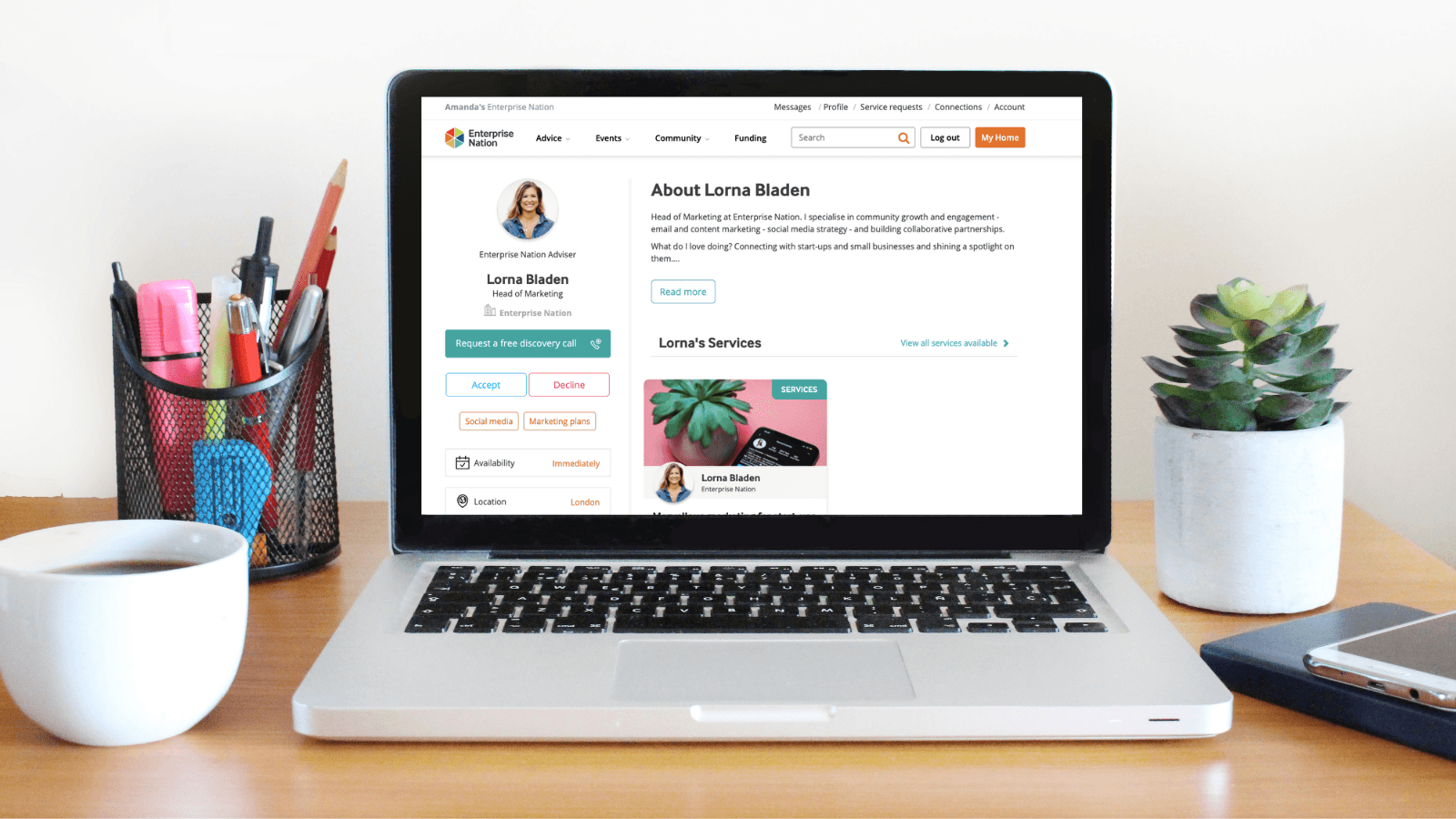 ---
Posted: Wed 3rd Mar 2021
If you are growing a consultancy business, the biggest challenge is prioritising where to spend your time to get maximum value. This value should lead to repeat business, referrals and converting new clients.
Online platforms provide excellent opportunities to get your brand noticed and engage with prospective customers. But with countless options and new marketplaces emerging almost weekly, which ones will deliver the results for your business?
Enterprise Nation's platform and adviser membership is worth considering. If you love working with early-stage start-ups, emerging entrepreneurs and small businesses with big ambitions, then keep reading.
Three ways to build a client pipeline on Enterprise Nation
Enterprise Nation is the UK's most active small business support network with 46,000 members across the UK. The unique combination of its platform and events programme offers hundreds of opportunities to connect with exciting businesses and professionals.
Each month, over 75,000 people search the site for advice on starting or growing a small business, so there has never been a better time to become an Enterprise Nation adviser member.
Here are some ways that you can build your network and generate new clients on the platform.
1. Optimise your business profile
A profile on Enterprise Nation is more than just your shop window; it's a way for you to engage with businesses and generate leads. Small businesses can send you connection requests, book discovery calls and request your services.
 
Rather than upload a low-res photo, or paste a few half-sentences, instead, try to imagine the impression you want to give to a small business. Here are a few suggestions for creating a stand-out profile.
Profile dos
Include a profile image - preferably hi-res that features only you. Make sure you smile! Photos that work well include spacing above your head and below your shoulders.

Use keywords in the summary section to explain what you do and who you help. This will help boost your profile in search and tell a business within seconds if you can are right for them.

Add your business services - these will appear on your profile and across the platform. Make the title descriptive and use specific keywords.

Include a summary, a few bullet points, and a call to action in the description. Finally, add an image that relates to the service that doesn't include text.

Tag business categories to appear in specialist searches - your tags will help small businesses see your profile in the relevant areas when looking for an expert to book.
Profile don'ts
Use a logo for your profile image - this is a community site as much as it is a directory for services. Small businesses want to know a person, and what better way to show them than through a friendly image?

Tag every business category - you should limit your selections to the 3-4 that best match your core business offerings. It doesn't build trust to see a finance adviser appearing under marketing.

Write an essay in your summary section - keep this concise and focus on your experience and, more importantly, who it is you work with and what you offer. Make sure you include spacing between paragraphs.
2. Promote your expertise and build trust
Like many popular platforms for business development, Enterprise Nation offers opportunities for adviser members to promote their expertise to the community.
You can publish your content or speak to audiences of small businesses. Advisers have said these activities helped establish them as thought leaders with the right community which led to new clients.
Publish your blog
Small businesses use Enterprise Nation as a search engine for advice on everything from 'how to build a sales strategy' to 'tips on creating a business plan', and if they find an article that matches their query, you can be sure they're going to click on it.
Publishing your blog on Enterprise Nation is a good way to increase your visibility with proactive small businesses, and also positions you as the go-to expert for your area of specialism.
Read our guidelines and what makes a good post to get started.
Become a speaker
Do you enjoy public speaking? Maybe you're looking to build your experience in this area. Enterprise Nation hosts 500+ events with over 30,000 attendees each year, so there is scope for you to make your mark.
Most advisers look forward to an opportunity to be interviewed for a daily Lunch and Learn webinar. These attract anywhere between 100 - 400 attendees, and past speakers have said these sessions led directly to new clients.
Discover upcoming opportunities and how you can get involved.
Promote your events
You can also promote your own events on Enterprise Nation's events page. If you have a webinar or workshop coming up, submit it to our events team - you have the potential to reach a wider audience through our page traffic.  
3. Engage with the business community
Connect with people you meet on Enterprise Nation - you never know where these relationships might take you. As well as small businesses on the site, you can also find other professionals from over 30 industries who might be useful for, but you can also be useful for them.

Openly share and comment in Groups - Enterprise Nation shouldn't just be a broadcast channel about your business and products. See what others are posting in Groups, think about how you can add value and join the conversation. New clients will come off the back of genuine relationships.

Join virtual events to meet other like-minded businesses - some people might be hesitant to engage with you directly or are more comfortable in a group setting, so joining a small business meet-up is the best way to start networking with less forthright business owners. Held both in person and online across the UK, Enterprise Nation's meet-ups allow you to meet others in your local area.
If you are ready to expand your network and harness opportunities that lead to genuine business relationships, get started on Enterprise Nation today.
Adviser membership offers opportunities to connect with thousands of the UK's most exciting small businesses.
I am currently working at Enterprise Nation as the Community Manager. I have however worked across a number of industries and therefore my business acumen is agile and well rounded. I have a strong business and entrepreneurial background having run my own business for 7 years alongside previously working within corporate, local government and charitable sector roles. Whilst running the swim school, it was nominated as one of the top 100 UK small businesses in 2017 and she was invited to 10 Downing Street to celebrate the occasion. My strengths are attracting and maintaining strong relationships and I am confident in engaging with people and building rapport as well as having a wealth of experience in project management. My real passion has been transferring knowledge and helping to develop people and small businesses which I have done through mentoring other business owners and running my own networking group.