MEMBER STORIES
The on demand merchandise company enabling brands to play a bigger game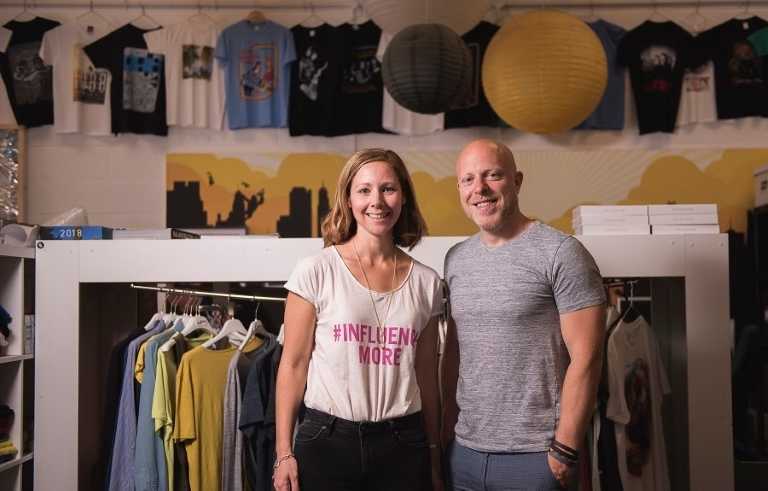 ---
Posted: Fri 3rd Aug 2018
Kerry Flanagan, Enterprise Nation member and co-founder of Tshirtify, tells her business story.
How did you come up with your idea and turn it into an actual business?
We've been running our own online T-shirt store for years and have built a great, highly skilled team who have optimised the whole e-commerce process from digital print to Shopify stores, digital marketing and data analysis.
We were previously printing for big brands but they didn't value the quality of the products we were producing. Everything was last minute and are margins were constantly being squeezed. This wasn't a sustainable way to work and left ourselves and our team feeling very demoralised.
We wanted to share the knowledge we'd built up to help smaller enterprises like ourselves, those who have built a business based on their passion or talent but have got stuck running the day to day operations and are no longer free to create.
Most t-shirt printers are just that; coming at it from a print background and not understanding the importance of customer service, speed of delivery and flexible product options.
With our e-commerce knowledge we first take time to understand our clients' businesses, get clarity on where we can help, provide really great print and customer service and give them the t-shirt insights they need to grow their businesses.
If we take all the hassle away from them, our clients are left free to spend their time doing what they love; being creative and engaging with their audience!
What has been your biggest challenge so far?
Taking our time to scale the business on very little budget. We wanted to make sure we have all our foundations in place and know the process inside out before we really grow.
What has been your biggest achievement so far?
Doubling sales for our artist client, Jim'll Paint It.
He's an online artist with over 600,000 fans on Facebook and when he approached us was spending all his time answering customer queries, running to the Post Office with parcels and not having the time to focus on the reason he started his business to create illustrations.
Last Christmas his sales were up 98%. Jim is over the moon with the steady income he's generating and the new found time he has to spend on commissions and engaging with his fans.
What is your next business goal?
Each time we print a t-shirt we give to a global campaign through our partnership with B1G1 (Buy1, Give1) and in the next three months we'll be building a house for a family who has suffered devastation in the Philippines.
Giving more in the world is something that not only gives the Tshirtify team purpose, it also helps our clients feel they are contributing more and playing a bigger game in the world.
What are your three tips for business success based on your experiences so far?
1. Find your why. When you discover what really motivates you to get up in the morning, you'll look at your business in a whole new light
2. Invest in yourself. Find the best business mentor you can and absorb their wisdom, be prepared to forget your ego and try new things.
3. Play to your strengths. Figure out what you're naturally good and also what you should avoid (we use profiling tool Talent Dynamics for ourselves and recruitment). It's ok to fail as long as you're learning. We're not supposed to be good at everything, just find the right person who is!
Join Enterprise Nation today and become part of an amazing community of small business owners.