POLITICS
The Manifestos are in - How does that make you feel?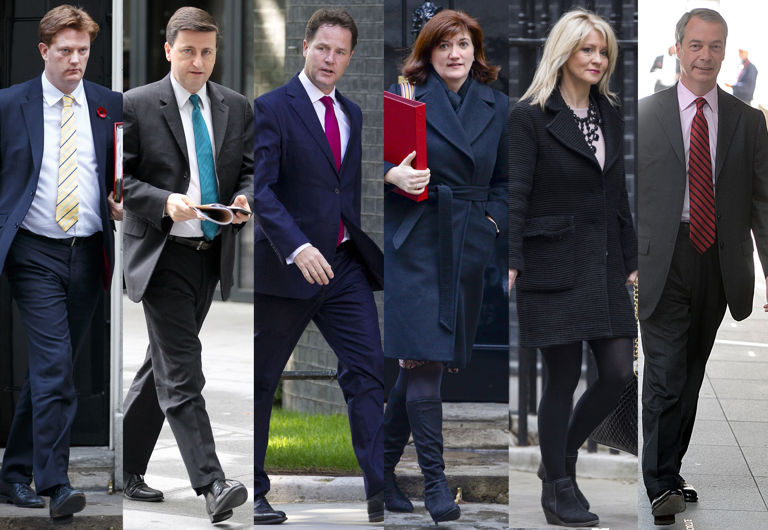 ---
Posted: Thu 16th Apr 2015
Well the manifestos are in - and it's as you'd expect. A confident steady-as-we go approach from the Conservatives, while Labour offers to cut and then freeze business rates while pushing up tax on profit.
And boy are we going to miss Vince Cable's realistic focus on innovation and insistence on creating a pipeline for future growth at BIS, if the Lib Dems perform as the pundits suggest.
The Greens have improved their offerings for small firms since we last looked. We love the way they would specifically make providing broadband to small firms a priority.
UKIP surprised us on its small business content; late payment, a cut in business rates, Government procurement - it's all there - along with local authorities allowing 30 minutes free parking in town centres.
We've pulled together the main party pledges below, but we'd like to hear what you think. Please take part in our quick poll so we can see how they are all shaping up with just 20 days to go until the big day!
We will address rising costs for small businesses and strengthen rules on late payment.

Instead of cutting Corporation Tax again for the largest firms, we will cut, and then freeze business rates for over 1.5 million smaller business properties.

We will develop a banking system that works for businesses in every region and every sector in Britain.

Labour will establish a British Investment Bank with the mission to help businesses grow and to create wealth and jobs with a network of regional banks.

We will increase competition on the high street. Following the Competition and Market Authorities inquiry we want a market share test and at least two new challenger banks.

Labour's longer-term approach will drive innovation and build on our strengths as a leader in digital technology.

Labour will ensure that all parts of the country benefit from affordable, high speed broadband by the end of the Parliament.
Conduct a comprehensive review of business rates

Trebling the Start Up Loans programme during the next Parliament

Launch Help to Grow, which hopes to create £1bn in loans for high-growth businesses by providing government guarantees to banks

We will raise the target for SMEs' share of central government procurement to one-third

Invest in a Northern Powerhouse

Invest in improving infrastructure to the South West

Invest in superfast broadband
Double innovation spend in our economy, making the UK a world leader in advanced manufacturing, clean technology and digital industries

Grow a competitive banking sector, support alternative finance providers and improve access to finance for business and consumers

Aim to double innovation and research spending across the economy, supported by greater public funding on a longer timescale, more 'Catapult' innovation and technology centres and support for green innovation from the Green Investment Bank.

Build on the success of the Regional Growth Fund, which has already created more than 100,000 jobs and secured £1.8 billion of private investment.

Aim to stimulate local economies, working with Local Enterprise Partnerships to improve their effectiveness and coordination.

Use central government public procurement policy as a tool of local growth and community development, for example by purchasing from diverse sources and using local labour, goods and services, and encourage local government to do the same.

Continue our work to open up public procurement to small and medium-sized companies and to the voluntary sector.

Develop platforms on which government can provide feedback on its suppliers to help quality providers to grow.

Complete the rollout of high-speed broadband, to reach almost every household (99.9%) in the UK as well as small businesses in both rural and urban areas.

Double the numbers of businesses hiring apprentices and give young people aged 16-21 a discount bus pass to cut the cost of travel.
Ensure that legislation requiring that small businesses should be paid on time is properly enforced

Make it easier for small businesses to employ people and contribute towards paying the living wage by using receipts from a wealth tax to reduce employers' National Insurance in the longer run to 8%

Improve the competitive position of small firms, maintaining corporation tax for small firms at 20% while raising that for larger firms to 30%

Increase access to finance by investing £2bn in a network of community banks, mutually owned and serving local areas or particular groups

Help small businesses in the tourism and restaurant sector by lowering VAT to 5% for cooked food, entertainment and accommodation, costing £6 billion a year

Keep trade local by allowing local authorities to favour local procurement to help their local economy

Ensure that the great majority of honest small businesses can compete fairly with the less scrupulous by cracking down on tax evasion

Give BT and other public telecommunications operators an obligation to provide affordable high-speed broadband-capable infrastructure to every small business

Expand cooperative education, teaching young people the history of cooperatives as well as how to set them up in practice

We will ensure business qualifications will give the same emphasis to cooperative and mutual business models as to other private enterprises

Introduce a cooperative development fund managed by community banks to finance new and expanding cooperatives
If a business has only one property and the rateable value is less than £50,000, the business will get 20% rate relief. If the business has more than one property, the 20% relief will still apply, provided the total rateable value of all properties is less than £50,000

Fines for repeated late payment

Test a scheme to improve access to trade credit insurance to small businesses. This insurance already exists, but can prove restrictive for smaller companies.

At least 30 minutes free parking in town centres, high streets and shopping parades in every local authority

UKIP will repeal EU regulations and directives that stifle business growth

UKIP will make it easier for small and medium-sized businesses to tender for public sector contracts, by removing the necessity to demonstrate compliance in areas irrelevant to the job being tendered for

Open up apprenticeships to less academic students
Cast your anonymous vote:
(function(t,e,n,o){var s,c,a;t.SMCX=t.SMCX||[],e.getElementById(o)||(s=e.getElementsByTagName(n),c=s[s.length-1],a=e.createElement(n),a.type="text/javascript",a.async=!0,a.id=o,a.src=["https:"===location.protocol?"https://":"http://","widget.surveymonkey.com/collect/website/js/T1dx3rap0IMu_2FNptIUEyeawa_2FnUCvGnjK4_2FNe9JzZtJgr6BHjZvb_2F0OAgA4mE8Z2.js"].join(""),c.parentNode.insertBefore(a,c))})(window,document,"script","smcx-sdk"); (function(t,e,n,o){var s,c,a;t.SMCX=t.SMCX||[],e.getElementById(o)||(s=e.getElementsByTagName(n),c=s[s.length-1],a=e.createElement(n),a.type="text/javascript",a.async=!0,a.id=o,a.src=["https:"===location.protocol?"https://":"http://","widget.surveymonkey.com/collect/website/js/T1dx3rap0IMu_2FNptIUEyeawa_2FnUCvGnjK4_2FNe9JzZtJgr6BHjZvb_2F0OAgA4mE8Z2.js"].join(""),c.parentNode.insertBefore(a,c))})(window,document,"script","smcx-sdk");
Enterprise Nation has helped thousands of people start and grow their businesses. Led by founder, Emma Jones CBE, Enterprise Nation connects you to the resources and expertise to help you succeed.