BLOG
The high street retailers making the most of post-lockdown demand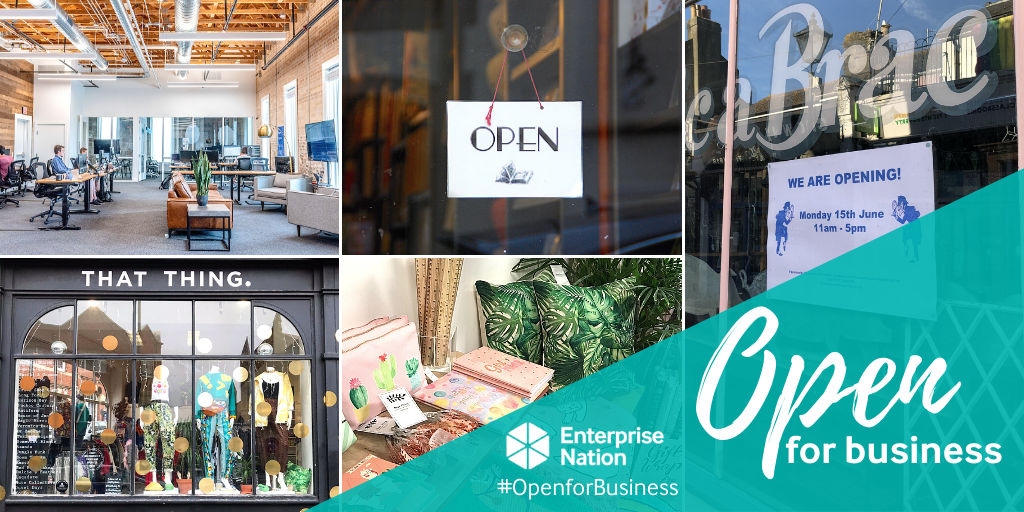 ---
Posted: Wed 24th Jun 2020
Independent retailers across England reopened their doors on 15th June. Shops look different with tape telling people where to stand, hand sanitiser stations and Perspex sneeze screens. For some, post-lockdown demand has led to a glut of customers. Others haven't fared so well.
"The thing about small, independent businesses is our profit margin is already so low. We run them because we love it," said The Snug Bookshop owner Sam Carr. "We just really need some support right now from the local customers. If they want to come back in two to three weeks there's going to be nothing here."
We spoke to shop owners about what it's been like to reopen and their hopes for the future.
Brick and mortar retailers are moving online
The lockdown gave retailers a chance to improve their online offerings, creating an opportunity for the future.
It took Sam weeks to get 2,500 titles online.
Moo Like a Monkey owner Charlotte Khan learned about ecommerce from online videos and blogs, got inspiration from other retailers and through lots of trial and error. She said it was a real challenge to get their advertising and the tone of her social media right, but is proud of the results.
"We really had to up our game and put work into ecommerce to keep going," said Charlotte.
"Our challenge is to keep up the momentum online but also not alienate our main customer base."
Moo Like a Monkey wasn't selling online before the crisis. If in-store sales recover to pre-Covid levels, the website could account for 50% of the two-year-old toy shop's income.
Making changes to open shops safely
Retailers have marked out shop layouts, so customers can browse safely. Hand sanitiser is on offer and there are limits on the number of people allowed into shops. But the two-metre rule isn't easy for everyone.
Moo Like a Monkey doesn't have space to allow people into the shop. Instead, they put a table near the door and are taking payments using a selfie stick.
"It's like a market stall. We've crammed our windows full and put a table in front of the door. That's the only way we can safely and practically open. It's limiting.
"There's certain customers who see the set up and keep walking but the majority of people have embraced it," explained Charlotte.
The lockdown gave people extra time to be creative, so Longridge Gallery is dealing with pent up demand for its framing service. But they can only fit one employee in their workshop at a time, which increases costs.
"When we have two groups, we go and lock the door and people are understanding," owner Alistair Sheret said.
Enterprise Nation has shared resources that can help you open safely. The Snug Bookshop used advice from the Booksellers Association guidelines. The two-metre rule is likely to be relaxed over the coming weeks.
Looking for ways to offer more value
Independent retailers are finding opportunities to offer new services.
Sam said the response to The Snug Bookshop's delivery service has been phenomenal; she's been driving all over Somerset.
Offering free gift wrapping was a turning point for Moo Like a Monkey. Customers were looking for a way to treat loved ones and the recipients often ended up being customers.
Charlotte stressed the importance of being able to adapt quickly, saying it's small business owners' competitive advantage - "if you wake up with an idea, you can implement it the same day".
The next stage is going to be the most difficult
Many small retailers survived the lockdown because of government support. They are reopening with little financial cushion and face months of depressed income. The question is what happens after the initial flurry of post-lockdown interest.
Charlotte expects it to be steady for the next few months before they start ramping up for Christmas.
"I think that period in the brick and mortar is slowing down. The novelty has worn off. The summer numbers won't be what I hoped but I know we'll get through. At the moment, that's all I want to do: to get through," she said.
Sam said that the town centre in Bridgwater - which has a population of 40,000 - is dead. Part of the problem is that many people in the area, which is surrounded by villages, rely on public transport and are scared to use buses.
"I think the government has overestimated how excited people would be; they're just not coming out," she said. "I'm going to reduce the opening hours and focus on doing home deliveries in the afternoon."
A future of curation and experiences
The positive news is that the crisis has increased people's desire to support their community and shop local.
High street shopping is entering a new era where experiential shopping is really important. The small businesses that are surviving and thriving are building communities around their businesses.
And, in spite of The Snug Bookshop's slow start, Sam remains positive.
"Don't give up. If something's not working, you have to try something else. We need to find ways of encouraging people into the town and showing them that everything's safe," she said. "We need to get the word out that it's okay to come back to the high street."
Helping founders #OpenforBusiness
Enterprise Nation has resources and case studies to help small businesses of all types reopen and trade successfully during the coronavirus pandemic:
Chris has over a decade of experience writing about small businesses and startups. He runs Inkwell, a content agency that helps companies that sell to small business owners grow their audiences through content marketing. You can find him on Twitter at @CPGoodfellow.