MEMBER STORIES
The Enterprise Nation member behind the revolutionary digital piggy bank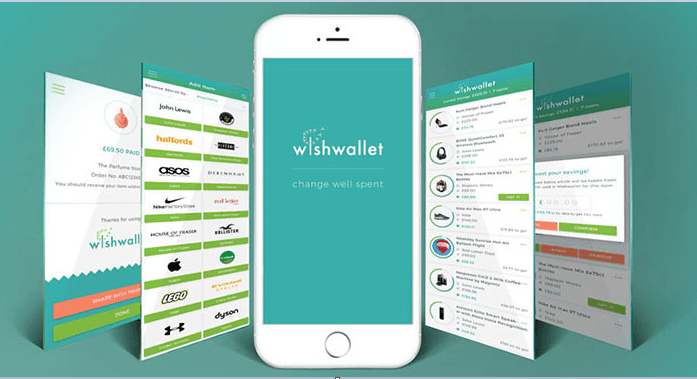 ---
Posted: Fri 30th Nov 2018
Enterprise Nation member Marc Labbett is the founder of Wishwallet, a revolutionary mobile app that enables users to passively save for preselected purchases by automatically rounding up card transactions to the nearest pound. He is currently crowdfunding and has so far raised more than £110,000. Marc tells his story.
![Marc Labbett, founder of Wishwallet](https://enterprisenation.blob.core.windows.net/enterprisenation/274458827ff4e811a96d00224807251a/Marc Labbett Wishwallet.jpg)How did you come up with your idea?
Two years ago the phrase of the moment was 'there's an app for that!' and at the same time I was still in the habit of dropping my change from the day into a coin jar in my kitchen, wondering what I would spend it on. I thought 'there must be an app for that!'.
But I found nothing that helped me save for things I really wanted or needed from the high street or online shopping, so we started.
Research. App developers. Business plan. More research. Money transactions. Design. Function. Partners. Even more research.
What started as an idea to help people save for their next dream purchase, organically evolved into a powerful tool that could not only help people buy whatever it is they're looking for, but could also help them avoid/reduce their risk of further debt!
Collaborative options that originated with retailers rapidly expanded into food and drink, hotels, travel, luxury, budget, experiences, bills, schools, charities and more!
What start-up challenges have you faced?
I had no prior experience in setting up a business from scratch so everything from Companies House, website and infrastructure was all self-taught following professional guidance from SME consultants, banks and personal network.
What has been your business biggest achievement so far?
Our app developers Tappable took an instant liking to our project, and back in July we executed an investment agreement that ensured preliminary design and development got underway, so that by the time funds close from crowdfunding we'll be three months ahead of project lead time until launch.
With the app developers themselves invested, it served as a tremendous validation to our concept, and our strategy with them, and our vision for the road ahead.
What is your next big business goal?
Working with Crowdcube we aim to raise £215,000 in exchange for 20% equity, with an overfunding cap of £300,000.
We went live on the Crowdcube platform on 27 November, and with less than 30 days to reach our target there's plenty to do.
The funds will enable us to complete the Wishwallet app and launch it into the UK market, aimimg for March/April 2019, followed by app support, marketing and key hires.
What do you think will be your biggest challenge getting there?
Spreading the word and maximising our exposure to any and all potential investors, followed by juggling my personal schedule with three small children to ensure I can attend any face to face meetings.
How has Enterprise Nation helped your business?
Our membership has opened doors to some great networking events around the city, and we've been able to directly access some key specialists on other key areas of business that have been critical to ensuring the appropriate strategical steps are planned and implemented.
Which other entrepreneur inspires you and why?
For me, anyone who has the self-belief and passion to completely remove themselves from the stereotypical norm of 9-5 city work and plunge head first into high-risk, high-pressure, high-stake situation like setting up your own business from home.
What are your three tips for business success?
Plan and prepare for the good, the bad and the unexpected.
Recognise you're not the best at everything, so surround yourself with those who fill the skill-gaps, and share the vision.
You will fall and trip and stumble and shake and doubt, but it's being able to remain true to your vision and your beliefs that differs the winners from the quitters.
We're proud to have people like Marc as members of Enterprise Nation. Join Enterprise Nation today and become part of an amazing community of small business owners.
Currently actioning all necessary groundwork to raise finance for my soon-to-market retail/fintech app WISHWALLET. The infrastructure is in place...next step is crowdfunding, due to start late October 2018. I previously held roles as Partner for a Florida-based Management Consultancy, preceded by almost 10 years in Exec Sales & Tradelane Management for a global shipping line.