BLOG
The death of the high street - or the birth of a new kind of retailer?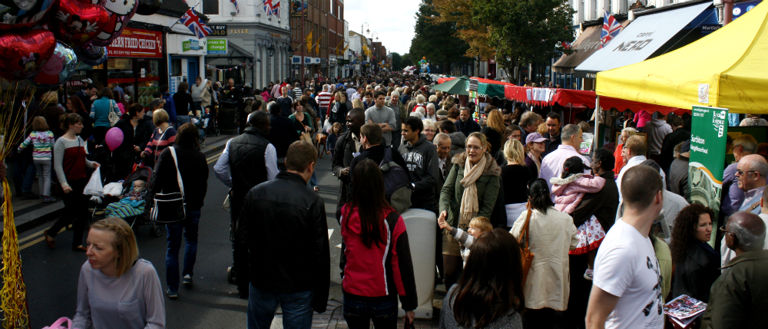 ---
Posted: Mon 18th Feb 2013
Does the closure of established chains and an increase in the number of empty units signal a permanent decline in the fortunes of Britain's high streets? No, argues digital marketer and small-business owner Brit Peacock - providing the UK's small retailers are prepared to reinvent themselves for the modern consumer.
Is the British high street dying? It certainly appears to be in big trouble, writes Brit (left). Take a stroll around your local town centre and it's likely you'll spot many shops lying empty, with boarded-up properties adding a particularly bleak ambience to formerly bustling shopping areas. It's been estimated that nearly 50,000 high street shops - one in six - are lying empty, with twenty stores closing every day. What has caused this collapse of the high street? Can it be revived, and if so, how?
The end of the consumer boom
The start of the economic crisis in 2008 marked the beginning of the high street's collapse and the end of a consumer boom fuelled by years of easy credit. When debt was cheap, weaker businesses could survive - but with the sudden loss of financial support from crisis-hit banks, many retailers whose operating costs had been funded on credit were plunged into bankruptcy. Consumers' credit lines were also abruptly severed, whilst rising unemployment and a higher cost of living meant a large drop in levels of disposable income - a double whammy for retailers. Household spending fell to its lowest level in 34 years in 2011.
Rise of the supermarket and online retailer
In tough economic times, consumers naturally look for good value - and, unfortunately for many established retailers, better value is increasingly being found beyond the high street. The convenience of internet shopping and the highly competitive prices offered by online retailers have been very bad news for traditional high street shops. Britons are the biggest internet shoppers in the developed world, with nearly two-thirds buying goods and services on the internet and a massive £68.2 billion spent online in 2011. The big out-of-town supermarkets are able to offer products at prices small- and medium-sized shops simply cannot match, and they have proven resilient during the economic slump, benefitting at the expense of the high street. 2012 saw a number of household retail names collapse - with JJB Sports, Clintons, Game, Habitat, and Comet being just a few of the established firms forced into administration.
Struggling sectors vs resilient retailers
Certain retail sectors have been hit harder than others during the recession. Restaurants and cafes in particular have faced tough times as consumers tighten their purse strings and dine at home instead of eating out. The bottom line of city centre bars and pubs has been hit by drinkers consuming cheaper supermarket alcohol at home. Music, electrical, and book shops have lost business to internet retailers who can undercut them on prices. Convenience food stores have fared well however, and so too have charity shops, pawnbrokers, and credit unions - reflecting increasingly strained consumer budgets in austerity Britain. Pound shops and discount stores have flourished, as shoppers flock to retailers offering low cost but high quality products.
Resuscitating the high street
In 2011 and with the high street floundering, the government appointed "Queen of Shops", retail expert Mary Portas, to try to "put the heart back into the centre of our high streets". The Portas Review was published in December 2011 and included 28 recommendations for bringing the high street back to life. Portas judged that Britain had too many small shops and that thousands currently struggling to survive should close and reinvent themselves as places for socialising, learning and creativity. She also suggested the setting up of a £10 million fund to help towns whose high streets had been badly affected during the recession. More than 370 towns submitted bids for a share of the cash and in May £100,000 was allocated to 12 towns, to be spent on high street regeneration. One of the schemes that will be financed by the money allocated from the new fund, is the establishment of pop-up shops.
Pop-up shops
Pop-up shops are temporary retail spaces, so-called because they can suddenly 'pop-up' one day and then quickly disappear once they have served their purpose - usually within a few days or several weeks of opening. They are particularly suited to retailers who sell seasonal goods - for example, Halloween or Christmas items - and who do not need to sign a costly long-term lease. Empty shops can also be used as pop-up venues for creative events, such as art exhibitions, or even gigs.
The Original Factory Shop, a thriving discount store
At the end of 2012 value department store The Original Factory Shop opened its first pop-up Christmas store, after years of impressive growth that actually accelerated during the economic crisis. The store's chief executive Angela Spindler explained in a 2010 interview how the retail chain had benefitted greatly during the recession because it was able to offer good value on consumers' doorsteps. With an approximate catchment of 20,000 customers per shop, and offering a wide selection of well-known brands at heavy discounts, The Original Factory Shop has been so successful that they anticipate a portfolio of 500 shops by 2020. Their success offers a valuable lesson to struggling retailers. It shows that to survive and prosper, shops must be able to provide both quality products and good value, while operating a versatile business model potentially embracing the sale of seasonal goods in temporary pop-up stores. So - is the high street dying? No. It's simply been forced to adapt. Brit Peacock is a digital marketer who runs a small precious metals business. He enjoys writing on issues relating to small business and entrepreneurship, and offering tips on how to survive during tough economic times.
Starting a small retail business? Check out our regular start-up classes
Enterprise Nation's regular StartUp Workshops and StartUp Saturday classes offer a swift and straightforward guide to planning, setting up and launching a small enterprise at the British Library and IKEA stores around London. Held at times that fit in around your working week, they're the perfect source of insight and inspiration for anyone thinking of starting their own small business.
Enterprise Nation has helped thousands of people start and grow their businesses. Led by founder, Emma Jones CBE, Enterprise Nation connects you to the resources and expertise to help you succeed.