BLOG
The Apprentice 2018 episode three business lessons: Vision with terrible execution does not a happy customer make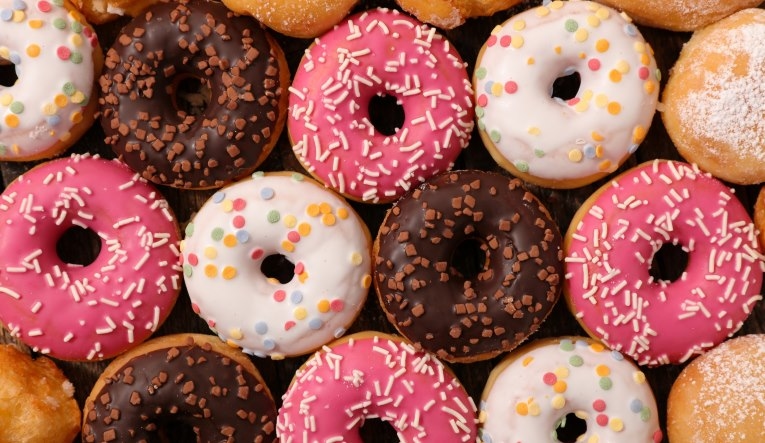 ---
Posted: Wed 24th Oct 2018
Amy Nolan, Enterprise Nation member and founder of Ginger Rainbow, shares loads of great business lessons from the third episode in the current series of BBC One's The Apprentice.
"Rings or Bs? Rings or Bs?!", was the frantic cry from Frank in the kitchen as donuts were fried and chilli sauce was thrown across donuts (and shoes) in a frantic race to get product out of the door and ready to sell.
There were plenty of lessons to be taken away from the latest episode of The Apprentice, including task delegation, quality control, leadership and not seeing the word 'bespoke' or 'artisan' as a way to label things that look a bit. well, rough. (I could almost hear the nation's artisans shouting at the TV in unison).
However as a creative small business owner these were the lessons that really resonated.
When you start free-styling and selling 'creative visions' in a sales meeting
The moment when the idea of "B" shaped artisan donuts was floated to the corporate customer by the expert sales team of less than novice business bakers, alarm bells started to ring.
It's easy to get carried away when you are selling a vision or idea to a customer and it is an absolutely fantastic way to convert browsers into customers, but here's the thing, all vision with terrible execution does not a happy customer or staff team make.
With the dreaded B shaped donuts, it took them three hours to make 50. They didn't look like Bs and everyone was panicking and resentful and feeling like they'd been stitched up. It was not pretty.
The big reveal to the customer as they bravely tried to soldier their way through the sales pitch and rescue any money from the exercise. Even more soul destroying.
Lesson one: Do not sell big dreams that you don't have the skills or resources to deliver. No-one wins.
When you get overly attached to your own idea
The chilli sauce. The hot chilli sauce. Jasmine was on a roll in the food development kitchen and she was enjoying herself.
That's fine as great ideas come from creative play and experimentation. The problem was when she pushed her idea through despite the actual team finding it difficult to eat in the early stages. Because surprise surprise, when they were with the customers, the customers couldn't eat them either.
Again this was a combination of not thinking about the customers and what would they likely enjoy (as opposed to purely what's on trend right now), not listening to feedback and execution of a complex final product.
Yes chilli and chocolate does work well, but complexity needs handling by someone with experience and skill and if you don't have that skill in the room, well just leave it alone.
These donuts looked good but tasted bad so they didn't sell. The other teams donuts looked like they'd been thrown around in the back of a truck, but they tasted good and people bought them.
Lesson two: If you want to sell anything, think about your customer and concentrate on getting the product right. More them, less you. It's not about you, seriously.
When you smile and the world buys with you
A highlight for me had to be Kyode with his easy banter and unflinching smile as he storms his way to selling what had to be the ugliest looking donuts to ever come out of a kitchen (or as Lord Sugar described them, "a pile of absolute garbage"). Seriously inspiring stuff.
"But they don't look very...appetising" was the tentative response from one passerby. Sales objection dealt with and Kyode moves on quickly to a new group of people.
The guy is a machine. Bringing energy to each conversation and exuding positivity and belief that these truly are the best donuts in the world.
Lesson three: Really believe in your product, engage with your customers and you will sell. People buy from people and they love having meaningful engagements. Don't hide, get out there and talk to your customers even if they kindly tell you it's not the donut for them. If you keep going long enough, people start to say yes. (As long as it's not smothered in hot pepper sauce - see lesson two).
There was so much to take from this episode and I can't wait until the next one to see what the next challenge brings.
I don't know about you lot, but I'm off to talk to my customers (minus the hot pepper sauce).
Previous reviews of The Apprentice 2018:
ginger rainbow creates accessible fun ways to connect through colouring in and storytelling. My range of products grows all the time and I am always interested in designing besoke options for new projects for collaborations.