BLOG
The Apprentice 2015 episode six review: DIY business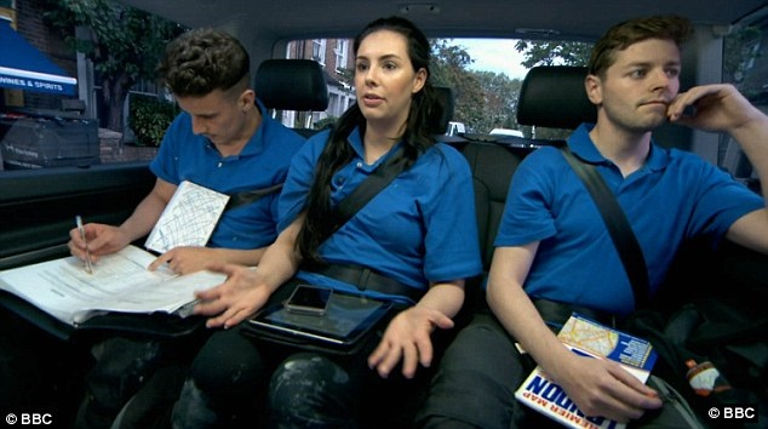 ---
Posted: Fri 13th Nov 2015
Gemma Johnson, CEO of MyFamilyClub.co.uk and founder of NationalUnpluggingDay.co.uk, reviews the latest episode of The Apprentice and pulls out several business lessons.
This week's episode involved setting up a handy man business. The vans and the tools were provided by Lord Sugar so essentially the team were ready to hit the road once the business planning stage was complete.
Marketing
It didn't start off very well for Elle's team as they missed the deadline for getting their flyers printed which put them at a huge disadvantage against the other team. Branding and visible marketing is key to sales as a prop for discussion about the products and services you offer. Without any marketing material (even digitally) it's almost impossible to win confidence and trust in you what you have to offer.
How you present your company from a branding, marketing and people perspective is critical! If you do a shoddy job and lack appealing marketing material it will ultimately be 10 times harder to acquire and retain customers.
Focus
Elle's team started off by agreeing that they would offer window cleaning services based on Mergim's claim that he made a fortune from it when he was younger. This was a great niche for making money immediately and had the team all aligned in their offering. This all went out the window however when it dawned on April that £10 per hour between three people wasn't sustainable. April then threw in extra services without consulting her team or weighing up who had the relevant experience to deliver these additional services. Understanding your ability as a team and company is a crucial element in positioning any business and keeping your customer satisfaction aligned with your service delivery. Mergim jumped at the task of straightening shelves but left a two inch hole in the wall!
Value your time
There seemed to be no discussion whatsoever with regards to setting the pricing at the initial team meeting before any work commenced. This is devastating for any business. You have to know your pricing inside out, what your costs are, what your profit margin is and what contingency you have in your overall budget if something goes wrong. Valuing your time should be seen as a 'cost' to the business as it's resource based. April did a massive disservice to her team by not taking the time to work out what a sensible cost per hour per person should be. It's impossible for a business to grow if you don't have the right pricing strategy.
David, the sports marketer, basically picked a price out of the air and the shock on the customer's face was quite evident. He then had to justify that price point with no understanding of how he got there.
Basic finance skills
This did make me laugh. I wouldn't say numbers are my favourite thing but being able to add up and work out the cost per hour per person X how many hours I would say is a basic necessity if you want to be able to keep your business trading. As sweet as Sam comes across, his lack of any commercial nouse is quite worrying especially as he was put in charge of pricing. Brett being well versed in the 'lingo' of his trade and the fact that he prices jobs on a daily basis should not have delegated the pricing to Sam. Basic understanding of your profit and loss, balance sheet and cash flow is extremely important. You don't have to be a whizz (as you can get the harder finance tasks done for you) but being able to read this finance data is a necessity.
Strategic thinking
Where was the strategy in either team? We had one team (Elle's) firing off in all directions and Brett's team doing street based market research to understand the needs of the commercial and residents of Dulwich. That's not a strategy that's going to bring in cash in two days. For this type of business it would have been a much better plan to look at a map, divide up the streets and set a target for how many people you need to speak to for a conversion rate of pitch vs winning work. Then you can work out how many doors you need to knock on and get cracking.
Divide the tasks
Apart from the two teams splitting into smaller teams to go their separate ways to earn money, there was no discussion early on about who was doing what tasks. This is a sure fire way for the whole team to be unproductive and for the project manager to feel like they are herding squirrels. Every business needs to understand what their tasks are to function and who is best placed to perform what task. It was already evident that Mergim struggled with being over confident and then producing sloppy work. After his hole in the wall incident it would have been better to redefine his task as building rapport with the customer as he gets two stars for charisma and one star for quality.
Don't shirk responsibility
Gosh, don't shirk responsibility! What can I say here? Elle's behaviour was pretty shocking. Her quote "You don't need knowledge of anything to be good at your job" certainly swung back round and bit her in the bum quite hard. She proved you do need to have knowledge to be good at your job. She basically dug a hole and then pushed her job function onto Joseph. In business, yes you can blag and bluster as much as you want but it will come on top at some point when you have to deliver what the customer has paid for. It's fine to say you don't know something or asking for help. Covering up gaping holes in your ability puts a business at risk and huge amounts of pressure on yourself and your team.
Cross check details
I couldn't help but chuckle when Elle's team finally saw the window they had priced. April had priced the window based on the customer saying she was 5 foot 6 and the window was taller than her! Always, always, always cross check the details of any work with the client and ideally have confirmation in writing. They could have asked some more detailed questions to get any understanding of size, like"¦"Would we need to bring a ladder for the top of the window." Not getting confirmation of details affects your bottom line if it goes wrong. Simple!
Manage client expectations
Brett won me over here to a point with his philosophy of "always go with customer satisfaction" but whilst that's very important, it's also important to understand what will make your customer satisfied. Getting your team to spend four hours on their knees scraping wet chewing gum off steps when the customer didn't specify they wanted that ultimately left the customer dissatisfied and paying less because the job wasn't complete due to time constraints. It also left the team member frustrated and potentially with health implications. In business it's important to manage your client's and team's expectations and understand what exactly is required to deliver a satisfactory or excellent job.
Brett is lucky this is not a real business or he could have been slapped with not only time off work for illness due to back strain which would ultimately hit his bottom line but he would have lost a customer that could have potentially booked this service as a regular contract. Never underestimate the word of mouth recommendations that come with delivering on time and to a good standard.
Scott is another example of not managing the expectations of the customer. Vana luckily stepped in to bail Scott out otherwise they'd still be levelling off the garden!
All in all an entertaining episode with lots of rich information in there on how to tighten up on some key business elements if you want to remain in business for the foreseeable future.
Meet all the candidates from the 2015 series of The Apprentice here. Spoiler alert! All fired candidates are revealed.
Previous reviews:
Enterprise Nation has helped thousands of people start and grow their businesses. Led by founder, Emma Jones CBE, Enterprise Nation connects you to the resources and expertise to help you succeed.