BLOG
#TechTuesday: Introducing Evernote Business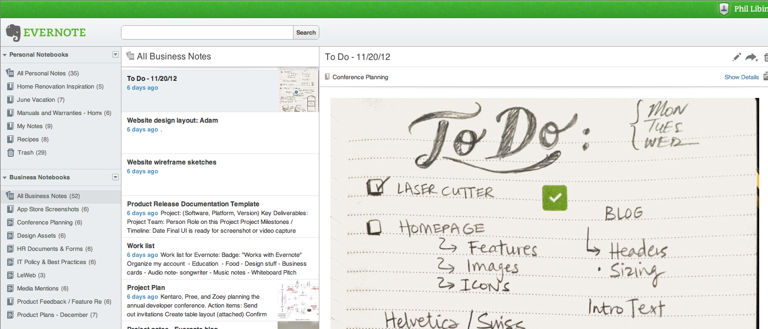 ---
Posted: Tue 12th Feb 2013
Pretty much every time we talk about apps, we mention Evernote - Â the very useful app for collecting and storng information from anywhere, including web clippings, files and text notes. So when Evernote asked us to feature a new business version of the app on Enterprise Nation, we thought 'Why not?' and invited the company's vice president of sales, John McGeachie, to write a few words.
In every business there is a huge range of information that needs to be captured - everything from meeting notes to presentations, from to-do lists to research, writes John. Successful businesses and collaborations are built around the diverse skills and expertise of every team member. Whether working alone or collaborating on a project, everyone is constantly gaining new information, new insights and new knowledge. This is why we created Evernote Business - to make it easy for everyone in a business or working on a project to build their own knowledge, while also discovering what their  colleagues and collaborators know.
What is Evernote Business?
At its core, Evernote Business is the same Evernote that is used by tens of millions of people, but with enhanced capabilities designed to meet the needs of small and medium-sized businesses, as well as work groups within larger companies. We expect Evernote Business to expand to more than 50 countries in the first half of 2013, including Latin America and Asia Pacific.
How does it work?
Traditionally, Evernote users have been able to keep their notes and ideas in personal notebooks. By joining Evernote Business, these users gain the ability to add content to Business Notebooks. While personal notebooks remain completely private and inaccessible to the company, Business Notebooks are designed to actually make your business smarter and more knowledgeable. Making your business smarter is a bold claim - how do we do it? Evernote Business provides two new features that help every person in your company not only contribute to, but to also benefit from your company's accumulated knowledge: the Business Library and related notes.
- The Business Library
The Business Library (pictured above) is a central location where colleagues and collaborators can place their Business Notebooks for the benefit of everyone in their organisation or project. The Business Library is a great way to keep everyone aware of project materials, design templates, media clippings and product design information. Everyone who is part of an Evernote Business deployment has access to the Business Library. They are free to join any notebooks they like, and those notebooks are then accessible seamlessly, right alongside all of their other notebooks on all of their devices.
The Business Library lets all of your employees contribute to the knowledge of the business, letting everyone benefit from information that might otherwise be locked away with each individual.
- Related Notes
Perhaps the most exciting part of the Evernote Business service is the power of Related Notes in a business setting. With Related Notes, simply creating or viewing a note will display related notes from your own account, as well as those shared by your colleagues. This means that as you're working on a project for a new client, you will instantly have access to related material that others in your business has created and made available. This functionality is even available when you search the web. When an Evernote browser extension is installed, a simple web search will bring up related results from your Evernote account and also notes shared by other employees.
What platforms is it available on?
Evernote Business works on Mac, Windows, Web, iPhone, iPad, Android, Android Tablets and Windows Phone. All of these platforms sync with one another, so that even if your team works from different locations, you will still be able to share information. Our aim is to help businesses around the world become effortlessly productive. To find out more, visit Evernote Business.
Need more tech and ecommerce tips? Join in with #TechTuesday, every Tuesday
If you're your own IT department and you need some help, make sure you follow us on Twitter (@e_nation) and tweet #TechTuesday, every Tuesday, between 11am and midday UK time.It's a great way to find a quick solution to an IT problem that's been bugging you and we're helped by other Twitterers, who chip in with their tips and advice, suggestions and recommendations, too.
Enterprise Nation has helped thousands of people start and grow their businesses. Led by founder, Emma Jones CBE, Enterprise Nation connects you to the resources and expertise to help you succeed.