BLOG
Start-up story: How Rob and Paul created ethical flip-flops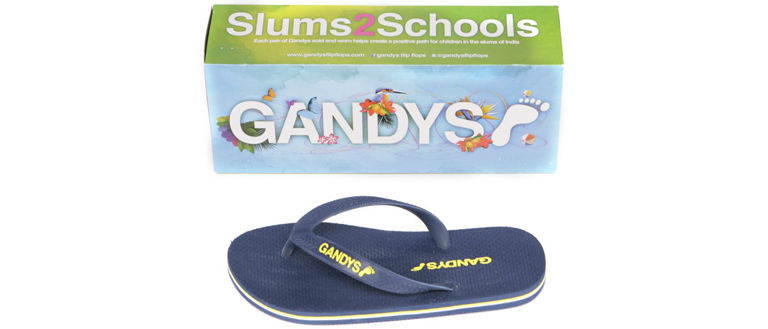 ---
Posted: Fri 1st Mar 2013
After tragically losing their parents in the 2004 Boxing Day tsunami, brothers Rob and Paul Forkan turned their attention to helping other orphans in developing countries around the world. Emma Jones tells the story of Gandys and their ethical flip-flops.
Rob and Paul Forkan started their footwear company in 2011 using the brand name Gandys to sell stylish and fun flip-flops. Keeping it in the family, they brought in brother Matt to design the brand's logos, packaging and website. For these brothers in their early 20s, a key part of their business ethos is charitable action: they donate 10 per cent of profits to an orphanage in Goa, India, with the long-term goal of building their own orphanage in the future. This vision is drawn from personal experience, having been orphaned themselves in the 2004 Boxing Day Tsunami. With only the footwear idea and charitable vision in mind, the brothers set out to find the right manufacturer to help them build their ideal flip-flop.
Alibaba opens up the world for Gandys
An online search led Rob to Alibaba.com where he started building relationships with manufacturers. "Starting out, we knew very little about how to source and manufacture our product," Rob (pictured, left) recalls. "Thankfully, using Alibaba.com is as simple as using an online holiday booking site. You enter your requirements and get a list of product manufacturers that suit your needs." After working on prototypes with a few different suppliers, Gandys flip-flops were born. Six months later, the brothers secured significant investment leading to the product being sold in 60 boutiques across Great Britain with plans to be in more than 150 by summer 2013. Gandys are also in talks with a few major retailers. To assist with expansion, Rob now uses Alibaba.com for more than sourcing the product: "Most recently, we sourced all of our point of sale for retailers on Alibaba.com. It's more competitive than purchasing within the UK."
"The site gives you the opportunity to shop around for the best prices - you can use it as a comparison tool. There is a wide variety of products and suppliers so you can find value and quality quickly."
Dealing with international suppliers
Rob has visited China and India to meet suppliers but recommends others do as much as possible via Skype and email before investing in travel. "You need to confirm everything with suppliers by sending diagrams and designs and repeating yourself a lot to make sure nothing is ever lost in translation," he advises. "Even send examples and samples so you're sure of receiving the right end product. And I would say you only need to make sure the factory and everything is in line once you have orders."
A global future for Gandys
Over the next 12 months the company is focused on developing relationships with major retailers in the UK, the US and Australia. The plan is to maintain a high profile (Gandys recently appeared in an Alibaba TV ad!) to try to fulfil the company's ambition of opening its first orphanage by 2014. "What started out as a small project has now become something much more important," Rob stresses. "It's driven us to create a brand that is based on our beliefs and desire to do better in the world."
Read more start-up stories in the StartUp Kit 2013
Rob and Paul's story is taken from our newly updated StartUp Kit - the essential guide to starting and running a small business in 2013. It's available from the Enterprise Nation shop as both an ebook and a print publication. [product id="65592"]
Enterprise Nation has helped thousands of people start and grow their businesses. Led by founder, Emma Jones CBE, Enterprise Nation connects you to the resources and expertise to help you succeed.