BLOG
Start-up story: How James branded elephants to support education in the developing world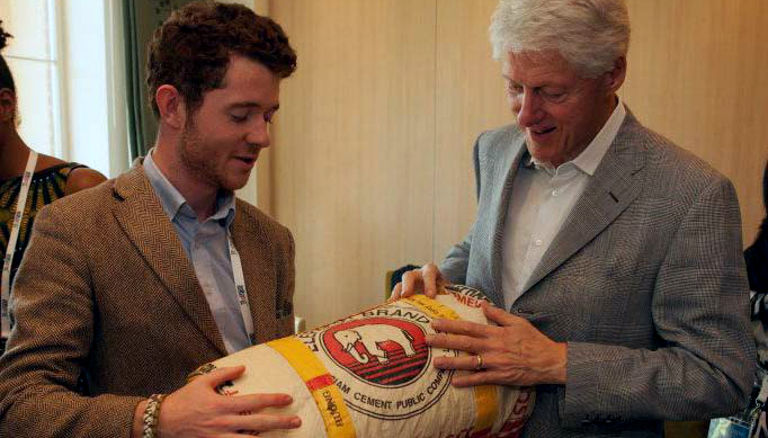 ---
Posted: Fri 8th Feb 2013
24-year-old James Boon was inspired by charitable work overseas to create Elephant Branded, an ethical business supporting craft and education in the developing world. In this latest profile from our StartUp Kit, 2013, Enterprise Nation founder Emma Jones tells his story.
James Boon never intended to be an entrepreneur or his own boss. "I simply fell into it!" he admits. While at university, James spent six months helping to build a school in South Africa. After the effort that went into the build, he was shocked to see students who came into the school were without pens or pencils and had to do their writing on pieces of old newspaper. "On graduation, I turned down London job offers to move to Southern China. While there, I travelled and again would go to schools where the kids just didn't have anything," he explains. "The tipping point came when I went to Japan a couple of weeks after the 2011 tsunami hit. I moved jobs and home to Hong Kong and set up Elephant Branded with a simple idea."
A good idea spreads quickly
The idea was to ethically source bags from village cooperatives, selling them to consumers in the West and donating school kit back into the community as payment. The original plan was to sell 50 Elephant Branded bags, but when James started operating from the UK in February 2012, things took off. "Within two weeks we had people calling us up and saying, 'How can I get involved?'," the young entrepreneur recalls. "We grew to have ten representatives in the UK and four overseas. The people we've met along the way have made Elephant Branded possible. "From the idea of being able to donate 50 school bags, we now donate thousands worldwide." Elephant Branded has benefited from some significant profile; first by being named one of the Google Young Minds of 2012 (which resulted in a contract to supply delegate bags for Google conferences), and, more recently, in an appearance on TV show Be Your Own Boss.
Adapting to unexpected business growth
"Since the show was aired, the business has grown beyond our wildest dreams. We've had thousands of people getting in touch from all over the world. The whole experience made us question what we wanted to do with the business and on the back of it we've decided not to look for an investor because we want to keep Elephant Branded about the values it represents. Investors will (rightly) be looking for purely profit returns and that's not what we're about." The profile and hard work put into the business has paid off in another way, too - in the form of a national contract with a well-known retailer: "I received an email from John Lewis on 30 March (my birthday and a great birthday surprise!) and they have been amazing to deal with ever since," James enthuses. "Initially, we thought we might be stocked in one store. However, you can now find us in 14 of their flagship stores, including Oxford Street, as well as in their Christmas catalogue!" James has moved out of the living room and the company now has a warehouse in Bristol and a team of five. Together, the team run and manage Elephant Branded as a co-operative where everyone gets a say and a chance to shape the company's future.
The importance of good business partnerships
Support along the way has come from Seed Education and StartUp Britain, as well as from James' business partner, Tim. "Tim is the unsung hero of Elephant Branded," says James. "We met at University and together have been able to grow the business into what it is today. We are both quite different - Tim refers to himself as the cynic and I know I am ever the optimist and that's why it works. By both having different skill sets, we each bring a lot to the table." The team is looking to grow Elephant Branded organically and to set up new enterprises in countries such as Uganda, Sierra Leone and Columbia. The foundation of any expansion will be focused on helping local people through using local materials and leveraging local skills. In Columbia, there'll be knitted products and in Uganda, bags of coffee beans - all with the elephant logo which shows the product has been ethically sourced and donated one for one. "Elephant Branded has developed because of the people who have supported us and the people we work to support. From my friends in Hong Kong who bought the first few bags to our student reps who work on campuses around the world, and to the work by Africa & Asia Venture and their volunteers who have delivered school kits. For me, what matters is that we're making a difference helping communities around the world every single day."
Read more start-up stories in the StartUp Kit 2013
James's story is taken from our newly updated StartUp Kit - the essential guide to starting and running a small business in 2013. It's available from the Enterprise Nation shop as both an ebook and a print publication. [product id="65592"]
Enterprise Nation has helped thousands of people start and grow their businesses. Led by founder, Emma Jones CBE, Enterprise Nation connects you to the resources and expertise to help you succeed.