BUSINESS NEWS
Number of small businesses running entirely online doubles in pandemic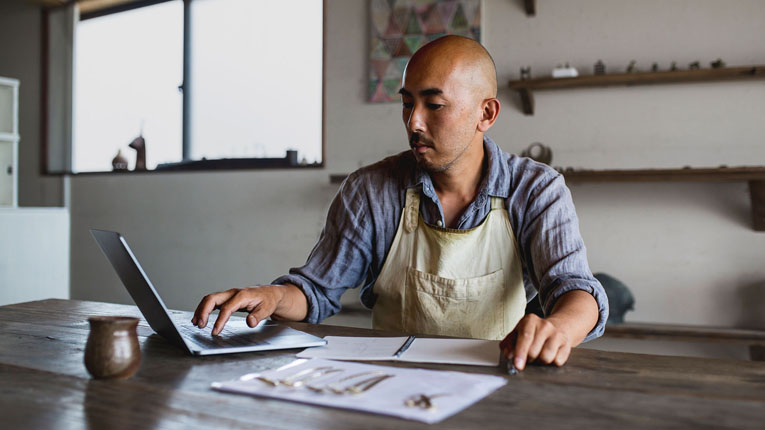 ---
Posted: Thu 7th Jan 2021
The percentage of small businesses running exclusively online doubled during the pandemic, from just over a quarter (27%) to more than half (55%).
This is according to new research - conducted in partnership with Vodafone - revealing the extent to which small enterprises are relying on broadband to trade in these uncertain times.
Indeed, almost three quarters (71%) say they are more reliant than ever on broadband, with almost all respondents - 94% - saying they depended on video calls during the pandemic.
With ongoing restrictions preventing work as normal for the majority of small businesses, 70% believe that a dedicated business broadband line would be beneficial as they get used to the 'new normal'.
To reflect this marked shift, Vodafone is making business broadband free for 2021. It's offering 12 months' free broadband to small businesses (with between one and 50 employees) on its 36-month plan, including existing Vodafone customers who are eligible to upgrade.
The offer will remain open until 28 February.
"2020 will go down as the year business went online - we have seen small businesses in their droves pivot to build websites, embrace social media and rely on video platforms to keep in touch with their teams," said Enterprise Nation founder Emma Jones.
"To succeed for the longer term, this requires strong broadband that won't let you down, and investment in digital technology. This generous offer from Vodafone will be a great help for small firms as they pick themselves up after the impact of the pandemic and keep building their business."
Anne Sheehan, Vodafone UK's business director, said that businesses "need to be running as efficiently as possible in 2021".
"That means getting online, using the best digital tools, getting the best business advice, and spending as little money as possible," she added. "It's great to see how businesses adapted throughout last year, and we're here to help more do the same in 2021."
_Are you a small business owner? Claim your 12 months' free business broadband today.
---
The research, which was conducted in partnership Vodafone, was carried out by Enterprise Nation on 27 November 2020. Questions were sent to its community of over 60,000 small business leaders across the UK._
Terms: Offer ends 28 February 2021. New and upgrading customers only. 36-month contract. £20 (ex. VAT) set-up fee applies to each purchase. 12 months free then £20.83 (ex. VAT) per month for the remaining 24 months for Superfast 1, 35 Mbps average download speed and £25 (ex. VAT) per month for Superfast 2, 63 Mbps average download speed. Availability and speeds may vary. Terms and Conditions available at vodafone.co.uk/terms.
I'm a content and communications strategist with a passion for brand storytelling. I also happen to be Enterprise Nation's content manager – so if there's anything you'd like to see more of, or you have a story to tell, please do connect!