BLOG
Best business books: A small business reading list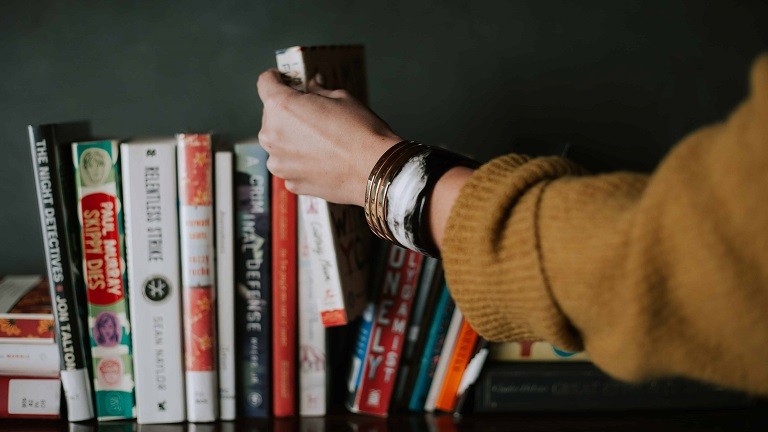 ---
Posted: Mon 11th Sep 2023
Learning never stops when you run your own business. If you prefer to pick up new skills and ideas through reading, we've compiled a small business reading list written by phenomenal business experts from the Enterprise Nation community.
Whether you've started your business or you're still at the ideation stage, this list covers everything from how to start a business or freelance career and scaling up to improving your sales and reimagining your brand.
All of these books are aimed at solopreneurs, start-ups, small businesses and self-employed people. We hope you find inspiration from the stories and tips of these experts and the businesses they support.
Click on an author's name to read more about them.
1. Simple Tips, Smart Ideas
by Erica Wolfe-Murray (Finalist in the Business Book Awards 2020)
If you run one of the UK's five million small companies, you'll know just how hard it is to grow your business.
Drawing on experience from working with hundreds of founders just like you, Simple Tips, Smart Ideas offers a rich array of ideas, tips, and contemporary case studies to help you kickstart growth, build commercial resilience, outsmart your competitors, and fall back in love with what you do.
Buy a copy to discover simple ideas to scale your business.
2. Business ReLOVEution: A Mindset Paradigm for the Modern Entrepreneur
Business ReLOVEution is for you if you've been doing the same thing repeatedly and you're looking for alternatives to the mundane.
You realise you're worth more than whatever you're currently doing; you have passion and a purpose you want to fulfil. This book provides the tools to make it a reality.
Get a copy to feel inspired to dream big and manifest even bigger.
3. 
Survival Skills for Freelancers
The essential guide to self-employment, Survival Skills for Freelancers shares an honest, warm and realistic view of self-employment to help you rock the socks off freelance life.
Crammed with personal anecdotes, practical advice and tales from the freelance community, it busts the myths about being your own boss to help you survive and thrive as a freelancer with less stress and burnout.
Get your copy to kickstart your freelance career.
4. Wonder Leads: Remarkable lead generation for positive small businesses
What would you think if you no longer had to waste time and money on ineffective outbound sales tactics, like email marketing and direct mail?
Wonder Leads is a lead generation framework specifically designed for small businesses, start-ups and freelancers who need to approach their ideal customers but don't want to sacrifice their time, money, or integrity.
Buy the book to discover how to save time, money and generate better leads.
5. The Big Social Media Marketing Organiser
by Kathy Ennis
Don't let the title deceive you. The Big Social Media Marketing Organiser is so much more than just an organiser. It's a one-stop-shop, social media marketing planning tool that your small or micro business can't afford to be without.
It will take you step by step through the process of creating effective and engaging social media marketing campaigns.
Get this book to create an effective social media marketing plan.
6. Brand Yourself
by Lucy Werner and Hadrien Chatelet
Lucy Werner and Hadrien Chatelet of The Wern have over 30 years of industry experience between them and have taught thousands of entrepreneurs how to stand out using the DIY model to create a business brand.
In Brand Yourself, they share everything you need to know about creating a business brand without an agency budget.
From brand strategy to picking out fonts, building your personal brand, and affordable creative tips to make an impact with your business, it's all here, minus the smoke and mirrors. 
Buy a copy to transform your business brand.
7. Permission: To Do Life and Business Your Way
A collaboration presented by Sarah Stone and Jane Baker featuring Deasha Waddup as co-author
A powerful collection of stories from business owners who did it their way and who are here to give you permission to do it your way too.
When building a business, it can so often feel as if there are rules you have to follow, that if you dare stray from that path you won't make it. In Permission, you'll find inspiring stories from businesses who have unlocked their success and a life they love, while doing it their way.
Buy a copy and find inspiration to start a business your way.
8. Untangle Your Sales: The business owner's guide to making sales growth simple
Now you can take the complexity out of sales growth, with this practical guide for business owners seeking a way out of the sales maze.
Untangle Your Sales identifies and debunks the most common sales myths and provides answers to the questions that every business leader should ask. After reading this book, you'll be able to:
recognise the most common sales myths and separate fact from fiction

identify and engage your most valuable customers

attract and build a high-performing sales team

create and deliver a predictable sales plan

re-energise your staff and grow your business
Get a copy to untangle your sales process and see results.
9. A Woman's Work: The book every successful businesswoman wishes she'd read
A collaboration by Sonja Leason and six other female business leaders
As a woman in business, it can feel that the odds are stacked against you. And when more women than ever before are self-employed and starting businesses, why is it that so few of them are able to scale and get the success they deserve?
A Woman's Work covers both the hard and soft business skills required to take your business to the next level; from time management and resilience to how to hone your product and scale profitably.
Buy this book to learn how to succeed in business from the women who've done it.
10. Entrepreneurial Sales
by Paul Durrant
Entrepreneurial Sales is a blueprint for aspiring or existing business owners who want to be both more entrepreneurial and sales-savvy. This book will also help you understand:
why it's essential to be both entrepreneurial and sales-savvy in business

what the top seven entrepreneurial seller habits are

how you can develop your entrepreneurial sales skillset

how entrepreneurial sales can help you grow your business faster
Get a copy to enhance your sales skillset.
---
Bought any of these books or have other recommendations? Join the Small Business Book Corner group to connect with other business bookworms!
Enterprise Nation has helped thousands of people start and grow their businesses. Led by founder, Emma Jones CBE, Enterprise Nation connects you to the resources and expertise to help you succeed.