POLITICS
Small Business Debate sees vote swayed towards right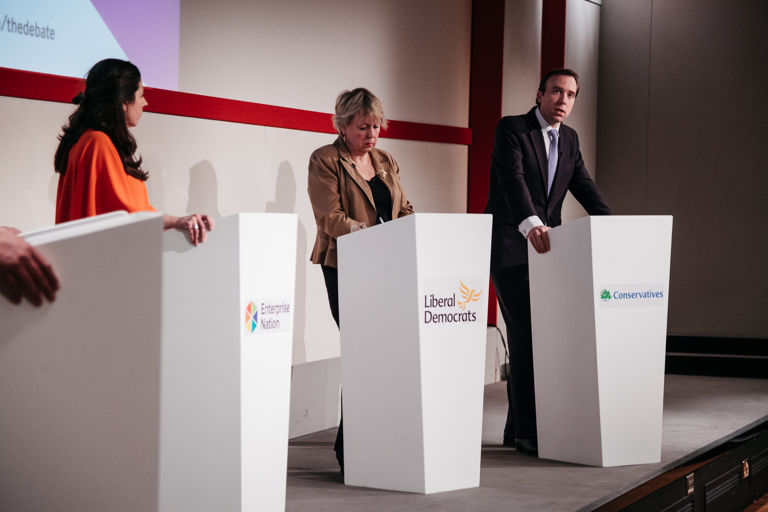 ---
Posted: Tue 3rd Mar 2015
A political debate, which explored policies specifically affecting small firms, saw a dramatic swing to the right during the course of an hour, according to an exit poll.
Political heavyweights including Minister for Enterprise and Energy Matthew Hancock and Labour's Shadow Small Business Minister Toby Perkins, battled it out in front of an audience of entrepreneurs last night/Monday March 2, with the Conservatives bagging an eight point increase, clinching a whopping 45 per cent of the final vote.
The Small Business Debate, organised by small business network Enterprise Nation and hosted by its founder Emma Jones, MBE, asked members of the audience to vote before they sat down to hear the Liberal Democrats Ambassador for Women Lorely Burt and the Greens' small business spokesman, Solihull Cllr Howard Allen join the panel to answer questions around issues including business rates, prompt payment terms, childcare costs, Europe and exports.
The first poll before the debate gave the Conservatives a six point lead over Labour at 37 and 31 per cent respectively, with Lib Dems on seven and Greens on three, with 23 per cent undecided and one UKIP vote.
By the time the final vote came around, the Conservatives had boosted their lead by another eight per cent to 45 per cent, with Labour trailing on 31 per cent, Lib Dems static on seven and the Greens adding two per cent. Ten per cent were still undecided with a rogue protest vote adding one per cent to the unrepresented UKIP.
Emma Jones said: "Hopefully the political classes will have learned something from this experience - that small firms are worth listening to, that they are playing an increasingly important role in the electoral process and that by engaging with them, politicians can improve policy - and gain all-important votes.
"The fact that this event was organised and led by a small business shows we're beginning to make progress. While big businesses continue to have a well-established route to the heart of Government, we will continue to fight with events like this, to have our voices heard."
Battle lines were drawn around business rates, with Burt claiming her party would scrap them, replacing them with a Land Value Tax, which would lead large corporates, sitting on large parcels of valuable land, to paying a fair price. The Tories would do a complete review of the system in 2016, promised Hancock, with Labour pledging to cut and then freeze rates.
Childcare costs were blamed for stalling the progress of entrepreneurial women, and the parties were asked what they would do about it by mum Esther Thompson, founder of tea firm Tea Huggers. Burt explained costs would be difficult to change because of market forces, while Perkins pledged Labour would ensure that children could stay at school from 9am to 6pm.
On Europe Hancock said the Conservative commitment to hold a referendum would ease 'the public's unhappy relationship with the EU,' while Burt accused the Tories of creating uncertainty and 'playing a dangerous game with the EU by flirting with the exit.'
On the budget, Burt revealed there would be no 'earth shattering' news ahead of the election, implying the incumbent Tories were set to play it safe.
On exports, Hancock said the country needed to support more firms in exporting, while Allen suggested less is more. He claimed some imports and exports were pointless - pointing to fresh produce like apples.
Ed Reeves, director and co-founder of debate sponsor Moneypenny, said: "In the run up to the last general election, small businesses weren't seen as a key issue for political parties, but this time around things, are quite rightly, different. Britain has an estimated 5.2 million small businesses, and their voices deserve to be heard.
"Last night's debate enabled this to happen and we saw some crucial questions raised. We now need to build on this and ensure the debate continues in the run up to May. Small businesses form the bedrock of the UK economy so it's essential we understand how the major political parties intend to address the issues they face."
Search the hashtag #SBDebate to view the social media discussion and click here to view the photos from the event.
Enterprise Nation has helped thousands of people start and grow their businesses. Led by founder, Emma Jones CBE, Enterprise Nation connects you to the resources and expertise to help you succeed.